This morning I started my day with an easy 4 mile shake out run. Nothing major because I have a race tomorrow that I should have trained for but I'm using the holidays as an excuse so there's that. I am however training for a world record in run on sentences… #RunOnEatRepeat ?
I don't use my runs as training because I prefer to use them as a time to brainstorm recipes. Hence this snack…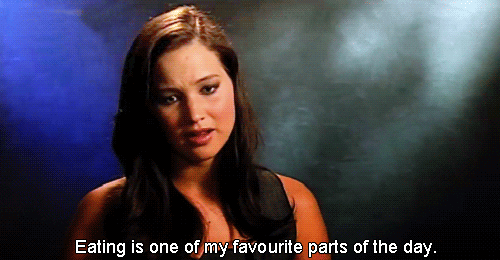 I dreamed up a super easy apple muffin recipe during my run and came straight back home to make it. Recipe coming next week when I'm on my trip so I can enjoy some time away from the computer and you can enjoy a muffin. Double win.
I have to share what Skinny Runner got me for Christmas – a watermelon ornament!!! I die because I got her something similar but I can't show ya yet because she hasn't seen it. Follow me on Instagram for a side by side soon!
Question: What are you up to this weekend?
I am wrestling bears at the circus!
Not really. But I am watching my shiny new niece!!!
(Make something up if you have nothing exciting to share.)
Run SMART Goals
Fill out this form to get the SMART Running Goals worksheet to your inbox!