Today was the first day I was able to run in China! I didn't have any time at all in Beijing since we've had to leave early every morning. (And the air quality was pretty bad too.)
I'm in Shanghai now and CNN said air quality with moderate today. That's not ideal, but I wanted to at least get in a short run. (It couldn't be much worse than me walking around all day in it.) I started the morning with a run in the gym since it was too dark when I woke up.
Once the sun rose I went back to the room for a quick wardrobe change (in which I look completely ridiculous) I headed outside.
Yep, representing for ProCompression and sportin' Mizunos in China!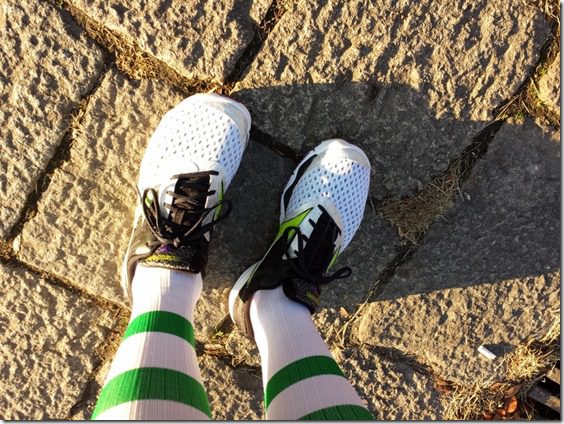 Here are some scenes from my run…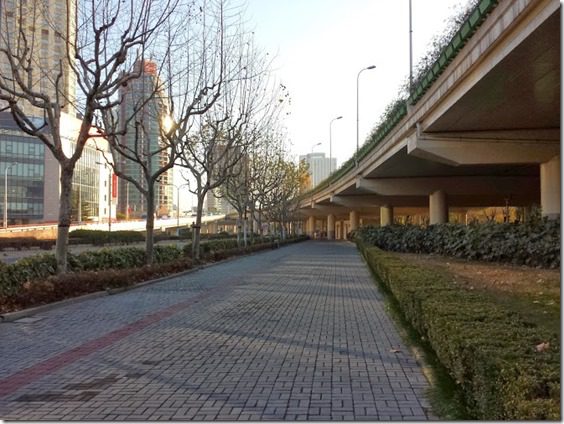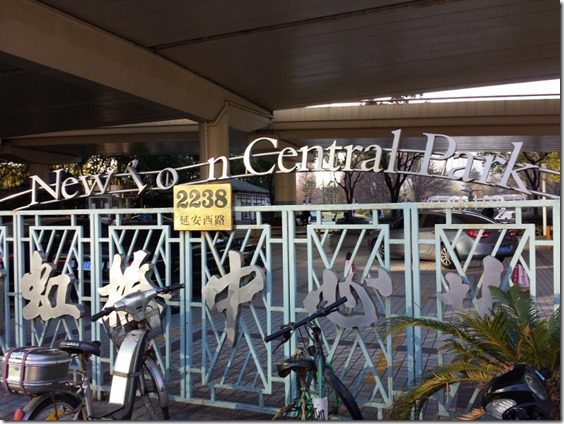 Black swans!!!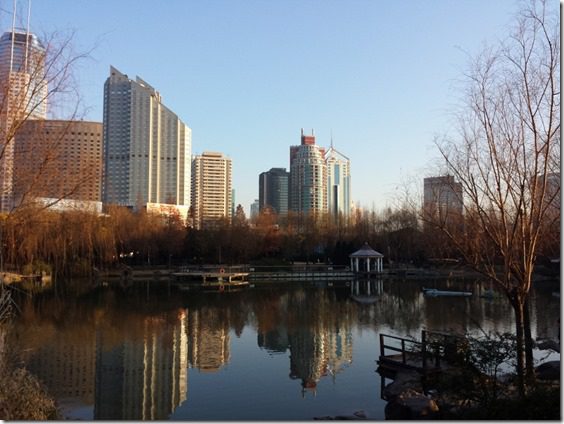 Only two miles,  but I'm so glad I got outside for a run here. I always prefer to head outside to run when I'm traveling, and have been waiting the whole trip for this.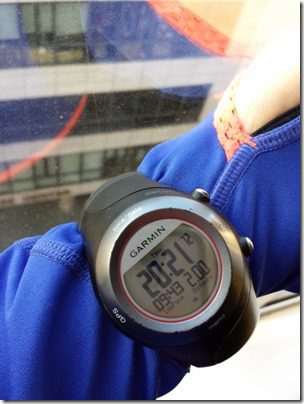 Traveling through life on foot.
"This is the new start of your happy life."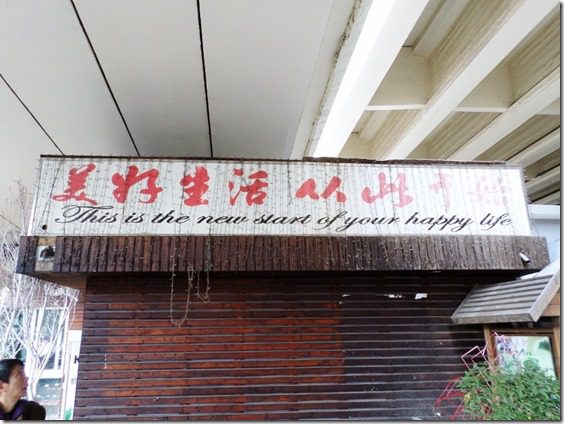 After the run I warmed up with a quick shower and headed to breakfast. This is the last day of the trip and the last day of these awesome breakfast buffets. Boo.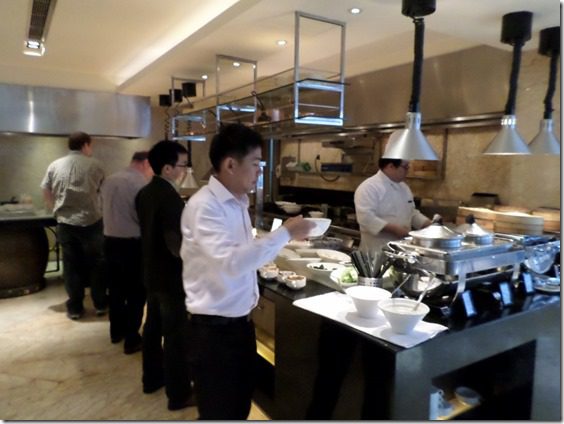 I am seriously so so spoiled from the amazing spreads each morning. Today I got the usual cereal and watermelon appetizer.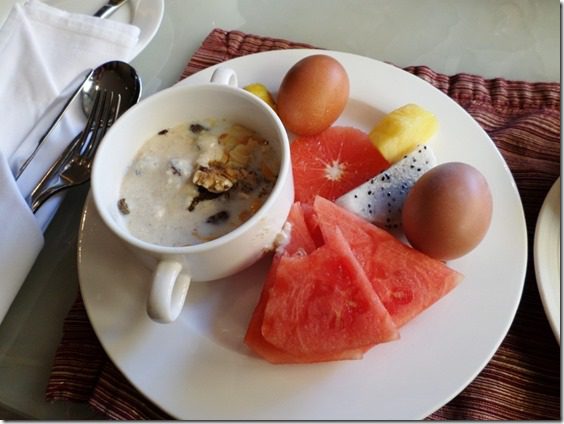 Plus an egg white omelet and vegetarian eggs benedict dish. They cook the eggs very runny (even the white isn't cooked through) so if you order eggs and are worried about that sorta stuff ask for them cooked well. I was fine with it, so we'll see if I die soon.
More Muesli.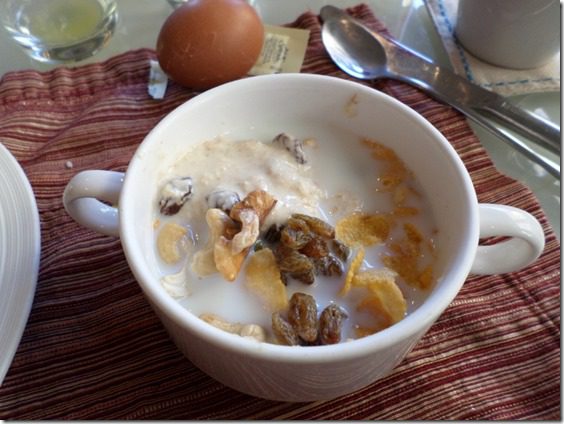 This whole trip I've 'saved' my treat calories for local fare that catches my eye during the day. But today I finally had a pastry from the breakfast bar. DONUT! I also tried the honey from the comb out of curiosity. Yes, it was amazing.
We had some time to kill before we had to head to the airport so Ben and a few of our new friends headed to a shopping center for last minute deals. I'm pretty excited about a silk scroll I scored.
The time flew by and we had to get back to head to the airport. It's been amazing to make friends on this group tour! Like I said before, everyone is super awesome and fun! They're even cool enough to let me take pictures of them when they're sleeping at the airport… (hopefully)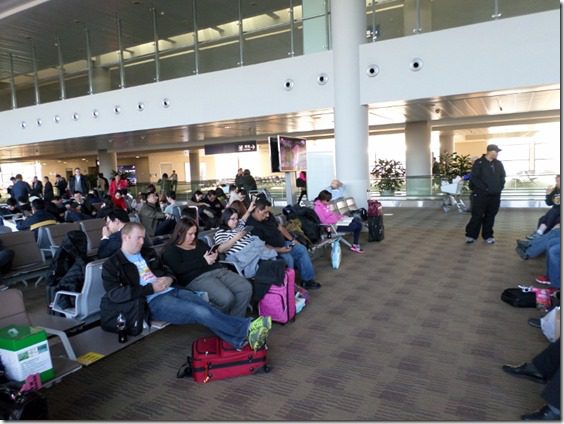 Chris won't mind as long as I kick him back a piece of bacon.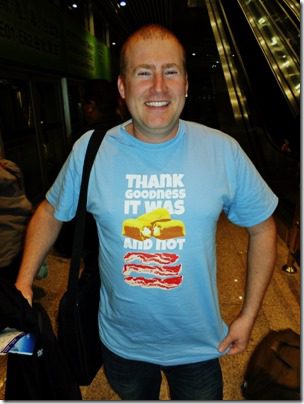 I figured I would grab something for lunch at the airport, but there were no restaurants anywhere near our gate. Luckily, I snagged a few hard-boiled eggs from the buffet and had a baggie of nuts from home. Nice snack.
We had a quick flight from Shanghai to Beijing. Lunch on the plane wasn't my thing. They only had two options – beef with noodles or pork with rice. I figured it was pork with white rice, but it was fried rice. So, I picked at it and got food during the layover.
I had to do some fancy shmancy tricks to score a to-go container from another restaurant and bring it back to the Chinese place that refused to sell "to-go" food.
I bought a salad from another place. But when I realized it was tiny (and expensive) I asked for an extra container and went back to the first place for that Chinese food. Make it work.
When we got to Beijing the air quality was obviously bad. You could even see it smoggy inside near areas with open doors. It actually smelled smoggy inside the terminal, which was a bit alarming.
This was the meal on the flight from Beijing. I asked for the duck (other option was beef) but I'm pretty sure that the main dish was still beef and the piece of meat on the salad is duck. I was super excited about the chocolate cake though!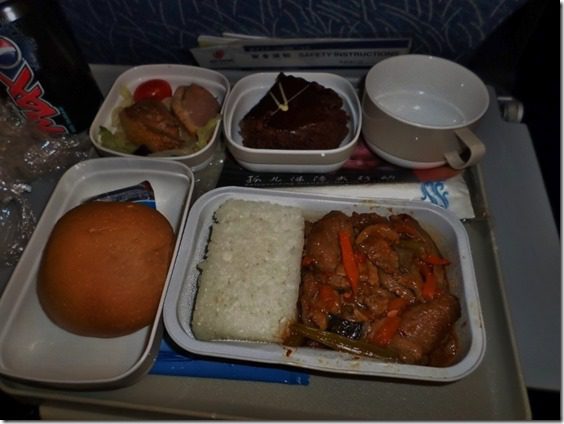 Bye China!
It's going to be a long flight home, better get my new eye cover ready!
I'll see you back in the United States
I'm going to do a short hotel/group trip post since I got a lot of similar questions about this whole deal. Let me know if you have any questions via email or in the comments (runeatrepeat at gmail).
Question: What is the best meal for a buffet – breakfast, lunch or dinner?

Run SMART Goals
Fill out this form to get the SMART Running Goals worksheet to your inbox!