Hello and Happy Friday!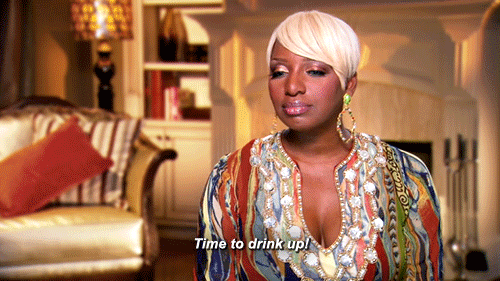 This morning I woke up to a special delivery. Ben brought me a donut. Not sure why, but I'll take it!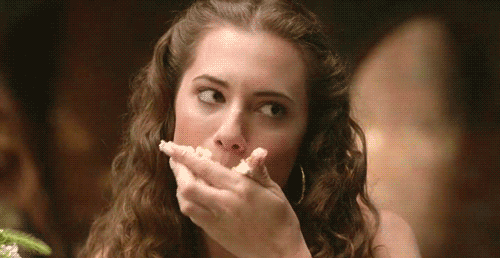 I did a 6 mile run fueled by my special treat and felt great. Donuts should be my new pre-race meal!
Post run: eggs and oatmeal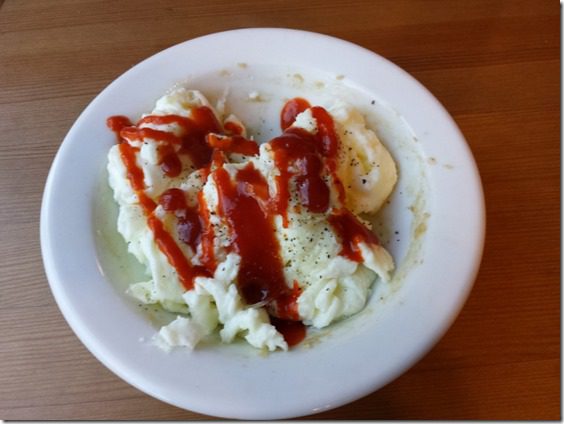 Fitness Friday, on taking a vacation from running.
Before I went to China I was worried I wouldn't be able to run much for those nine days of the trip. The tour group didn't give us an hourly itinerary before the trip, but I (correctly) figured we would be meeting early every day.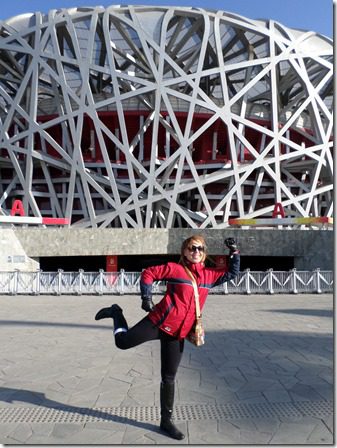 Most of the time the gym didn't open until 6:30am. One place didn't open until after 8am! So, I had 30 minutes at most to get some kind of workout in before I had to get ready, eat breakfast and show up in the lobby. (Running earlier than that outside wasn't an option because it was still very dark and freezing cold.)
I LOVE running while traveling – it's the best way to see a new place! But, it just wasn't possible on this trip so I did my best with the days I was able to get in a short run on the treadmill.
I probably got in four 30 minute runs and one 2 miler while I was gone. This seems like a pretty good week of runs to the average bear, but I average 40 miles a week so this the equivalent of taking a week off to my legs and lungs.
So…. how quickly does someone lose fitness after not running or working out?
I read this in Runner's World on the way back from China and agree that it's accurate for me. It says you can rest/recover from an illness or injury for 2 weeks before losing fitness.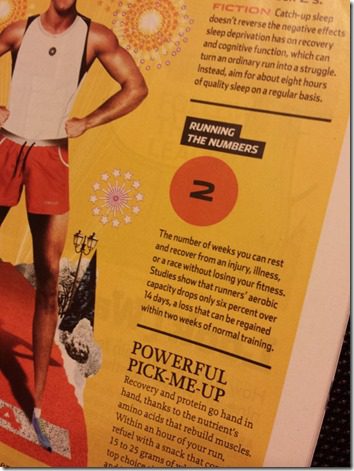 I did some research on this and found similar opinions on this, but some sources say after +2 weeks your body loses about 6% of VO2max.
"Recent studies show that there is little reduction in VO2max for the first 10 days following inactivity in well-trained athletes. It is prudent here to mention that all of these guidelines assume you are a decently trained runner, having trained consistently for a 4-6 month period. Beginner runners will lose fitness at a slightly faster rate since they have a smaller base of fitness."
(Source: Runners Connect)
This blog by Coach Joe English shares Jack Daniels formula that is similar but says those losses don't occur until about 21 days.
Running Coach Jack Daniels quotes some specific numbers in his book Daniel's Running Formula". He are some sample values in the loss of cardio-vascular fitness from his book:
Up to 5 days — no loss
7 days off — 0.6%
14 days off — 2.7%
21 days off — 4.8%
28 days off (one month) — 6.9%
56 days (two months) — 15.3%
Given I was running so so much around October/November I think my body probably benefited from a rest period. I take two rest days from running during the week, but long distance is hard on any body and I'm hoping it was a nice little present to take that time off. I personally think if you exercise 50 weeks out of the year taking 2 off would be a nice rest and rebuilding time for your muscles
Question: How many rest days a week do you take?
Run SMART Goals
Fill out this form to get the SMART Running Goals worksheet to your inbox!