Hello from Ventura, California!!!
First, let me share the mundane details of my morning… I ran. And ate.
And that's why I named this blog Run, Eat,Repeat. My next blog will be called Captain-Obvious dot com.
Specifically I ate a watermelon.
And Reese's PB Cups Easter style.
Then, I jumped in the car and headed north to Ventura.
Traffic was horrible. But, I get to live here in beautiful California so I'm sure you don't feel bad for me.
But – let me ask you this… if I would have peed in my pants because traffic was so bad – would you have felt bad for me then?
Because it was close.
Anyway.
Four hours and 100 miles later I made it!
I am just north of Los Angeles for an event with the California Strawberry Council! I'm pretty excited because:
A.) I love strawberries.
B.) My new nickname is shortcake according to strangers in China.
C.) I want to be a watermelon farmer so I'm hoping this will teach me a few things.
Plus, they are calling this event 365 Days of Strawberries. Unfortunately I read that as 365 Strawberries To EAT, but I am hoping they hook me up since it's a goal I'm working toward.
Tonight's events began with a Strawberry Basil Mojito. Yes please.
My date for the evening was the beautiful Anne – who I just hung out with at the LA Marathon. She's my new favorite peep.
Strawberry gazpacho.
My plate with spinach and strawberry salad, chicken, salmon and more!
This was the only clear shot I got of the chocolate covered strawberries before I threw the camera in my purse and attacked this plate.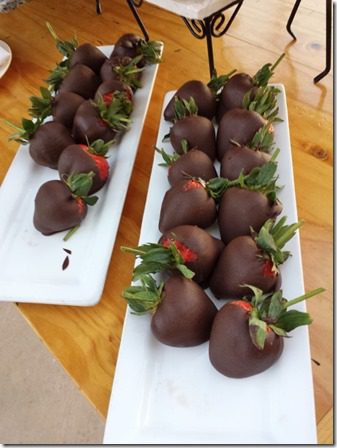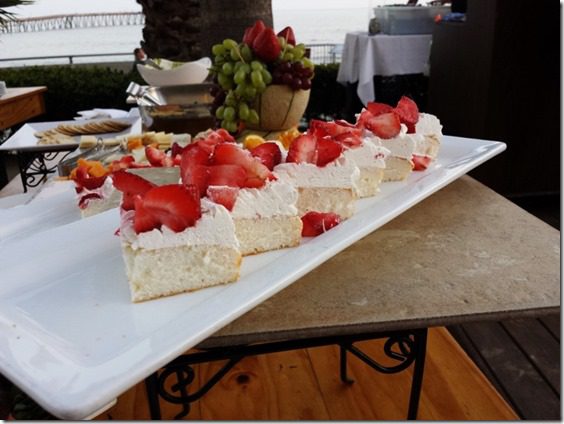 Tomorrow we're touring a strawberry farm and then I'm going to try and eat 365 of them!!! Are you betting on me winning the prize for most strawbs eaten in one day??!?!
Question: How many strawberries would you eat?
Give me a specific number, no fence sitting on this very important poll!!!
Kinda sorta related: Given the timing of this event and the Cesar Chavez movie coming out this weekend I am very excited and curious to visit a farm in CA myself. Plus, I need to learn how these things are run so I can open my own watermelon farm soon… Watermelon Harvest, Eat, Repeat.
Run SMART Goals
Fill out this form to get the SMART Running Goals worksheet to your inbox!