Hello! Today is my 'Friday' since it was the last day of the Wellness Retreat. I've been leading a run/walk fitness class for the event this week. The group had a big party last night so we planned an easy power walk around the marina. The last day is always the easiest in case people had a little too much fun the night before.
The earlier than usual mornings definitely caught up with me because I am TIRED today! I need something magical to help me bounce back and get to work.
So, on the way home I decided to stop at Jamba Juice and put that gift card a company rep sent me to good use.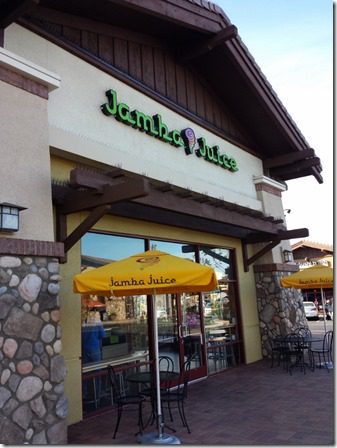 I added a shot of wheatgrass to my order in hopes that it will give me magical healthy powers to be awake and 110% today!! I love that they serve it with an orange slice as a 'chaser'. Seriously, love it.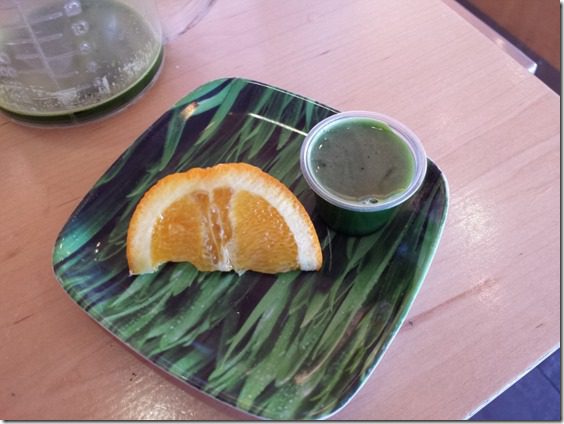 I used to be somewhat of a Jamba Juice expert in high school and college. It was part of my post-long run ritual to stop at Jamby on the way home from a run in Long Beach
I even had a "Powered By Jamba Juice" license plate holder my boyfriend at the time got me. I was super into it.
I got the new-ish Apples n' Greens smoothie from the Fruit & Veggie section of the menu.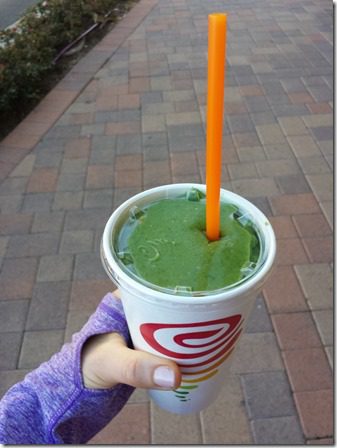 Want a sip?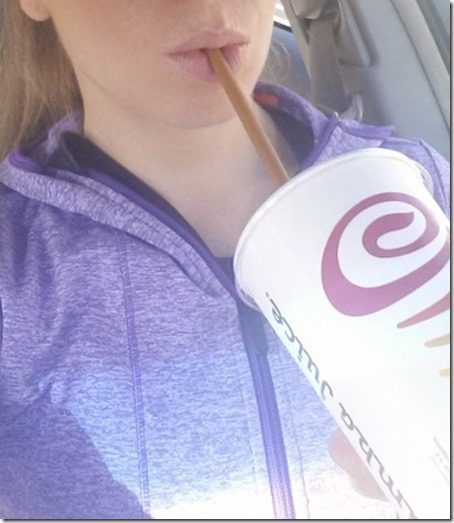 Jamba Juice Gift Card Giveaway
One RER reader will win a $25.00 gift card to Jamba Juice!
Open to all residents of Earth – but you should check to see if there is a Jamba Juice close to you so it's something you can use. Check Jamba Juice locations.
To Enter: Leave a comment on this post with your favorite smoothie ingredient.
Closes 4/13/14 at 8am PST. Open to all.
Disclaimer: Jamba Juice provided me with a gift card and one to giveaway. All opinions are my own.
Run SMART Goals
Fill out this form to get the SMART Running Goals worksheet to your inbox!