Discount Codes for Marathon, Half, 10k, 5K Fun Runs and more!  

Jan 1, 2021 Update: Due to Covid19 related Race Cancellations and Re-scheduling Many of the usual promotions have also been put on hold. We will update the site with new coupon codes as soon as we get them.*
Be sure to follow @RunEatRepeat on Instagram for updates.
I'm talking to race directors and organizers to share the best information and discounts with you. Stay safe and healthy. - Monica
If you're a Race Director interested in sharing a discount with the Run Eat Repeat community – please email [email protected]
2021 races are still trying to figure out if they need to change capacity for their races and/or change the date to later in in the year.
This means races might still have open registration for their usual date - but can't guarantee anything. So races might have to switch to a Virtual Race again or post-pone the event to a later date.
Please keep this in mind when planning your running goals and races in 2021.
Lace Up Running 5K, 10K and Half Marathon Discount:
Lexus Lace Up Running Series – your choice of 4 races around Southern California.
Get 10% off with Discount Code:  MONICA10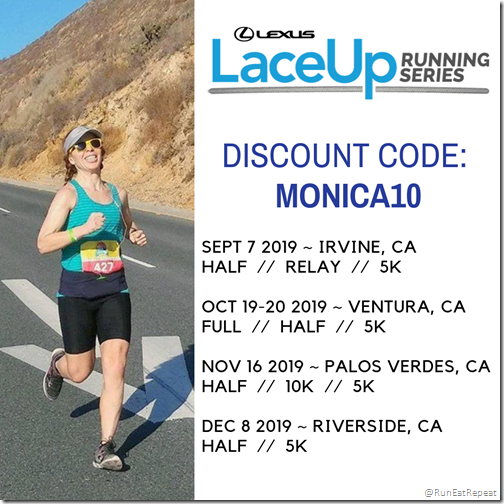 Get 10% off when you use code: MONICA10
Lexus LaceUp Running Series Discount Code and Information:
The Lexus LaceUp Running Series is a great 5k, 10k, half marathon and marathon race series in California. This race series is unlike any other with awesome runner perks AND gorgeous locations all around southern California.
The series has a full marathon, half marathon, 10k and 5k option plus kids run and post-race food truck party. Each location offers different distances - so check the dates and race location for info on the distance you want to run.
* Use code

MONICA10

for a discount on any adult race in 2019. *
The Lexus Lace Up Running Series has  something for every runner. Check each race for specifics but there are options to run a 5k, 10, half marathon OR marathon relay races plus kids fun runs.
There are 4 races in the series:
Get 10% off with discount code: MONICA10
Valid for ALL 2019 Lexus LaceUp Running Series Events.
You must sign up for each race individually – but doing them ALL scores you an extra medal that's pretty epic!
Each race comes with awesome perks – above and beyond most other races…
Race photos are FREE.
Post-race FOOD – not just bananas, there is a waffle breakfast OR food trucks each race (depends on location). Runners get a meal free.
Tech-race shirt
Beer garden
Fun post-race party.
*Sign up or get more information at Lexus Lace Up Running Series*
_________________________________________________
Revel Half Marathon and Full Marathon Discount
Use these links to save $10 on the half or full marathon!
Click the link to get an automatic team discount for signing up with the Run Eat Repeat team.
And you can get an additional discount by liking their FB page during registration.
Note: There's not a discount code to type in - the links below take you to the team page with the discounted price. Then, the additional discount is applied when you like the Facebook page. Follow the directions after clicking the link and it gives you the option at checkout.
Revel Race Marathon or Half Marathon registration links:
Revel Mt Hood Run Eat Repeat Discount (June 29 2019)
Revel Chilliwack Run Eat Repeat Team Discount (Aug 17 2019)
Revel Big Cottonwood Run Eat Repeat Discount  (Sept 14 2019)
Revel Mt Lemmon Run Eat Repeat Discount (Nov 2 2019)
Revel Big Bear Run Eat Repeat Team Discount (Nov 9 2019)
REVEL Kulia Run Eat Repeat Team Discount  (new Hawaii race!) (Jan 18 2019)
_________________________________________________
Half Marathon, 10k and 5k Discount codes for Triathlon / LA Life Run / Laguna Hills Memorial Day Race
Renegade Race series – 5K, 10K, Half Marathon and Triathlon Races in Orange County and Los Angeles. Upcoming races in March, April and May – check it out and sign up with the discount to save!
Discount: 10% off with - RUNEATREPEAT19
Spring Classic Gran Fondo

Ventura Triathlon

Summer Trail Run

Laguna Hills Memorial Day Half

Spooky 5K / 10K

Catalina Triathlon

Turkey Trot 5K / 10K

Santa Run 5K / 10K
Register & get more information on the dates and different race distances at - RenegadeRaceSeries.com
_________________________________________________
Elite Sports Races Discount:
Valid on any of the Elite Sports Runs!
Discount code: RER20
Feb -Seaside half marathon 5k 10k - www.SeasideHalf.com
March - Cottontail Half marathon 5k 10k  - www.Cottontailhalf.com
April -Ojai Half marathon  5k 10k -  www.OjaiHalfMarathon.com
May - Lake Balboa half marathon  5k 10k - www.LakeBalboaHalf.com
June - Father's day 5k 10k - www.FathersDay5k10k.com
July - Shoreline Half marathon 5k 10k - www.ShorelineHalf.com
August - Arroyo Creek Half marathon 5k 10k - www.ArroyoCreekHalf.com
September -Harvest Half marathon 5k 10k -  www.HarvestHalf.com
November - Surfers Point Marathon, half 5k 10k  www.SurfersPointMarathon.com
November – Thanksgiving Day 5k  -www.ThanksgivingDay5k.com
December - Holly Jolly Half marathon 5k 10k  - www.HollyJollyHalf.com
_________________________________________________
Past Discounts (that may return with new codes for next year):
PCRF Half Marathon, 10K, 5k and 1K Run
Reaching for the Cure Run at Irvine Valley College
in honor of the Pediatric Cancer Research Foundation
Sunday March 17th - Irvine, CA
Get 15% off with Discount Code: RUNEATREPEAT
Register for the Reaching for the Cure Half, 10k, 5k or 1k here 
_________________________________________________
Southern California Race Series Discount Code
Elite Sports Races – full, half marathon, 10k and 5k races in Southern California
Get 20% off all races with Discount Code: RER20
Check out their events page for all the upcoming races!
_________________________________________________
Rock N Roll Marathon Series - January 19 - 20 / Phoenix, AZ
Half Marathon & Full Marathon - Jan 20
Rock N Roll Marathon and Half Marathon Discount Code: RUNEATREPEATAZ10
[ There's also a 5K & 10K race - Jan 19. Discount not valid for those distances.]
_________________________________________________
More discounts and promotions are added all the time! Check back weekly for more.
Need a Training Plan?
Get your next Training Plan here!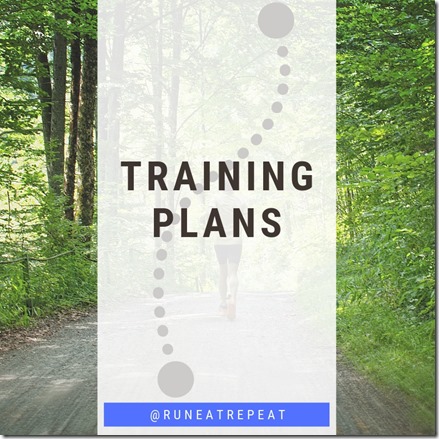 _________________________________________________
Attention RACE DIRECTORS:
If you're interested in sharing a discount code or promotion for your race - please email [email protected]