I started this blog over 4 5 years ago as a way to document my eats, running and weight loss. I  improved my eating and running – but was still not losing weight for some reason?!
I grew up as the chubby kid in my school and than really defined how I saw myself. For more on that check out my pictures.
After graduating high school I decided I wanted to lose weight! But after several fad and crash diets I was heavier and sadder then ever.
My body couldn't take the starvation patterns anymore and I started to binge eat to cope. I went through a cycle of binging and restricting in college and finally went to therapy for help. When I started RunEatRepeat I felt ready to lose weight in a healthy way. (You can read about that journey here.)
But, the scale still wasn't budging due to bad habits like mindless eating and emotional / tired binging. I never had an eating disorder, but for years I would eat very little during the day then come home and binge because I was starving. I am in a much better, more educated place now and finally aim for long term, slow, successful weight loss.
You can see below I used this page periodically to track my weight loss and it was really hard for me. The scale went up and down and back up repeatedly and it was embarrassing to share it on the internet. Issues with food are not sexy and it was defeating to have to admit I wasn't making progress. It took me years to fully overcome my binge eating habits.
But I did!
I read Intuitive Eating two times. I talked with one of the authors in person. I read other diet books and blogs.
Then, I realized WE ARE ALL DIFFERENT. My needs and cravings and faults are not the same as yours. I needed to find my own way.
I finally lost weight by running and paying attention (but NOT obsessing) about what I ate. Finally something just 'clicked' for me and I figured out how to treat myself well and lose weight. I learned what to eat, when to eat, how to eat all over again.
Check out my "How I Lost 10 Pounds Post" for how I did it.
I am naturally a bigger girl, so keeping the weight off will always take effort for me. But I have also learned a lot about acceptance and loving myself no matter what on this journey. The first step is to talk nicely to yourself and your body. Treat yourself well. Love yourself. Then, fuel and move like you love yourself.
I did it. So can you.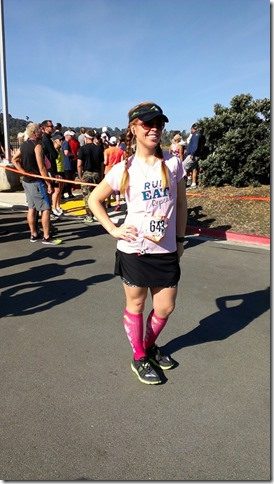 ____________________________________________________
Old content below.
2012  Goal: Get to goal weight – 145 pounds
Last year I started doing really well and lost 5 pounds SLOWLY, but easily. I didn't count calories, I didn't exercise more, I didn't try to curb snacking… you get it. But, I did completely enjoy life and food . However, I gained it all back after marathon training and the holidays 🙁   So, I'm starting from scratch this year with my goal and plan.
Weight loss plan:
Aim for 1,800 calories a day – TRACK for 12 weeks
Weigh in once a week 
Get enough sleep (I eat when tired)
2012 Weigh Ins
Date                     Weight                Change                Total                To Goal
1/20/2012      157.2
1/27/2012     157.2                         0                               0                      12.2
2/3/2012        155.6                         – 1.6                       -1.6                    10.6
2/10/2012     155.8                         +.2                          -1.4                   10.8
5/4/2012  Haven't been updating because the scale is going up. At this point I think it's partially because of my recent thyroid issues. I'm working with my doctor to figure out what medications I need to fix this. I have an appt with a specialist in June. Until then I am focusing on less snacking and no night time eating.
2011 Weigh ins…
After eating intuitively for about a year I have decided to get serious with weight loss. This new journey is just beginning as of Jan 2011 (the blog has been around since Feb 08, but mostly to document running and eating).
Day 1: Weight: 155.8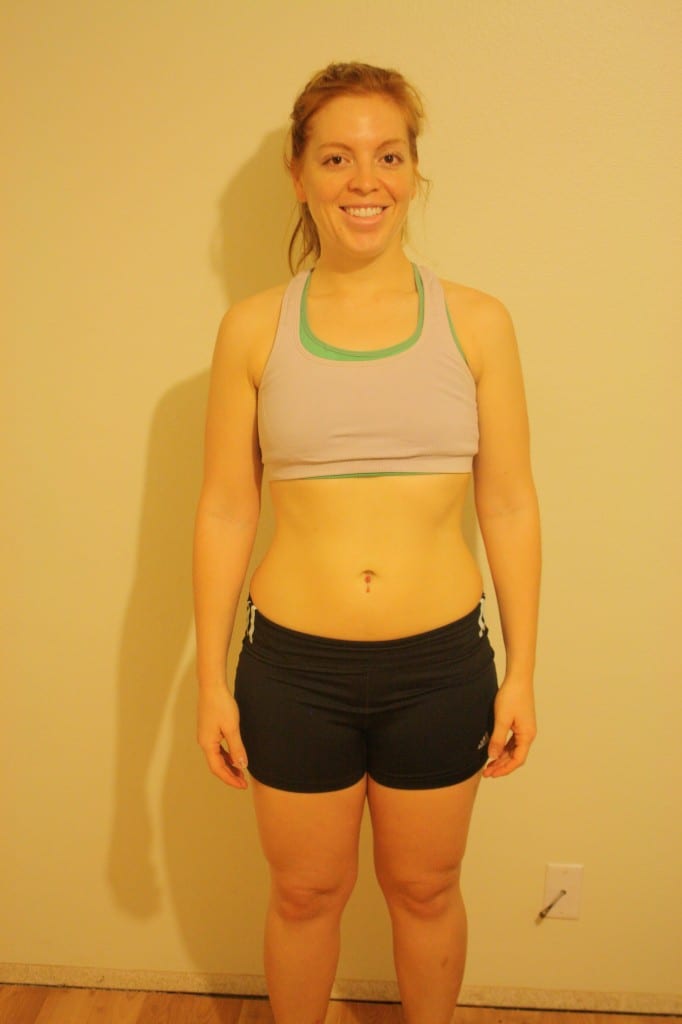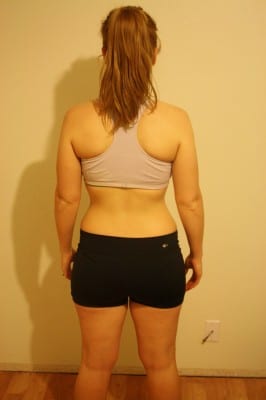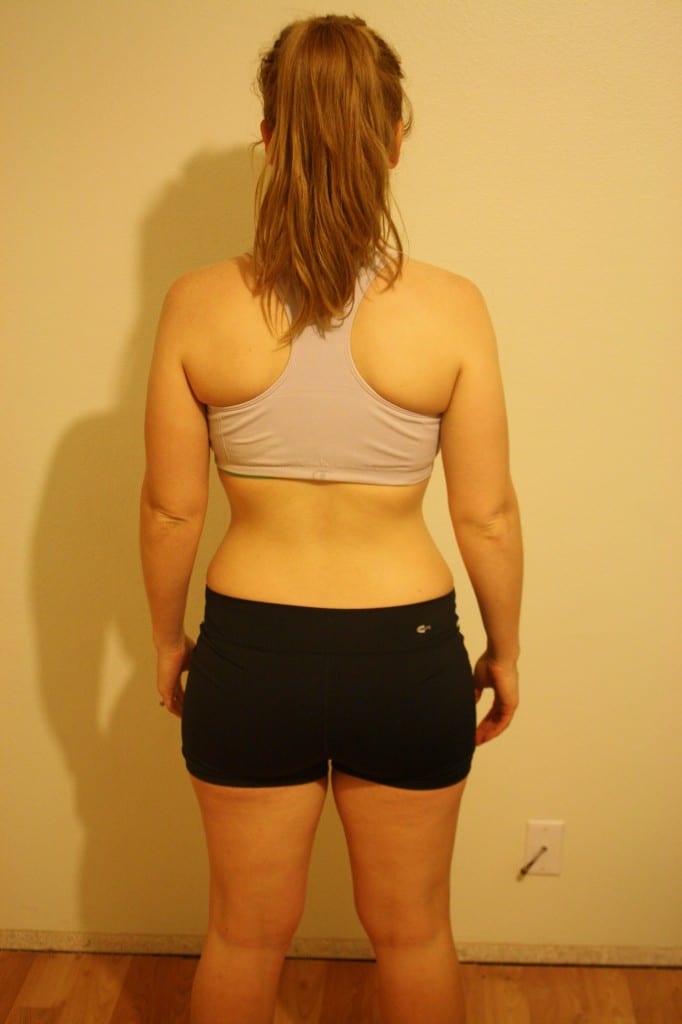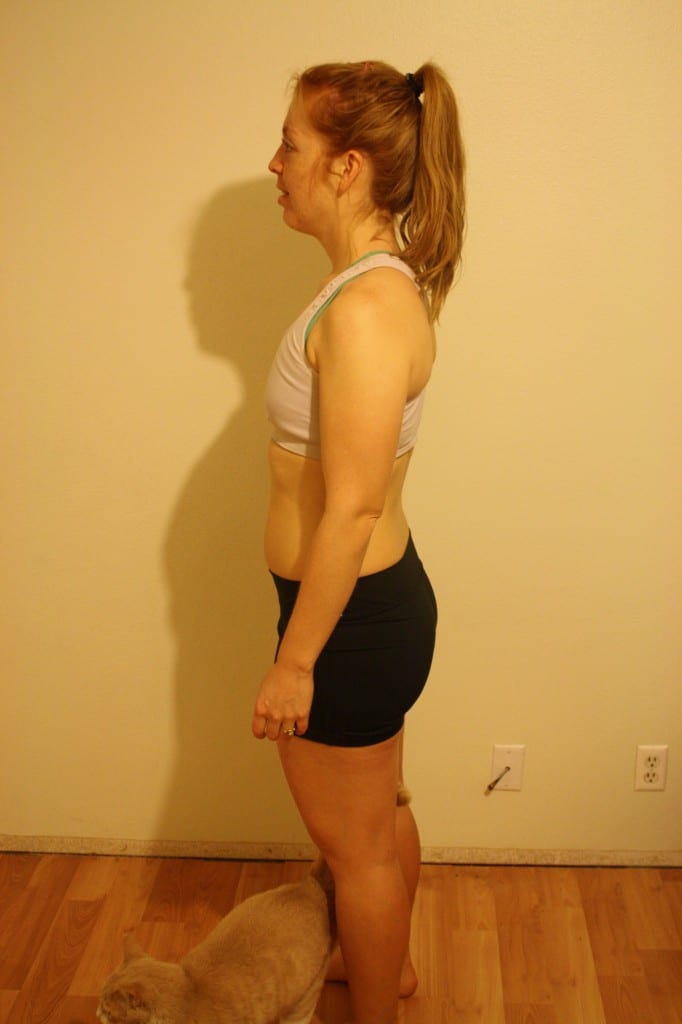 *Can I add that I took these pictures after my crazy stomach bug, all day flight from FL to CA and on 3 hours of sleep. I am a brave little bear.
Update: Jan. 21, 2011
Weight: 155.6 (-.2)
This week I admitted that I haven't been following BFL. However, I have been slowly adding in more protein and swapping out my nightly ice cream for protein shakes with a little cereal on top.
I haven't lost weight since my first weigh-in about 3 weeks ago, but I feel like my small changes are helping me avoid overeating and nighttime snacking. I'm going to build on this and commit to eating clean Monday through Friday the next 2 weeks. Then, I'll weigh in again 🙂
Update 2/28/11
I just got the BodyBugg last week (it's a calorie tracker). After wearing it for a week and realizing how many calories I'm burning on Run Rays and Rest Days, I have now realize aiming for 2000 calories a day is a good amount for weight loss.  On longer run days I will up it accordingly.
I am going to try and count calories for a week so I have an idea of my meals. But since I mainly eat the same things I think I can go off that guide after a week or two. I do not want to count calories for any kind of extended period.
March 18, 2011
Weigh in: 155.8 (+.2)
I'm pretty positive that .2 increase is water weight, so I'm not concerned.
I haven't been counting calories though. Busted.
However, I've been doing great with Intuitive Eating and feel really good about it. I think I'm officially "all in" with I.E. and I'm going to stick with it for now. Even though I am trying to lose weight, I'm okay if it's at a stand still because of I.E. for a time.
Update April 1, 2011:
Weight 155.0
Notes/thoughts: I feel like I've been eating intuitively and feel better. I'm not losing weight fast, but that's not the goal so I'm okay with it. I've read many different accounts that you gain weight, then stabilize, then finally lose weight with intuitive eating. I've definitely stabilized, so hopefully I'll start to lose more consistently soon.
Ben and I made a pact that if I don't snack at night for 5 weeks we'll get Disney passes. I've been wanting these since we moved back to SoCal, so it was totally my idea and I'm excited. A little extra motivation never hurt 😉 (If I'm hungry I'll still eat a healthier snack of course.)
Update: April 12, 2011
Weight: 156.5
I am very frustrated. I've been working very hard on less night time eating. By my prediction I thought that was saving me a few hundred calories every day, but I am still not losing weight. I don't know why the scale is not going down?!?! Ugh. It's really messing with my motivation and attitude 🙁
I need to take a step back and look at my eating a bit and see where I'm going wrong. I want to continue with Intuitive Eating, but I think I am still eating too much for my body's physical needs.
Update April 22, 2011
Weight – 155.0
I thought this was going to be up since I just came back from Las Vegas. I actually feel a lot better and think my weight is on it's way down from how my clothes are fitting 🙂
I'm exactly 10 pounds from goal – let's see how long it takes me to get there!
Update: April 30, 2011
Weight – 154.2
The scale hasn't budged under 155 since I started trying to lose in January! (It was over 155 all last year, but that's because I wasn't trying to lose.)
I really needed this to help motivate me and feel a lot better about continuing to make an effort to lose.
Update: May 12, 2011
Weight : 152.8
Finally. My weight has not budged in months. I don't think I'm making a big effort on it, but the small changes are slowly making a difference. I definitely don't want to do anything drastic because I want it to be long term.
Update: May 18, 2011
I'm going to start making a weekly plan for weight loss. Here is my plan for this week.
Running Workouts:
Monday – Run 6 miles and abs
Tuesday – Body Blast or TKB depending on what time I have to work
Wednesday – Body Blast or 3 with Speed
Thursday – Run 8 miles and abs
Friday – Rest / Arrive in Baltimore early morning!
Saturday – 8 mile run in Baltimore
Sunday – Rest
Update: May 22, 2011
Sunday Set Up Plan for the Week
Exercise:
Sunday: easy 4 miler

Monday: 8 miles

Tuesday: KB or Body Blast & abs

Wednesday: 6 miles with 3 at tempo pace

Thursday: Body Blast or KB

Friday: 6 miles or gym (depends on when I'm working)

Saturday: group run/walk
Eating: Plan dinners and snacks for the week. No snacking in kitchen outside of meals. Tracks eats (got a book from work that I'll be asking clients to use and want to try it before I'm recommending it).
Update: May 27, 2011
Weight 152.6
I gain and lose a ton of water weight all the time, but weighed myself Wednesday and again today so I think this is for real 🙂 The scale is going down very slowly, but I'd rather this than make drastic changes and binge.
June 24, 2011
Weight 152.8
I consider this a good weigh in, even though it's technically up .2 ounces. I was traveling in the beginning of the month (and ate a ton) and ate out 4 times this week alone! The fact that I didn't gain 10 pounds is a miracle.
July 28, 2011
Weight 151.2
I don't know if this is legit (my weight fluctuates like crazy with water) but I'll take it! I'm going to track calories for the next 21 days to get an idea of what I'm eating. Right now I have no idea how many calories I'm eating in a day. Tragic. I know.
August 5, 2011
Weight 151.6
Up .2 ounces, but I'm just glad the last decrease wasn't just water. I didn't track this week, which was a major fail 🙁 In my sad defense it has been crazy busy and I'm barely keeping my adult responsibilities in order. I'm marking 21 days in my book and making sure to at least track that many so from there I can "eyeball it".  I pretty much eat the same thing every day so just knowing my usual meals will help me stay under 2000 calories a day 🙂
To keep me accountable let me say it again – I'm tracking from today until the 25th.
Sept 30, 2011
Weight 152.4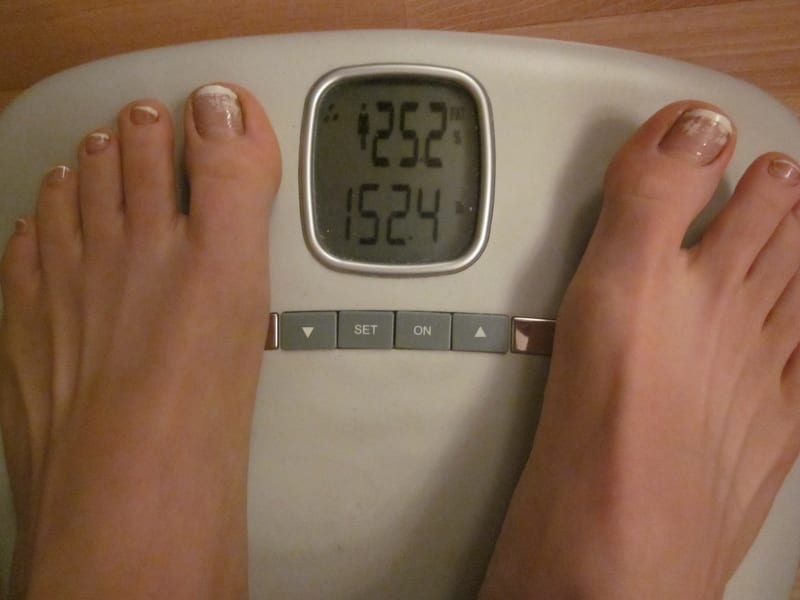 I have been doing okay with eating and exercise – enough to maintain, but not lose. I'm a week away from my  marathon and realized a month ago that this is NOT a time for losing.  I haven't gained any weight this marathon training cycle – so I guess I should at least be happy about that!
I did measurements at the gym last week and need to check and see if they've changed at all. The last 10 pounds are the hardest and I haven't been really working on it, just kinda hoping they'll go away. Apparently it doesn't work like that. Let me sleep on it and decide what I want to do next.