Hello! This weekend is the Lexus Lace Up Ventura Marathon / Half Marathon and 10k! Are you running it (or another race) this weekend?
GOOD LUCK!!
If you feel motivated to show up to a 10K start line before the year ends – go for it! No excuses – because I'm sharing a 10K training plan that can get you there if you've been running regularly and can do about 3 – 4 miles right now.
I put together this beginner 10K training plan for a friend who wants to run the Lexus Lace Up Riverside 10K Dec 3rd. So you can use this plan for that race or another race that weekend.
It starts NOW (well, this weekend) and in 6 weeks you'll be ready in time for the Lace Up Riverside 10K!
Note – this race is on a Sunday so the last week of the plan is the week before… and race day is noted on the Saturday before.
Print it out. Put it up. Add all the workouts to your calendar. Make it your screensaver.
Do whatever works to show up – hold yourself accountable and run an awesome 10K!
Lace Up Running Discount Code:
And don't forget to use discount code  MONICA10  when you register for any Lexus Lace Up Race!
Palos Verdes is Nov 18th and Riverside is Dec 3rd!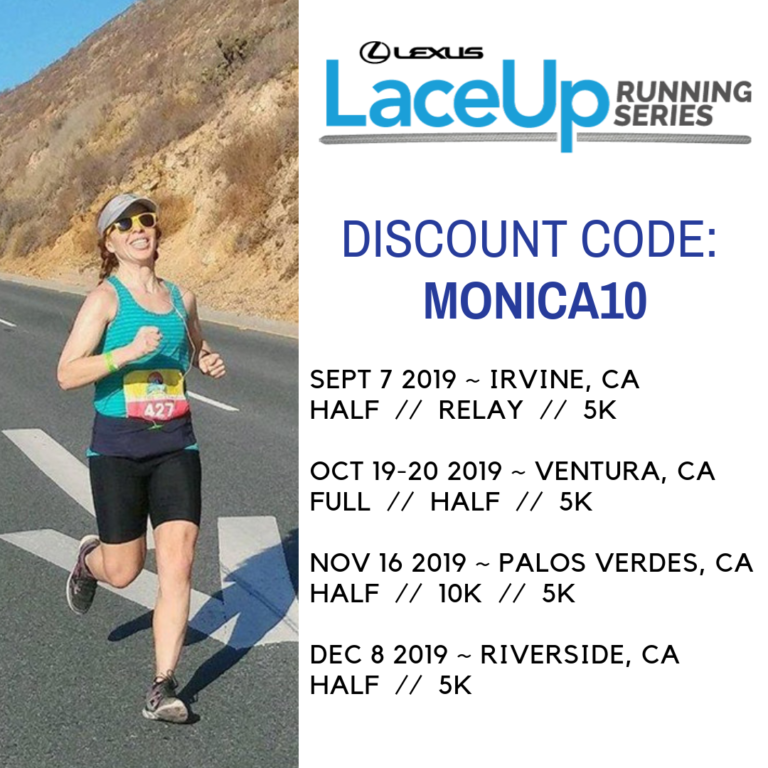 Lexus Lace Up Running Series can be found here with links to all the events!
Palos Verdes and Riverside both have a 5K / 10K / Half Marathon race – so you can do what works for you. Oh, and a kid's run!
Good luck!
Question: Any races on the calendar before the end of the year? Tell me what you're running!
Disclaimer: Always check with your doctor and any other health care professional you are working with before starting a new exercise or diet plan. We are not responsible for any injuries or issues that result from following this or any other workouts on Run Eat Repeat or it's social media accounts.