It's been about 9 weeks since I joined the Hyland's Powered Team to train for the Boston Marathon and share my journey with you. I can't believe we're already 2 weeks away from the race!!?! That is both terrifying and exciting to me.
I just got this final confirmation email from the Boston Marathon and it just made it more real. It also made it kinda sad because my mom is my emergency contact person and I realized my usual partner in crime SkinnyRunner is not running the race this year! I feel like I know someone every year who runs the race and this is the first year there's no one.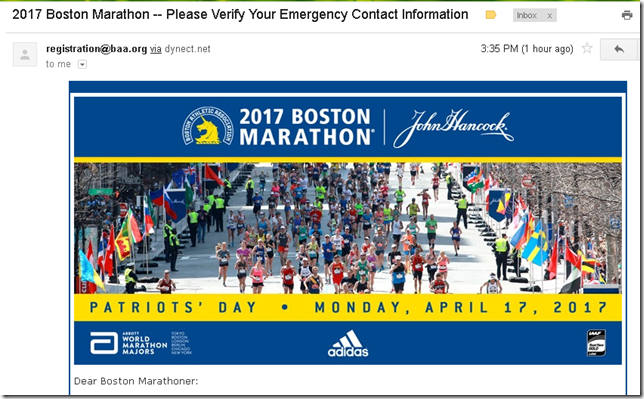 The Hyland's Team was put together for a few really good reasons. The company is a big sponsor of the race and wanted to highlight the 50th anniversary of the first woman to officially run the Boston Marathon. So they put together an all female team to share the journey of training to run 26.2 miles.
We were challenged to:
A.) train for the race
B.) share our running, motivation, fears, struggles, blisters, excitement, triumphs, black toenails and more along the way to the race weekend.
It was a process of learning about ourselves along the way to the finish line. I love that it's been more than just about running because I know not all of my readers are also runners. And I've really enjoyed thinking about my fears and motivation and everything else along the way.
This week we're sharing a video of our thoughts 2 weeks out from the Boston Marathon. Check out the vlog below and let me know if you have any tips or advice for me if you're familiar with the race!
And send me your running / eating / random questions too. I love Q&A vlogs and podcasts so feel free to ask me about anything.
Question: What is your FAVORITE part of a race?