Since my breakfast was a fail yesterday I decided to try eggs today. I have a bunch of generic egg beater cartons, but was craving a "real egg". So, I made an over-easy egg with toast.
I used the bread to soak up the yolk and it was so good. I haven't done this in forever!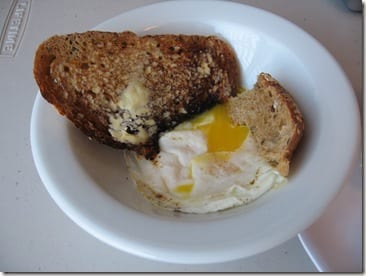 I also had an orange on the side and some blueberries.
Now, I am off to spend some time with my latest magazine and the elliptical. I am really less motivated to work out since I can't run, but I'm still making sure to do something each day. I may not be burning many calories, but I want to stay in the habit of exercising in the morning.
On the agenda for today:
– Elliptical
– Study for HTML final exam
– Breathe article
– Talk to apartment management about lease
– Weight loss Wednesdays post
– Babysitting till 7pm
Happy Wednesday! Only two more days until I'm headed to Las Vegas and then spending the rest of the week in California!!!
Run SMART Goals
Fill out this form to get the SMART Running Goals worksheet to your inbox!