Thanks for all your comments on my last post about Comparing Yourself to Others. So many of us do it!
I challenge you: the next time you find yourself checking someone else out to compare yourself to them – Stop, name three great qualities about yourself and move on.
I made myself buy broccoli instead of Brussel Sprouts last week. And I did enjoy the broccoli – it's great to roast too, plus there are more options for adding it to recipes and eating it raw.
But, I am very happy that Brussel Sprouts are back! I roasted them up with half an onion and had it with leftovers. Yes, I ate half an onion with dinner, sorry Ben!
I also ate the last of the Tofu Taco filling with cheddar cheese and used a taco shell to scoop it up.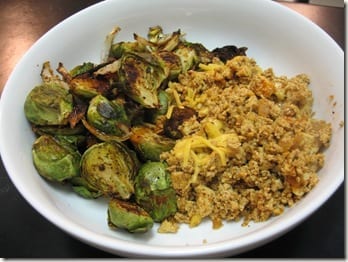 While I was cooking dinner I had a few bites of Ben's Chinese food and carrots with hummus. Last week I kept a notebook of my eats and it really made me aware of all my undocumented eats. But, I forgot yesterday and today and realized there were a lot more random bites. I'm going to continue for at least a month or two so I can learn about my habits and be more aware of the mindless eating.
I babysat after school today and while I was there enjoyed some blueberries and Chex Mix.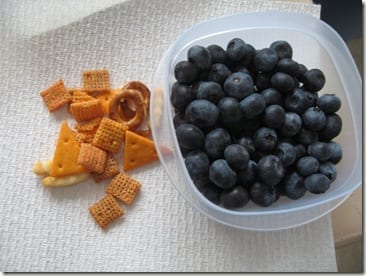 I brought this HFCS filled yogurt to eat there too, but ended up saving it for after dinner. I was very surprised by the bright pink color! I actually have never had good Red Velvet Cake, so I can't tell you if it tasted like it. But, I would suspect not. I topped it with trail mix for added enjoyment 🙂
Overall this choice was a FAIL because HFCS totally affects my blood sugar and makes me want to grab handfuls of sugar and go to town. I don't know if it's just in my head, but it happens even before I realize something has HFCS (example: Fiber One bars, which I really wish I could eat, but also make me want to eat 73 more!).
Now that my ITB Syndrome is diagnosed I'm super excited to start healing and moving forward. I'm tempted to visit active.com, but I'll try to resist until I have a better idea of my recovery time 🙂
Now I have got to go – LOST is on!!!