I had a Physical Therapy appointment this afternoon (hence the tardy post). It went well and I'm planning to run 3 miles this weekend.
While, 3 miles seems kinda tragic after a run 26 miles two months ago, I'll take what I can get right now!
My physical therapist has been taping my knee each session. My knee cap is shifted a bit to the outside from my imbalanced hip muscles and we are trying to encourage it back to the front. When you think about it – isn't that gross?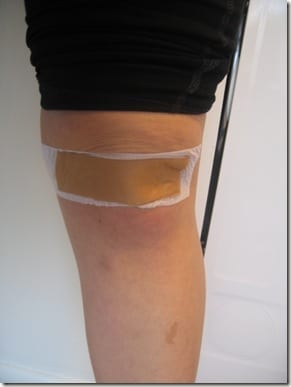 Lunch was a chik'n burger on a sandwich thin with hummus and  carrots. Ben was mad when I came home with another plate yesterday, but this one puts me in such a good mood 🙂
Happy plates = Happier Meal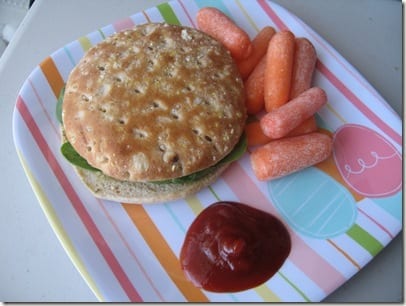 And Veggie Crisps on the side (dipped in ketchup and hot sauce). While I hate making extra trash – these individual bags really help with portion control!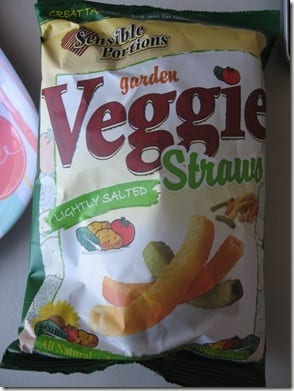 After PT I had a huge iced coffee and a Kashi bar. Great afternoon pick-me-up!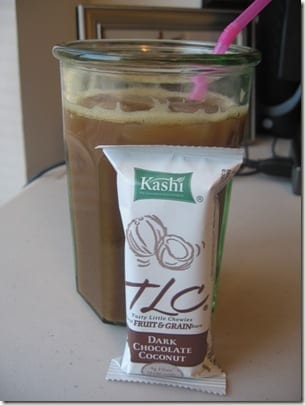 Intuitive Eating – This hiatus from running has really taught me a lot about my body, my hunger and intuitive eating.
Since I am not running my need to snack has really lessened – it's not completely gone because it's a long standing habit, but I have noticed a big difference. Also, I am unable to justify eating something because I ran today. I think it's made me more accountable in that if I eat something I can't just convince myself my body will burn it on tomorrow's run.
So often in the past (particularly on long run days) I would eat things because I felt like I "deserved it" or because I thought I needed it to refuel. These past couple of weeks of not running have helped me get more in tune with my actual needs.
I am making great progress and do feel a difference in my body. When I over eat I don't feel guilty, but I feel unhealthy and I don't like that. When I listen to my body I feel good health-wise, but also my mind set stays at a healthy place too – which is just as important!
Run SMART Goals
Fill out this form to get the SMART Running Goals worksheet to your inbox!