When I saw this recipe on Heatherbakes recently I almost died. I LOVE chickpeas (um, call me captain obvious). But – Ben doesn't like them 🙁
He does however, LOVE eggs. So, when I saw this combination I knew I had a winner.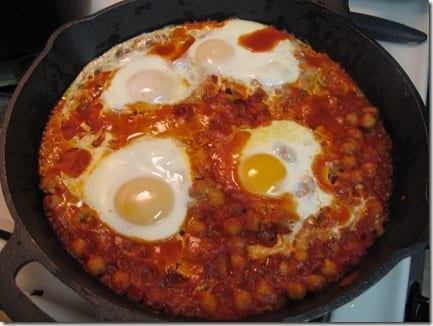 The original recipe is in the latest Food Network magazine. This edition is all about eggs. Since I didn't have the actual magazine or recipe I made it up as I went along (aka – how I always cook).
I used this sauce I got from Bertolli as part of the FoodBuzz Taste Maker program. This is my new favorite sauce. I LOVED it – for real. Ben even asked if it's sold around here because he wants me to get it again.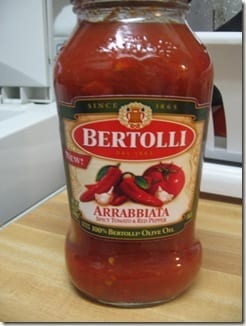 This meal was super easy and super delicious – just like I like it! Plus, with the addition of eggs Ben loved it too.
Chickpeas and Eggs – RER style:
Heat olive oil in a cast iron skillet. Sautee onions and garlic in oil.  Add 2-3 cups of cooked (canned) chickpeas. Mix and Heat through.
Add jar of sauce, heat.
When sauce is hot add eggs. I added four because I wanted more chickpeas than eggs.
Serve with warm naan. Enjoy life.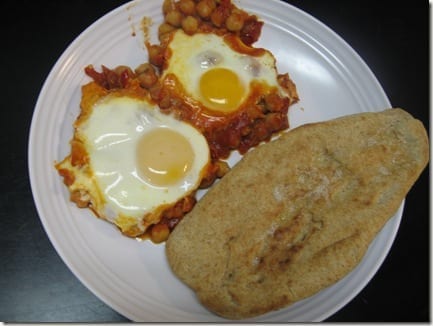 I topped the bread with some I Can't Believe it's Not Butter spread. The company sent me a coupon for one of their products and I went with the spread because I already have the spray 🙂
Today was a healthy, but not perfect day of eats. After reviewing many, many blog posts from the past I realized a few blaring things I do wrong:
– Eat too many carbs and not enough protein or healthy fats (so I'm not satisfied)
– Eat too much fruit by itself (and have a resulting sugar/carb binge)
– Snack randomly/mindlessly/habitually/at night (this we already knew, but I didn't realize the extent until reading myself do it day after day after day…)
In an effort to listen to  get in more protein I made a turkey sandwich for lunch. As soon as I was eating it I felt guilty for eating meat 🙁 I think I will stick to non-animal sources of protein in my sandwich next time. But I did want to come clean about it.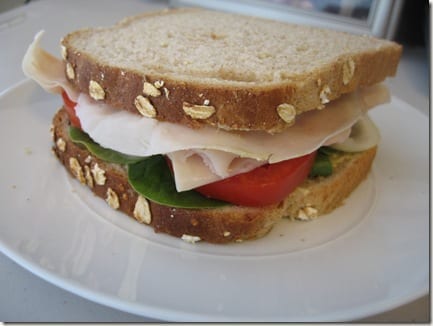 Today while eating an apple and cantaloupe (that missed the camera) I added cashews and raisins. Adding the nuts helped even with the dried fruit.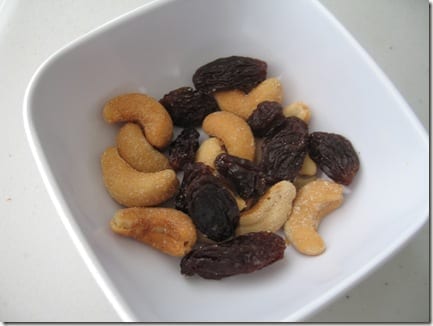 Now I am off to spend some time with that guy who lives with me…
Run SMART Goals
Fill out this form to get the SMART Running Goals worksheet to your inbox!