We signed up to take the shuttle into Willemstad today. Before we left we had breakfast and caffeinated up.
Ben was running late so I grabbed a couple of things that I knew he wanted before they were gone. So, I shared most of my pancakes and potatoes with him.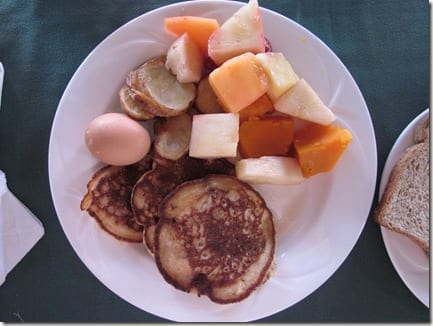 I love that there are a lot of healthy breakfast options too (you know, if I ever decide to go that route) – poached eggs, hard boiled eggs, wheat bread, fruit, oatmeal yogurt.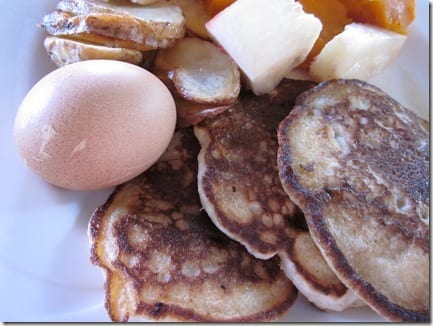 I also had some yogurt with cereal and almonds.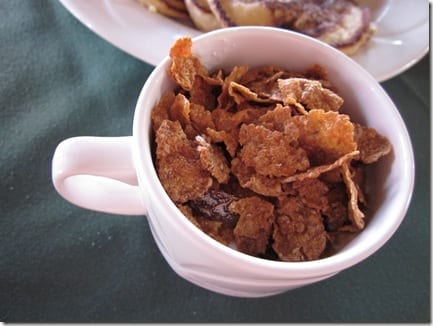 Willemstad is the capital of the Netherland Antilles. It has a population of about 125,000 and is only about two miles away from our resort.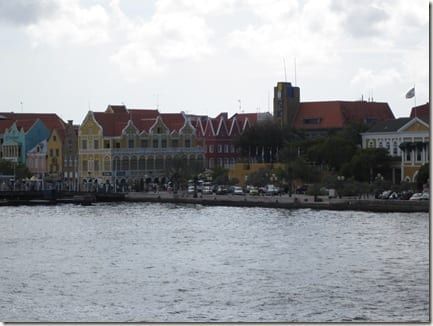 It's super gorgeous since all the big buildings are painted very colorfully. The only unfortunate aspect of this excursion was it is super touristy.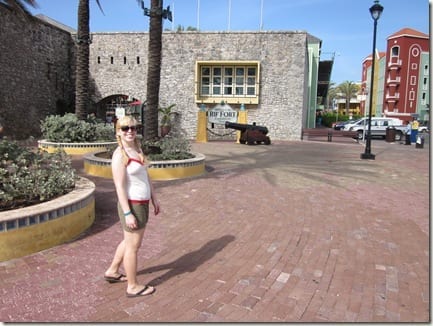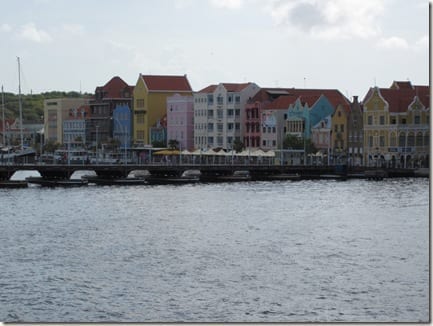 Ben and I normally like to stay at hole-in-the-wall kinda places, eat local food and avoid tourist traps when it's possible. Well, this was kinda tourist trap city, but we went with it and enjoyed the experience.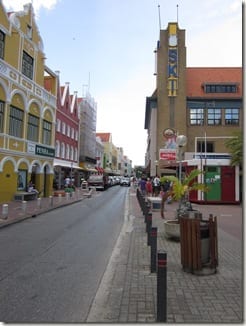 There is a dock for cruise ships, which kind of makes the surrounding area ready and willing to overcharge for souvenirs and provide Subway and Ben & Jerry's. There are also several casinos in the area.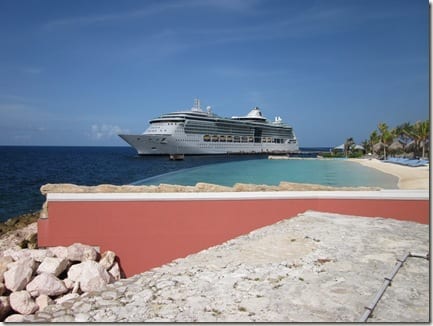 Supposedly, the Governor required all the buildings be painted in bright colors because he said all white buildings gave him a headache.
It turns out he had stake in the painting business and that's why he required it! It sucks that he was a scammer, but it is a very pretty place.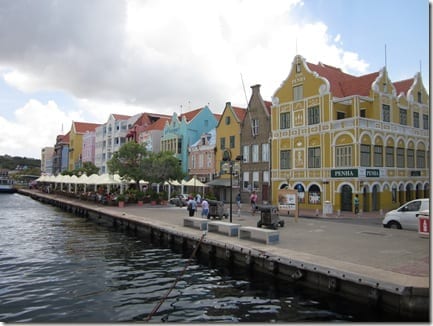 After a while we walked up an appetite  and stopped to try a tuna empanada. It was okay.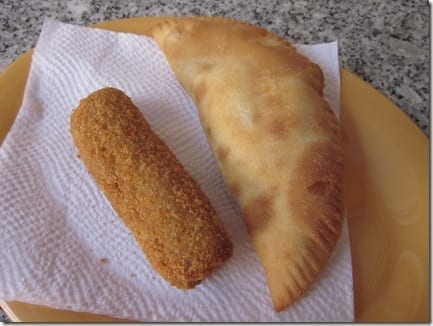 We didn't get our snack at this stand, but we might as well have considering it's tuna in a fried pocket…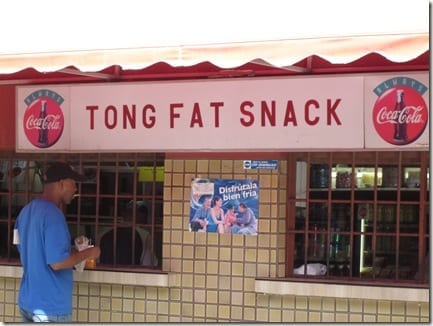 I do really love that there are so many languages on the island – Dutch, Spanish and English. Signs are in all of the above and more.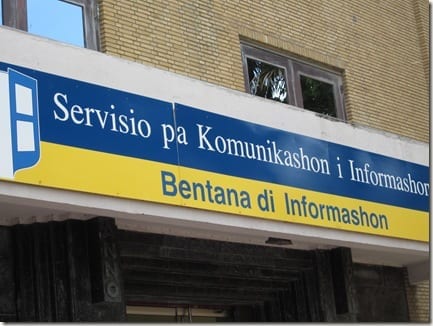 Labels are too…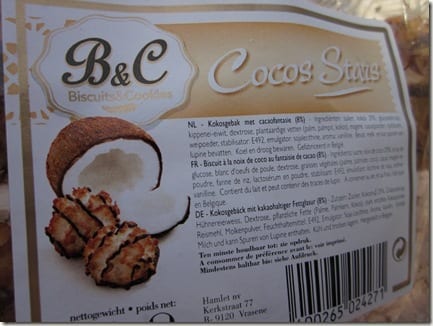 Ben is in coconut macaroon heaven by the way.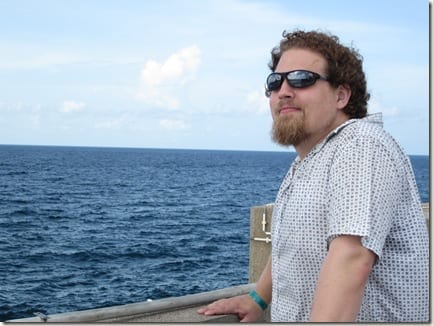 We came upon a local open air market with fruits and veggies.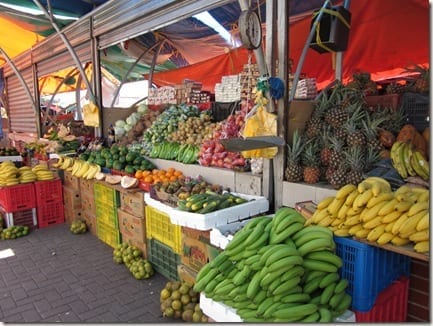 There was a weird looking watermelon, but I'm not sure what it actually is called. I would have asked the vendor, but he was too busy trying to sell Ben tequila that was actually soda. Um sir, I understand what "sin alcohol" means.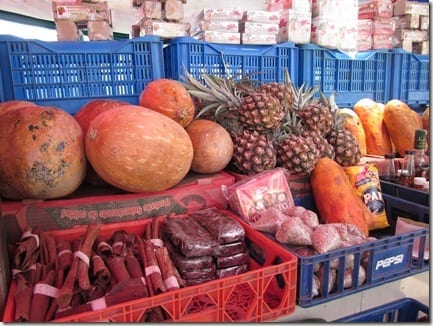 After a few hours of walking around the city we headed back to hotel. It was around 1pm by then so we hit up the lunch line. I covered half my plate in veggies and the other half with carbs and protein. I'm trying to teach Ben this is how you do it.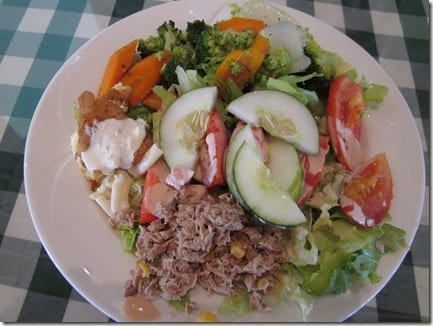 He covered his plate with veggies too. Plus cake, which I stole some of.
When we got back up to the room the hotel delivered a complimentary bottle of champagne for Ben's birthday!!!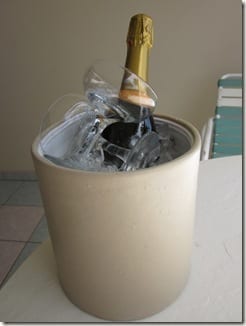 In honor of his B-day, here are some facts about Ben:
1. He doesn't have a middle name. Which bothers me for some reason.
2. He is great at picking up languages, but cannot fake an accent for the life of him.
3. A twist of fate brought him to CA, but he's originally from a little town in Florida.
4. His dad is a painter. Like a real one.
5. He loves anything coconut or almond flavored.
6. He's a genius and is the hardest working person I know.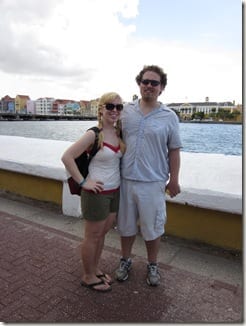 Happy Birthday Grizz! I love you.
Update: My jellyfish sting is a lot better. You can barely see the stinger mark on my shoulder and the neck mark is fading too.
Run SMART Goals
Fill out this form to get the SMART Running Goals worksheet to your inbox!