Hello and happy Wednesday!
I am still in Curacao until late Friday, so I've been MIA because of all that beach and sun that needs tending to 😉
Last night Ben and I had reservations at the most romantic restaurant on our resort's property. Even though it's an all inclusive, you need to reserve a spot at the different places to eat for dinner.
Actually, it's not a "real" restaurant. They just set out tables and serve you right on the beach.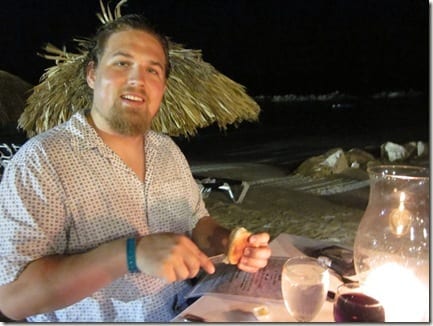 It is the most romantic dining experience I've ever had.
Our dinner was lit by one candle and the moonlight, so the pictures are horrible. But, the memories are great. Ben and I talked about some really important, good stuff <3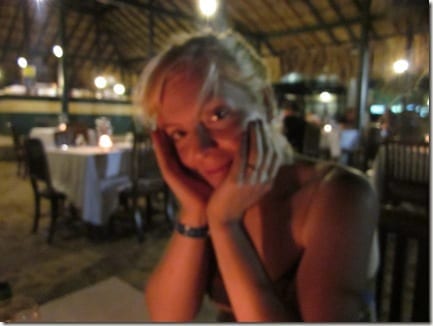 We started with bread, salad and soup.  I've decided I dig the heck out of full fat salad dressing in moderation.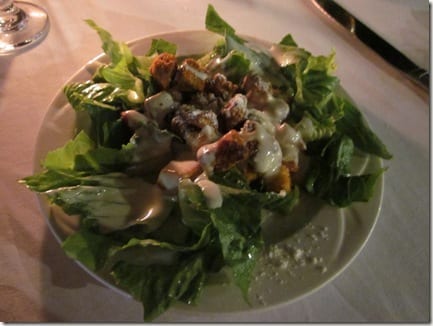 I ordered the fish for my main course.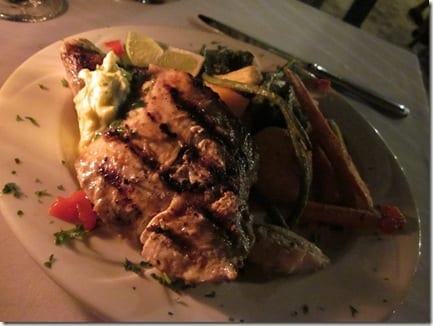 And for dessert – carrot cake! I love carrot cake, but always choose chocolate over it. Well, tonight chocolate wasn't an option so I enjoyed what is quickly becoming my fave flavor.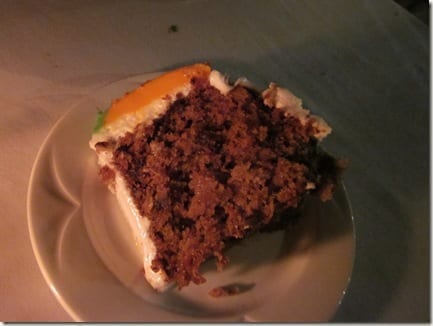 Wednesday – This morning I hit up the gym again, but was not feeling it at all. I think all the alcohol and desserts are starting to affect my energy and motivation (not to mention waistline!). I ran for about 20 minutes before switching to the elliptical with a magazine. A week of clean eating is definitely in order when I get home.
I did something a little different for breakfast this morning and made an egg sandwich with a roll, grilled tomatoes and an over easy egg.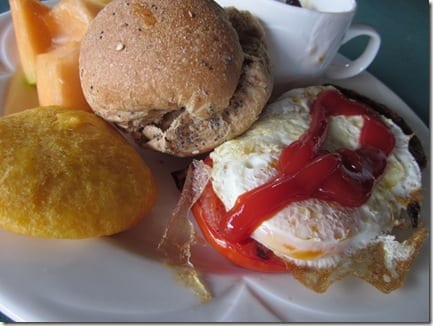 Delicious!
Plus some yogurt topped with oats, raisins and almond slivers on the side.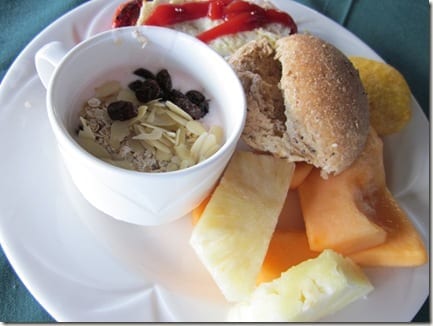 Ben and I walked to the the aquarium that's practically next door after breakfast. It was tiny, but we didn't really have anything else to do.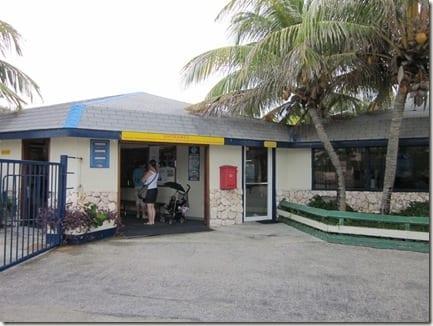 This fish made me never want to go into the ocean again! He wants to eat Ben! And I think Ben wants to eat him too, so I guess they're even.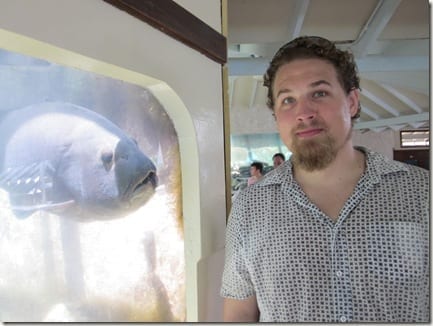 It wasn't anything exciting, so we amused ourselves.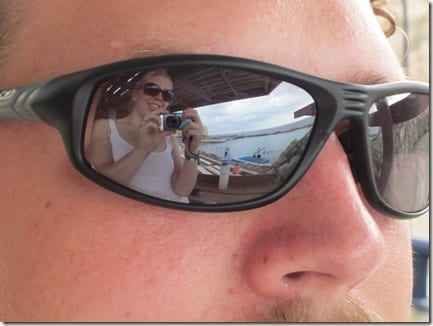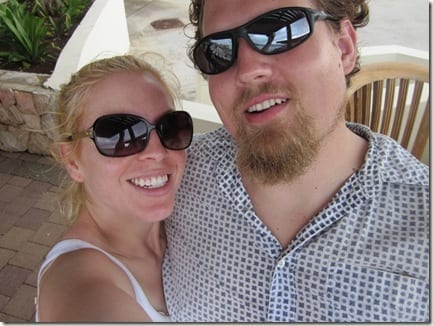 Just as we were about to leave it started raining. Then, it started pouring. By the time we got to our hotel we were both soaked all the way through.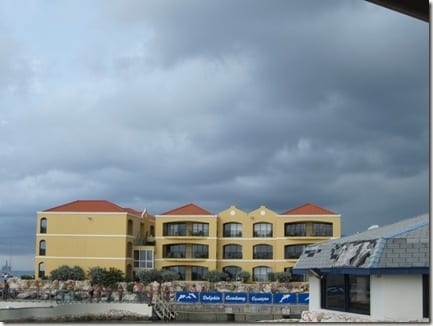 It was major wet t-shirt time. Plus wet everything else.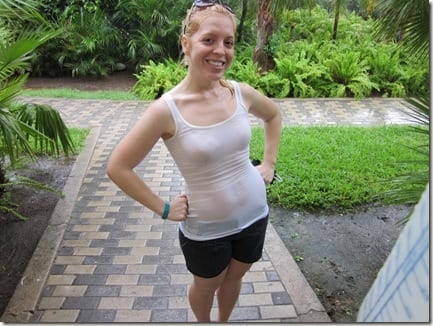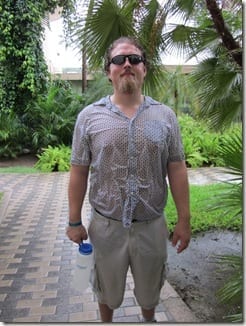 We relaxed a bit before hanging out by the water. With drinks.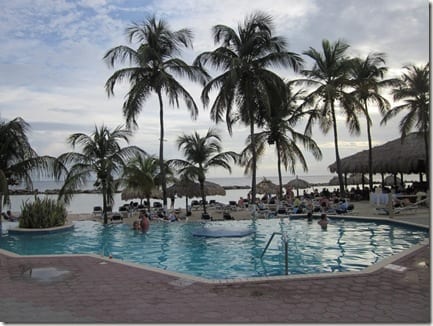 And appetizers from cocktail hour.
I love the simplicity of this one – a slice of tomato, lettuce, hardboiled egg and olive on toasted baguette. I can make that!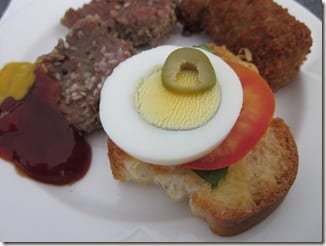 Ben and I ate at the Italian restaurant tonight and started with soup and salad again. I don't know what it is, but the tomatoes here are amaze.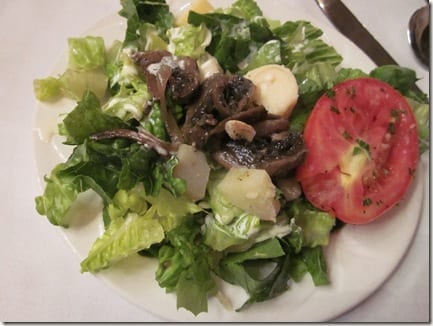 For my main course I ordered wine.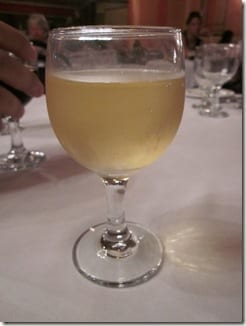 With a side of pizza.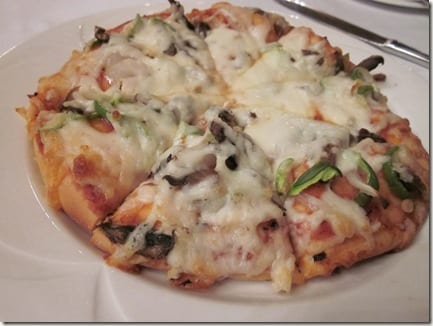 And a happy ending of chocolate mousse. I am drinking a ton of coffee on this trip. We are surrounded my Europeans at this place and everyone just lingers about after dinner, drinking coffee and talking. I love it, so I am being a copy cat 🙂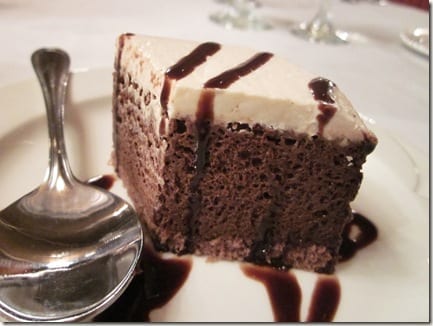 I am having a blast, but have to admit I'm excited to get home too. I have never stayed at one place on vacation for more than 4 nights, so I'm getting antsy.
Q: What's the longest you've been on vacation?
My trip to Europe was over two weeks and Costa Rica was about two too. But we always moved from place to place, so it stayed fresh.