If at first you don't succeed, try try again. Even when that comes to baking cookies where the first batch comes out super dry and flat. And even though recipe #2 isn't perfect, the saying isn't "Try, Try, Try Again" so I only get two tries
Eggnog Cookies
I had this amazing and possibly overconfident idea to make another eggnog flavored dessert -this time in cookie form. Since I just dreamt it up over the last few days I wasn't positive on how to execute my plan. But I knew I should TRY.
I stopped at the store after class for the obvious essentials: Eggnog, sugar, flour and eggs. I had all that other stuff.
I tried to make this recipe a little health conscious by using egg replacement and light eggnog.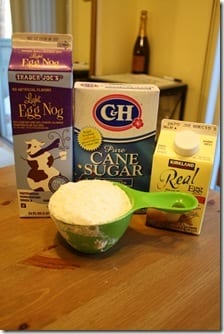 Ingredients:
1 cup sugar
1/4 cup Earth Balance or butta of your choice
1/4 cup Eggnog
1/4 eggbeaters or 1 egg
1/2 tsp vanilla extract
1 cup flour
1/2 tsp baking powder
1/2 tsp nutmeg
1/4 tsp salt
Directions:
Pre-heat oven to 350 degrees
1. Cream together butter and sugar. Add eggnog, eggs and vanilla.
2. Combine flour, baking powder and soda, nutmeg and salt in a separate bowl.
3. Add dry ingredients to wet and mix.
4. Refrigerate for 15 minutes.
5. Scoop onto a well greased baking sheet (nonstick spray is fine).
6. Bake for 10 minutes at 350 degrees or until cookies look set and brown around the edges.
7. Cool completely and frost with eggnog frosting.
I didn't chill the first batch so the cookies were very "runny" on the baking sheet.
While you are waiting for the cookies to bake feel free to sip eggnog out of the measuring cup. Why not? It's already dirty anyways…
But wait! Don't drink all the eggnog because you have to save some for the frosting!
Eggnog Frosting:
1 cup powdered sugar
2 Tb. Eggnog
Dash nutmeg (You can sprinkle on as a garnish if you have a really light hand. I do not.)
Directions: Combine and mix until smooth. Add more powdered sugar or eggnog to get desired consistency.
Eggnog Cookies, Enjoy!
In other news, I guess today was a day of "try agains"  because after ruining an entire batch of cookies I broke my food processor.
I was trying to recreate Mamapea's brussel sprout salad (well, recreate as much as possible when we all know I had no intention of actually following a recipe). Anyways, someone (this girl –> points at myself) needs a Vitamix because I broke my food processor trying to "process" brussel sprouts. Boo.
After I broke it (and subsequently had a fit and threw it into the trash), I used the blender and tried again.
My last "try" of the evening with be trying eggnog cookies dipped in rum.
Good Night!
Run SMART Goals
Fill out this form to get the SMART Running Goals worksheet to your inbox!