I am cold, but cannot be stopped from making smoothies for breakfast!
After an easy 6 miler this morning I tried to talk myself into different, warmer breakfast options. But, I reeeeally wanted a smoothie! So that was that.
In the mix: ice, frozen spinach, protein powder, almond milk, chia seeds.
On the side I enjoyed PB&PB toast.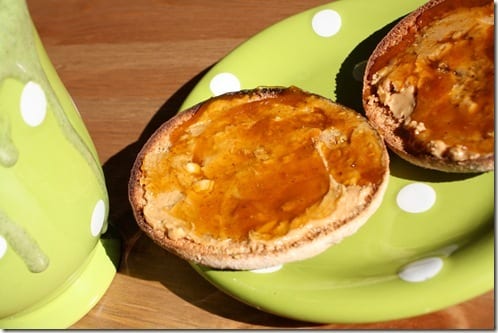 It's December 1st! I love my new approach of making smaller more manageable goals this year.
My November Goals were:
1. Intuitive Eating – only eat when hungry, pay closer attention to fullness and night time eating = I did okay on this, but need more accountability.
2. Get 8 hours of sleep (this helps with #1 soooo much) = This is getting better.
3. Jillian's 30 Day Shred Challenge = Nope. Ranked out of this, but did my own moves about 2 times a week.
4. Get organized: Bills, Blog, Personal – all of it will be organized by Nov. 3oth! = Made a lot of progress with personal bills, still working on emails.
5. No gum. This might be the one that kills me. = Didn't end up cutting it out, but cut back a lot. Many people asked about this one – Why cut out gum? Because I was chewing about a pack a day and am trying to cut back on fake sugars.
December Goals:
1. Building on last month's IE goals I am going to try and stay aware of calories and aim  for 1800 a day. I kept track 2 days last month and saw I was up around 2500!
2. Go to the gym (or take yoga) 2 times a week. I need some cross training in my life!
3. No diet soda. This is building on last month's #5 in an effort to cut back on fake sugar.
4. Do Abs every day. After the LB marathon my rib cage hurt very bad later that day and for a few days after. I think it's because my abs are weak and it was hard to hold myself up for 4:04 hours.
Question: Did you make any December goals? Please share!