Ben and I went on a walk this morning. I needed a rest day from running and he wasn't too hung over from last night's festivities so we headed toward my favorite place – Dunkin Donuts!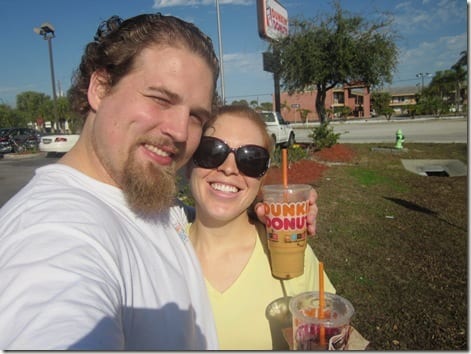 It's just under 2 miles from his parents which makes for a great stroll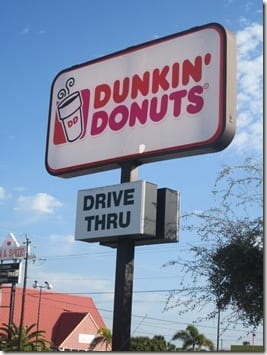 Doesn't this picture make it look like DD is Heavenly? Because it is.
All I wanted was an iced coffee, but I took a few bites of Ben's flat bread egg sandwich for sustenance.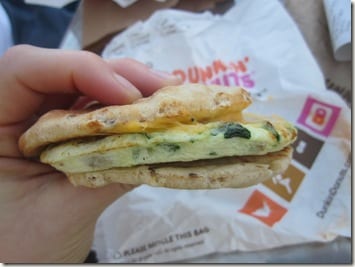 Random Relationship tip: I've heard talking while sitting, standing or walking side-by-side is good to get your partner to open up. This way he or she doesn't feel confronted "head on" and it's more casual and easy to talk.
I don't remember where I read that, but I do love our long walks and talks
Last night we stopped at Ben's friends house for some beverages. Since I knew we were going to be drinking I insisted we stop for food first. I got a Publix salad…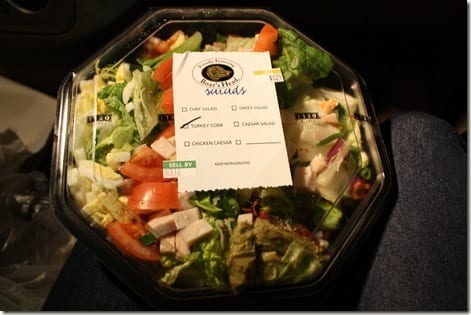 and some of the most amazing pita chips ever. I usually avoid Stacy's Cinnamon Sugar Pita Chips because I eat the whole bag in one sitting, but I just didn't have the willpower last night. Ben described these as, "The largest piece of Cinnamon Toast Crunch I've ever seen."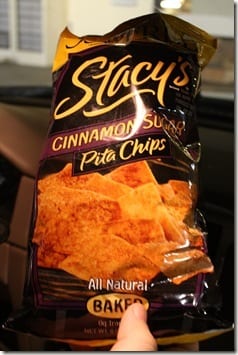 When we got to the house we were greeted with a counter full of alcohol. Don't threaten me with a good time
Ben's brother, Jon, is quite the bartender…
Ben might have gotten "girly drink drunk" off of these almond joy tasting beverages.
And this hairless cat watched it all go down.
So, my day consisted of Orlando, Cinnamon Sugar Pita Chips, a hairless cat and alcohol that takes like a candy bar. Epic. 
It's the last day of 2010. Here are my 2010 Highs and Lows.
Run SMART Goals
Fill out this form to get the SMART Running Goals worksheet to your inbox!