First off I'd like to thank Meghann for taking Vegas to the vet this morning
April Fools!!! I know you all caught on to our little April Fool's prank, but did anyone still get a good laugh out of it? I do kinda wish I could take care of Maddie for a bit, she's so cute!
Since Meghann is in FL and all, I had to take Vegas to the vet. The vet's resident house cat had a really good time checking him out. He's a kitten and super cute and curious.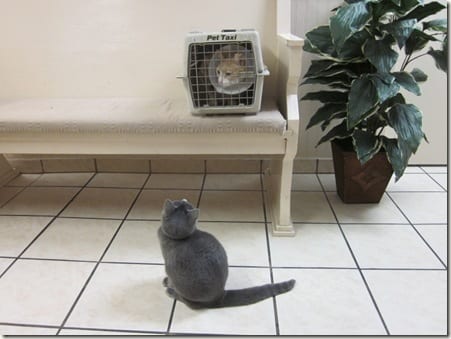 "Hi! My name is Sam! Wanna be frenz???"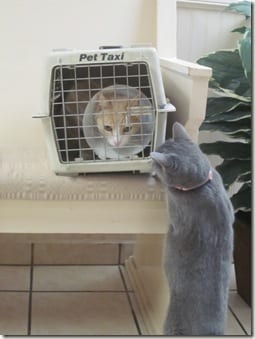 Vegas: "No. Go way, you bodder me!"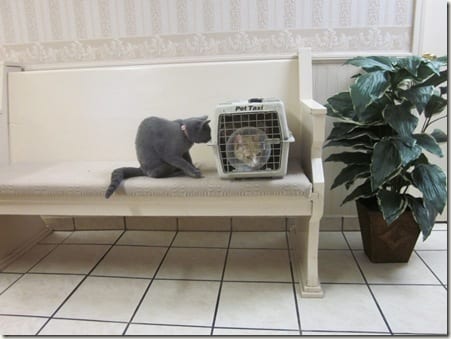 "Pleeeeeeeez??!?!?! You smell real nice."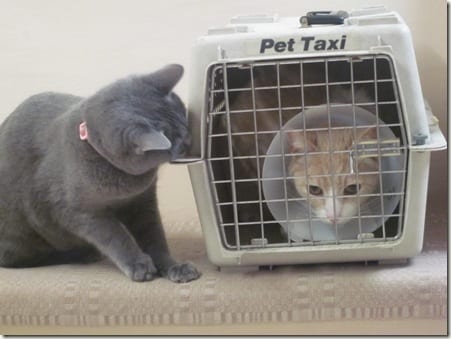 "If you don't be my fren I'm gonna sit on ya…"
"I'll stay here all day if I hafta!"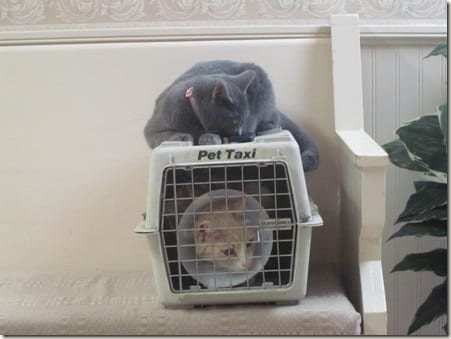 Vegas: "I will cut you Sam. Go away!"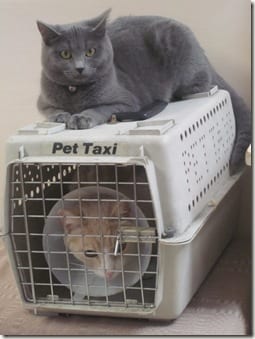 Let's just say it wasn't a match made in kitty Heaven

www.nataliedee.com
Mid-morning I wanted an orange, but the first one was dried out. Luckily, bachelor #2 was super juicy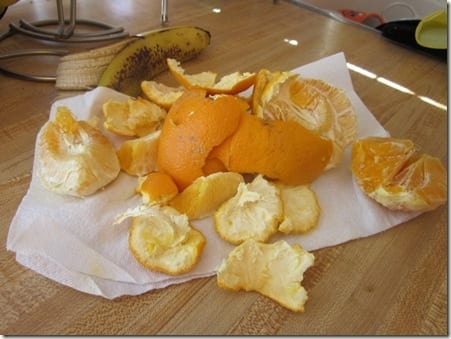 I also ate some sweet peppers while out running errands.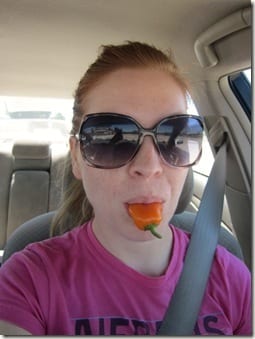 I was tempted to get fish tacos for lunch since I've been randomly craving them, but knew I should eat some of the massive amounts of produce I bought instead.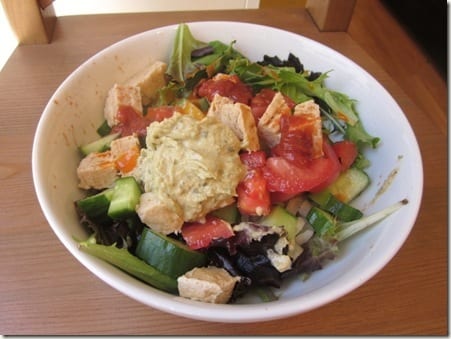 This salad has 3 sauces: hummus, ketchup and buffalo hot sauce. This is a triple threat combo of deliciousness.
It's Fitbloggin Friday!!!

Today I am speaking with Matt from No Meat Athlete. I think Matt is an amazing blogger, runner and writer. I recently reviewed his e-book The Vegetarian Guide to Conquering Your First Marathon here.
He qualified for Boston on a plant based diet and is really leading by example in this realm. Obviously,  I'm a fan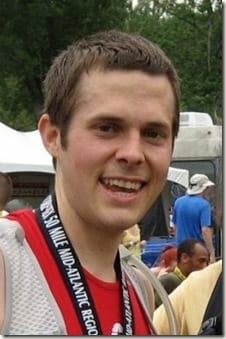 1. How long have you been blogging / why did you start?
I started No Meat Athlete almost exactly two years ago.  I was really into running marathons and super-focused on qualifying for Boston, and during that time I decided for ethical and health reasons to go vegetarian.  I really didn't know how I would make it work, but I figured since there were probably others in the same boat, it'd be fun to start a site about everything I learned.
2. What topic are you speaking about at Fitbloggin?
I'm speaking about search engine optimization.  For those who don't know, that's the practice of doing things to make your site and posts attractive to search engines, so that readers find you instead of you always having to go find them.  It's all very non-sneaky and totally ethical — the point is just to make it as clear as possible to search engines what your stuff is about, and to show them that you're trusted as an authority in your niche.
3.  Why do you think this is an important topic?
Well, the traffic can be huge — hundreds of people a day even when your site is pretty new, and thousands once you've got some more content.  So it frees you up to focus on creating great content instead of trying to comment on 100 blogs every day to get people to your site.  And it's really high-quality traffic if you're ranking well for keywords that pertain to your site.  Lots of people get search traffic for weird terms that really don't apply to the audience they're looking for, and it's almost worthless.  But when you get people searching for relevant stuff and finding your site, they're likely to stick around for a while and subscribe.
Another great thing about search traffic is that it's a new batch of people finding your blog every day.  So if you have something you're selling, for example, it's getting lots of new eyeballs all the time, not just the same crowd of people who are sick of your pitch.  And having all these unique visitors is something that advertisers view as valuable as well.
4. If you went to Fitbloggin last year – what was your favorite part? OR What are you most excited for at Fitbloggin this year?
I'm really excited to meet bloggers in the health and fitness niche.  Until this year, I hadn't really met many bloggers in person, but since I've started, I'm addicted!  It's always fun to connect with the people I've "known" online for a year or two.
5. Anything else we should know about you or your blog?
Well, as I sort of said above, it's about doing endurance sports on a vegetarian or vegan diet.  But I'd say that it's pretty different from most health blogs — I only write 2-3 posts per week, and I don't use Foodbuzz or any ads.  So even if the content doesn't interest you, you might be interested in visiting just to see a different way of doing things than what's standard in our niche.  I also focus a lot on building an email list and sending them lots of good content that way, starting with an e-course about plant-based training — if you'd like to check that out, you can sign up here.
Hope to see you all at FitBloggin!
Run SMART Goals
Fill out this form to get the SMART Running Goals worksheet to your inbox!