Hello from Fitbloggin! After a long night of traveling I arrived in Baltimore, MD. First on the agenda was taking the shuttle to the hotel. We ran into Tina right away and carpooled carvanned.
Then, we checked into our room. The hotel didn't have a king bed room ready so we opted for the quicker choice – 2 fulls.
But the view totally makes up for that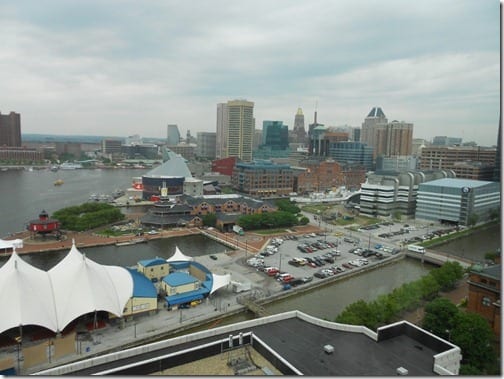 My office for the next 24 hours…
I planned on taking a nap, but got an adrenaline rush and decided to just go down and jump into the conference fun.
I registered and checked out the agenda…
I saw my name and suddenly remembered that I'm supposed to present tomorrow. I should really get on that…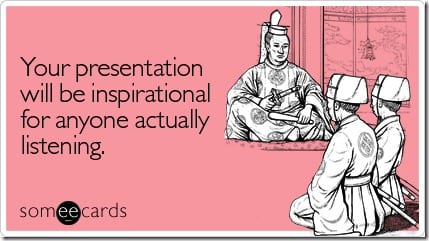 (source)
One of the perks of attending a health and fitness focused conference is delicious and healthy food!
This sandwich is a veggie number with cheese. The other was a chicken, served with salad.
My lunchside partner – Tina. I'm kinda like gum on her shoe today.
Unfortunately, Sana opted to sit outside by herself. I think she's still coming to terms with the fact that Evan ditched us on this conference
 We'll always have Chicago little friends…
After lunch and a session Tina and snuck out to get a cupcake at the Whole Foods around the corner. We also took a fun picture in the expo area!
Maybe those cupcakes were spiked with rum by the look of our outfits?
Okay, now I'm gonna head to a few more sessions…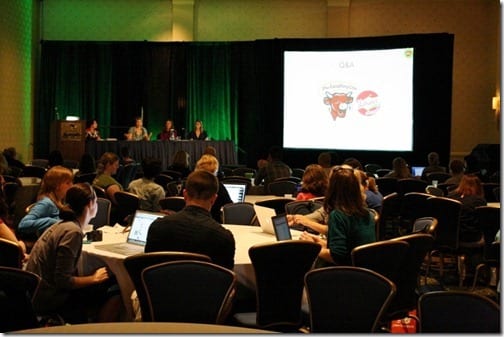 And by more session, I mean more food…
Okay, now I seriously should consider having a drink to stop stressing about my presentation. Hopefully, one of my fellow fitbloggers brought a flask. Tweet me.
Run SMART Goals
Fill out this form to get the SMART Running Goals worksheet to your inbox!