I am a mess. Okay, not just that – I'm messy too.
So, I'm very proud that I cleaned the house instead of going to yoga today. Normally it looks like an episode of Hoarders (just don't open the closets!).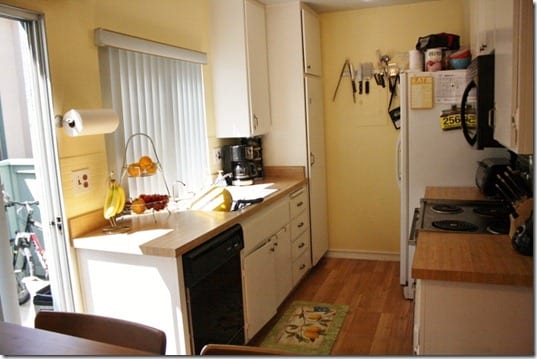 I thought it was sad that Ben and I have lived in this condo for almost one year and we don't have any pictures up. So, I bought this inspirational canvas the other day and stuck it on a pre-existing nail.
Our room really needs some pictures though!
Well, it needs pictures besides these random ones I put in a frame this morning since they were getting dusty.
Luckily, Ben's dad is a painter and we have a ton of art to put up. It's just a matter of finally unpacking it!
And because I know you guys are missing a picture of my Pink Sink… (If you click on that link you'll see it's not just roses that Vegas likes.)
Vegas didn't help clean, but he did oversee the cleaning.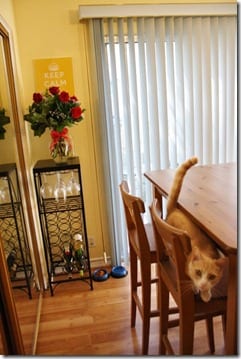 And I don't think he approves of my work…
But, don't think I turned all "clean" on ya – I made sure to leave a pile of mail on the couch to deal with in a fluster 4 minutes before our guests arrive.
If you have any questions about where any of my cheap furniture is from let me answer that – Ikea or Target. I'm not fancy, 'member?
After Clean-fest 2011 I went to my mom's to take Roxy for her summer hair cut. One of my biggest goals in life is to get Ben to love me as much as Bailey loves Roxy…
Then, I raided my mom's fridge, threw everything in a bowl and called it lunch.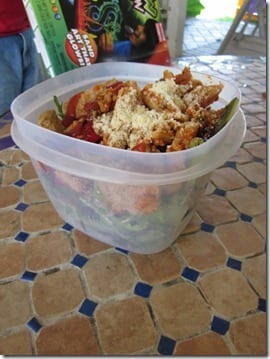 Eaten outside with Matt as he did an art project…
Reason why my mom rocks = she got me a tissue box that looks like watermelon!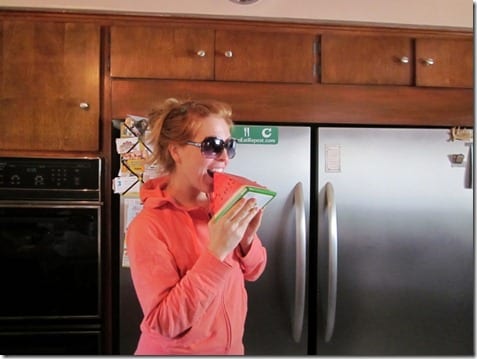 Reason why my mom sucks = she has this "XXL Bag" of M&M's Dark Chocolate within 2 feet of where I'm blogging
And that my friends, was a tour of my lil' home. Hope you enjoyed
If you have design suggestions feel free to come over and help. I need it.
Run SMART Goals
Fill out this form to get the SMART Running Goals worksheet to your inbox!