I had an evening client so I ate dinner a bit early and came home to a big ol' smoothie.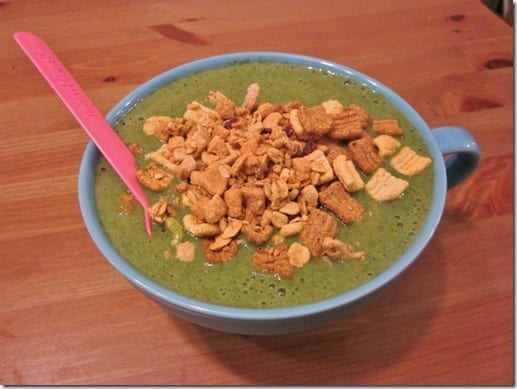 If you're new around these parts here is my Green Monster Recipe. If you want a dessert-y smoothie try the one on my recipe page.
I say it every single time but taste in protein powder varies greatly, so you hafta find one that you love. That's what really "makes" a good smoothie. Personally, I'm in love with my pro-powder. No drop left behind!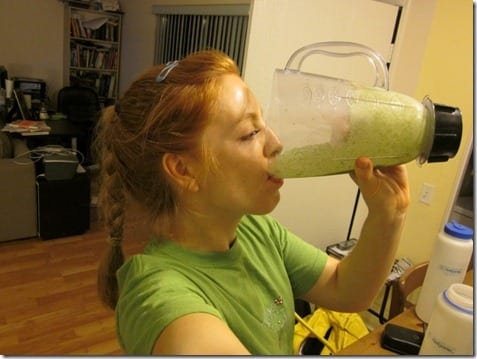 A few weeks ago I was contacted about Joy Bauer's new book – Food Cures. Since I'm a huge fan (I think we've all seen her on the Today show) I was very excited to read it. I wasn't sure what to expect, but do believe that food plays a very important part in how we feel.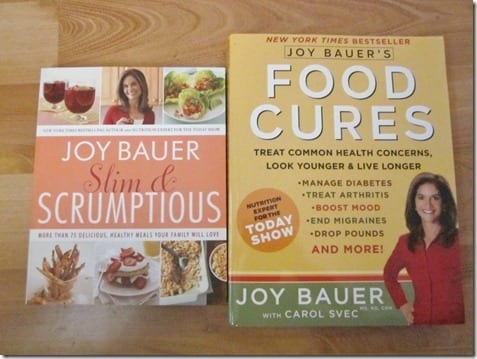 I haven't looked through the recipe book on the left yet, but I am digging the Food Cures book! Naturally I flipped straight to the weight loss section and really liked it. Bauer has a very healthy and realistic approach to weight loss. There are tons of recipes and she encourages you to eat enough calories that you don't want to die quit after one day.
I know intuitive eating isn't for everyone, so if you are looking for smart advice from an RD I would highly suggest this book for that part alone. She also has solid advice about improving your moods (I better look into that one!).
Bauer's peeps are sharing the love and will send one RER reader a copy too!
To Win: Leave a comment with the best weight loss or intuitive eating or self help book you've ever read.
Contest ends Tuesday (July 18th) at 10pm.
Run SMART Goals
Fill out this form to get the SMART Running Goals worksheet to your inbox!