I know I'm unapologetically biased, but the weather in SoCal has been AMAZING lately. Upper 70s/80s – cool mornings and perfect summer nights
*Note: Every time I check the weather here I also check it for the area my in-laws live in Florida since they're always trying to get us to move out there. Um, yeah.
Today I got out of the gym and  met up with my favorite SoCal ladies (minus SR) for lunch at the Irvine Spectrum.
We went to Veggie Grill where I got the Chop Chef Salad with extra tempeh (hold the fake beef). I LOVE tempeh even more than I love tofu and fake chik'n but never make it at home!
My lunch companions included Janae from Hungry Runner Girl, Sarah from Once Upon a Lime, Pam and her two cute kids (Pam's blog is coming soon)!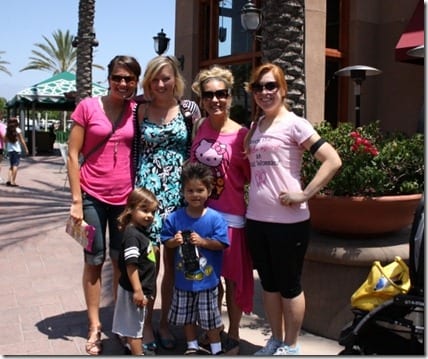 *Note: I'm taking one for the team here because the pic I look decent in has Sarah blinking. Does that get me into Heaven? (Cause that's all I'm shooting for in life.)
Pam is super awesome and brought me her book to borrow – Kara Goucher's Running for Women.
*Note: In some circles my passionate affection for Kara would definitely NOT get me into Heaven if ya get my drift
Luckily, I don't think they're at the pearly gates so I'm good. 
Now I'm blogging from Coffee Bean while slurping ice coffee because my 2:30pm appointment canceled. I think this is going to become a regular occurrence because my back and forth schedule is making emails and blog maintenance really pile up!
*Note: That's a cookie sample on top of my coffee. It's taking all my effort not to buy a whole one now!
Run SMART Goals
Fill out this form to get the SMART Running Goals worksheet to your inbox!