Happy Wednesday! Wait. It's only Wednesday?! How is this week going by so slow?!?!
I had a 7am client and planned on working out after her session. I wasn't really hungry when I ate this egg sandwich around 6:30am, but knew if I didn't eat I would skip my workout in favor of coming home for breakfast.
You add more ketchup to the sandwich as you take bites, right?
At the gym I did the first day of the "New Rules of Lifting for Women". Yes, everyone is doing it and I hate being part of the crowd. But, I know so many girls are afraid they'll bulk up if they lift weights and I want to see if it's true firsthand.
I am very manly. I have a low voice, 5 o'clock shadow (on my legs) and gain muscle like a guy. I took this picture after 2 weeks of lifting…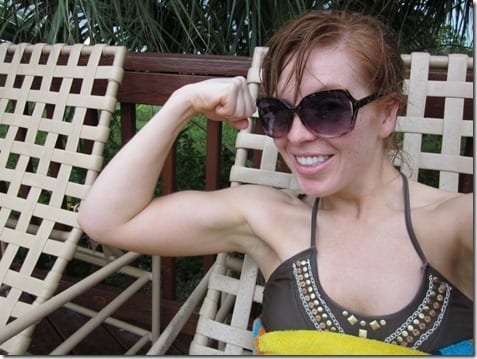 So, I'm going to follow the program for the next 3 months exactly. I'm also going to concentrate on more protein after workouts. If I turn into Arnold Schwarzenegger I'll let ya know.
(source)
I'm doing starting measurements today and will post them on my weight loss page this week.
I found the first weight lifting session super short – anyone else? I don't think I chose heavy enough weights and it should be harder.
Anyways, after that I attempted 3 miles on the treadmill and got bored after 2. I cannot believe it! I ran on the treadmill for 1 hour 5 days a week for a year before I ever attempted running outside and now I cannot stand it. Sad times.
I bought this Cottage Cheese with Pineapple yesterday and polished it off for breakfast. If you've been reading RER since the beginning God Bless you. Also, you might remember that I was obsessed with oat bran and cottage cheese back in the day. I made a big bowl of oat bran, cc and granola but it looks too gross to show ya.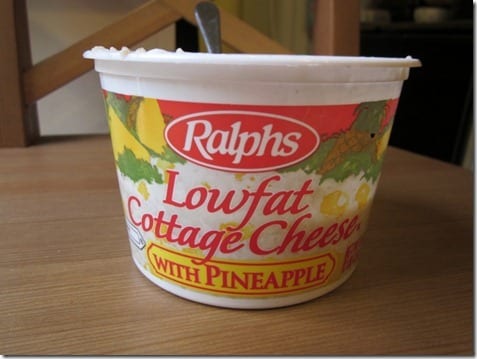 I also took a few swipes out of the Sunflower Seed Butter jar! Busted!!!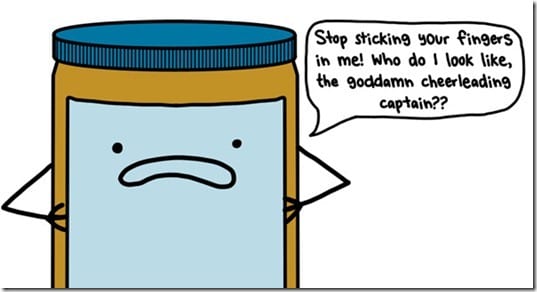 (nataliedee.com)
I have to shower and get back to work! See ya in a bit