I have a crazy schedule today so I busted out the crock pot for dinner. Actually this is going to be Ben's dinner and I'll eat leftovers. But, I wanted to mention it because this is a lifesaver if you are busy! Plus, someone asked what size slow cooker I have – it's a 5 quart.
And today it's filled with pot roast, potatoes, carrots, spices and an inch of vegetable broth. Again, I won't eat red meat but this meal makes Ben love me significantly more and since I'm such a pain in the azz I really need all the help I can get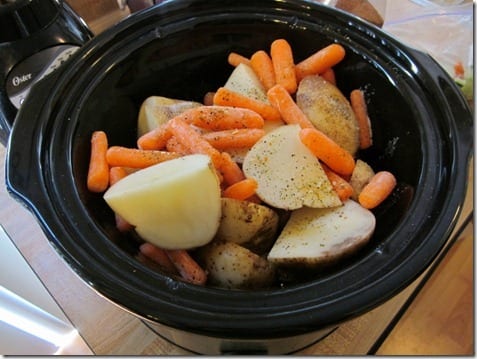 Lunch was a massive salad (that doesn't look very massive in this picture) with tons of peanut dressing. I already need a new bottle!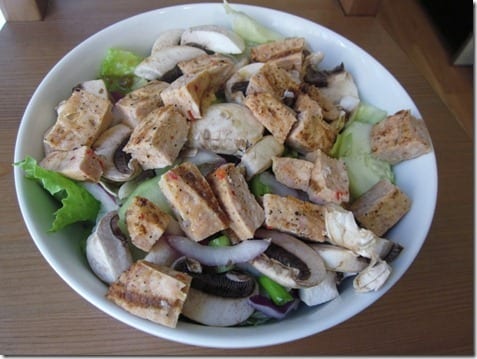 When I mentioned I'd be doing a Q&A on personal training I got a TON of questions. So, I'll be breaking them down into a few different posts and then putting them on my FAQ page.
*For those of you just catching up, I wanted to be a trainer for over a year but the craziness of life and moving across the country for the second time in one year (!!) delayed my studies. I finally started my new life as a trainer in May and the rest is history my reality!
Personal Training FAQs Part I
1. How flexible is your schedule? Do you have input in your schedule, or do they just schedule you when there are clients who need you?
A: Technically, I create my own schedule. I say what hours I'm available for fitness evaluations with new members. And I set up training appointments with my clients as needed. BUT – I need to be available when people can train, not just when I want to work. So, this means I need to train clients before  and after "normal working hours".
I have clients that have to come in before they go to work at 7am and I have clients that need to train at 8pm. In between I try to fill in my "day time" clients in blocks of time so I am not constantly going back and forth, but it doesn't work out perfectly most of the time.
For example here is today's schedule:
I had a 7am client. Did my work out. Went home to change.
Had 2 mid-morning clients.
Went home for lunch and blogging.
Have 3 afternoon appointments. (Not sure if I'm coming home in between these yet).
Then, have 3 evening clients. The latest one is a 8pm appointment that's a 30 minute session.
2. Do you just do training or do you have to do other stuff at your gym, like show old people how to use machines and wash dirty towels?
A. In addition to actually training people, I do fitness assessments, Equipment orientations and Answer questions on the floor.
I don't wash dirty towels. Not even at home. Hence, the reason I stink.
3. Are you on a salary or paid per client?
A. I am not salary. I have a set hourly rate for assessments. Training hours are a different (higher) rate. I only get paid for the hours I'm working with a member or client. So, if someone cancels with 24 hours notice and I can't fill that spot I'm out of a job for that time. And this happens A LOT in the summer. A LOT.
4. Are you making enough money to survive?
A: Define "survive".
Since I'm still so new to the job it is taking a while to build up clients. I've been told by other trainers that once I have a good number of them it should be easier.
I would say if you are in a salaried position right now, this would be a step down for 99% of you. Personal Trainers can get paid a lot hourly, but it's hard to secure 40 hours of clients. Very hard. Most of my co-workers work 20 to 25 hours training. Many have other jobs to supplement.
I supplement my PT money with a little side project called, "Run Eat Repeat". And since we're on the subject, feel free to check it out whenever you get the chance since it really helps
*Edited to add: If not for the blog and Ben's income I could not pay my bills by myself. Plus, it's not completely stable because it's sales so I would have been very afraid to do this if I didn't have that safety net.
5. What are you clients like? Age? Fitness level? Body odor?
A: My clients range from early 20s to mid 60s. They are varying fitness levels and all getting fit for different reasons. Some of them are pretty bad azz already and just want to get better. I really enjoy working with all of them!
(And I'm not making the 'body odor' part of this question up) Since you asked, no one smells nearly as bad as I do. I stink. Hope they don't fire me!
6. You and I are about the same height and weight and I'm wondering if you ever feel like clients think you should be in super tip top shape? I don't know how to ask this question without being offensive. I'm in good health and decent shape but am certainly not thin and I have arm flab and a jiggly butt.
A. I do think clients think I should be in tip top shape. But, I have told many clients about the blog (Hi!!!) and so they are aware of my goals to get better, lose weight and say bad words on the internet.
I would feel like a better trainer if I looked like Jillian. But, I have to say that many of the other trainers at my gym look like 'normal' women. So, I don't feel too bad about it.
I have had one client comment on my body. Not in a good or bad way, but just in a way that informed me she is very well aware of everything going on with my stuff.
Oh, and I will always have a jiggly butt. So, if I don't get clients because of it I'll assume God didn't want me to train them anyways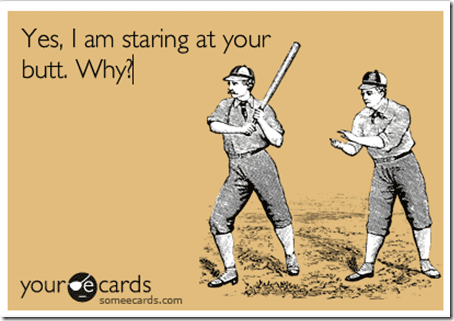 Bonus Posts: Here is my 1 month of Personal Training post.
Here is when I got CPR and AED certified (again).
My ACE Personal Training Exam Tips
Got more questions? Email me at runeatrepeat at gmail dot com
Any trainers out there are welcome to throw in their $.02 too!
Run SMART Goals
Fill out this form to get the SMART Running Goals worksheet to your inbox!