Hello and Happy Tuesday! I'm feeling a little better today, but still have about 3 tons of mucus to flush outta my nose ifyaknowwhatimean. Sorry, that was gross. But it's grosser for me.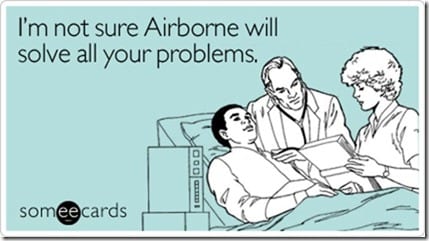 (source)
90% of the time I cannot decide on what to have for breakfast (mostly because I love ALL breakfast foods). I think I should just declare this meal my official breakfast and eat it until the end of time (it's coming Dec '12 you know).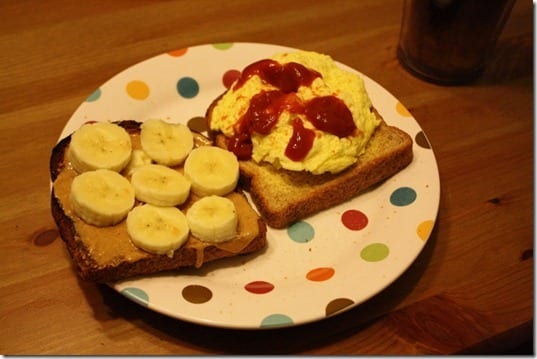 I wanted PB toast and an egg sandwich so I made one of the each – open face style! Best of both worlds foods.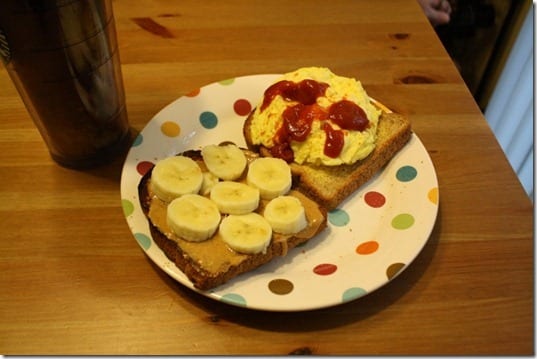 Last night I spent some quality time with my new Runner's World. Apparently, carb loading isn't just fun – it's science! There is a great article about carb loading sufficiently to help avoid hitting the wall.
The article is called "Fill 'Er Up" by Dimity McDowell. There was a carb load of info, but here are some of the most helpful bits…
Since you'll be eating a lot of carbs – fill up on low fiber ones. This kinda goes against most healthy eaters beliefs, but throw the high fiber grains out the window to avoid stomach issues and filling up too fast.
Start carb-loading 2-3 days before the race. It's not just one pre-race dinner that will fill your tank.
EAT ALL CARBS! Okay, not exactly. But, the article said to switch your diet to 85 to 95% carbs. <- I was surprised at those numbers.
I joke that I love running for the carb loading, but I do feel a little better that there is legitimate science behind it.
So, I gotta grab a snack before I head to work. It's science.
Question: What's your carb-loading meal or snack of choice?
Run SMART Goals
Fill out this form to get the SMART Running Goals worksheet to your inbox!