I'm still not 100%, so when I was just 'phoning it in' during KB I decided to leave and just hang out at work until my 11am client. I hate that I left, but I need to rest. I need to rest. I need to rest. (I keep telling myself this, hoping I'll do it.)
After my shift I came home for lunch. Ben had some time, so he joined me. It was nice <3 (You know, cause we're in love and all.)
Reasons for the items on my plate:
Soup – because I'm sick (in case you didn't pick up on that from the 996 times I've mentioned it so far in this post)
Chips – Carb loading (it's science we learned this morning)
Watermelon – because I'm Monica "the watermelon eating machine" Olivas
In other news, my intern is sleeping on the job. Not cool. Contact me if you want his job. It's unpaid, but you do get to spend time with a watermelon eatin' fool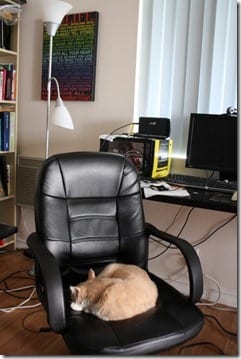 In other better news… my friend Kristin (who was my only friend in Maryland and the reason I didn't fall into severe depression) had her baby! We stayed with her and her husband after Fitbloggin in May and now that bump is living on the outside with us
Dear everyone, please try to make the world a better place. Babies are popping up everywhere and they need it <3
In Running News – This lady ran a marathon on her 83rd birthday. She is better than me.
I am hosting the Fitblog Chat tonight! It's on Blogger Safety 6pm PST/9pmEST. See ya on twitter! We'll be discussing:
Q1: How do you maintain your privacy online?
Q2: How do you ensure your safety? Precautions?
Q3: Have you ever been concerned for your safety?
Q4: What information do you share/not share?