I'm back from the Bachelorette Party Cruise! It was a blast, but it's nice to get home and back to "normal life". Actually, normal life won't last too long because I'm leaving again Saturday morning for Panama. This month is ridiculous.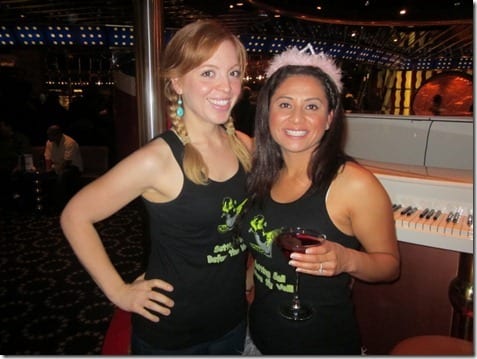 I'm actually blogging from outside the cruise ship terminal. I went through customs early to avoid a long line. But there was a slight miscommunication with Ben and I think I'll be camped out here for a while. Oh well, at least I brought snacks
But let's back up to yesterday…
Sunday was the Fun Day at Sea on the ship. This means you lay around and eat. I decided to take that challenge very seriously starting with lunch…
This plate has fish and a cheese stuffed corn muffin. I was super excited about the muffin since I love corn bread, but it was a disappointment. It tasted stuffed with nacho cheese and wasn't corn-y enough.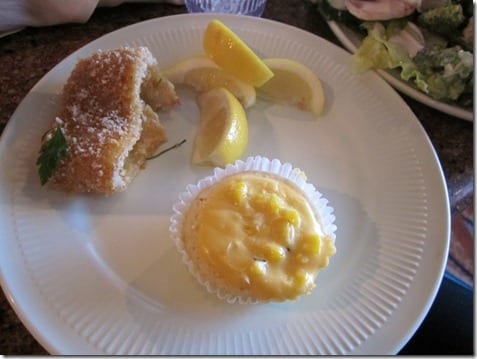 Lunch dessert was chocolate cake, a little bit of ice cream, fruit and chocolate sushi.
After a lot of laziness we finally rounded up the troops for a few more Bachelorette Party games…Susan's sister is the master of games, seriously! She came with so many I had never heard of – it was fun!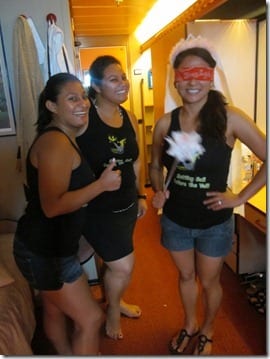 After the games we all had time to do our own thing. I felt like I was spending way too much time in the room…
So I hit the deck for a walk. There was no laying out or swimming for me on this cruise – it's too cold!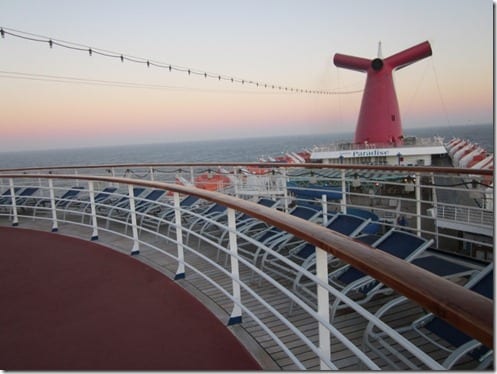 I had a magazine to keep me company.
The walking/jogging was super busy in the morning, but quiet in the late afternoon. There is a little golf course in the middle which is cute.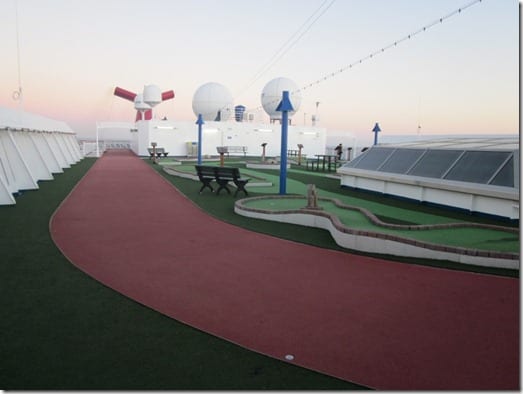 It quickly got too cold and windy outside so I headed back in for some hot coffee and explored the interior of the ship.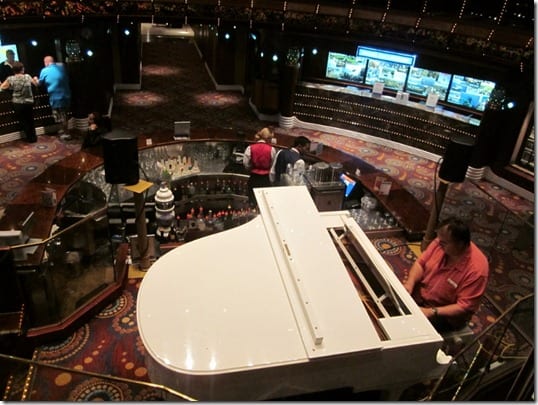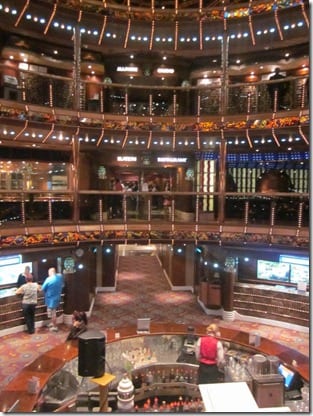 We wore our "Setting Sail Before the Veil"' shirts last night. Isn't that phrase the cutest idea for this bachelorette party?! I love it!
Even though we ordered room service snacks in the afternoon I got a little crazy with dinner. I started with two appetizers – French Onions Soup (because I had never had it before!).
And a crab cake (because I LOVE them!).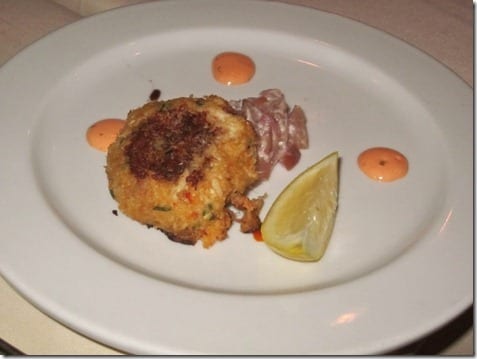 I ordered the salmon for my main course. It wasn't life changing. Susan go the meat loaf and it wasn't very good either. Oh well, most of the other food we had was delicious!
Then, I ordered two desserts! I guess I wanted to really live up the last moments of vacation through food?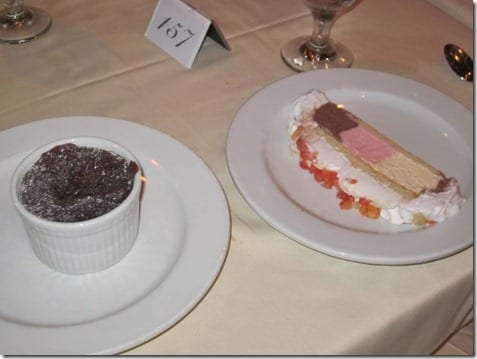 I got the Baked Alaska – another first for me. It was okay. I've heard about this dessert before and expected it to be really amazing. It's just cake and ice cream, ya know?
And I couldn't leave without one more Warm Chocolate Melting Cake. I don't have the words to describe the happiness eating this brings me. This is life changing.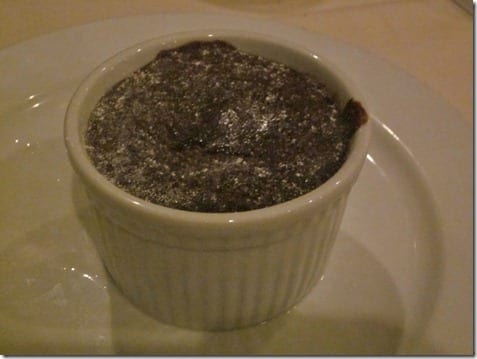 Our last night of the cruise had the best towel animal I've ever seen – a Monkey! Bonus – he was hanging from the light. I loved it and wanted to take him home. I should have unfolded him to see how they made it, but I didn't have the heart.
We called it an early night Sunday due to Susan's sprained ankle. It was for the best because I stayed out way too late Friday and Saturday. I knocked out as soon as my head hit the pillow.
This morning I woke up early again to the sounds of the ship docking. It was loud! So, I got packed early and was able to get off the ship at an early disembarking time. Now, I'm waiting for Ben to pick me up so I can start my day! I'm going to try and get a run in as soon as I get home and eat a real breakfast. See you later
Question: I totally missed the real world while I was gone – What did you do/see/eat this weekend? Fill me in!
Run SMART Goals
Fill out this form to get the SMART Running Goals worksheet to your inbox!