Last night Ben insisted on making chocolate chip cookies. Luckily, I convinced him to make half a batch, but we still have had* a lot of cookies for two people! (Yes, had. Oops.)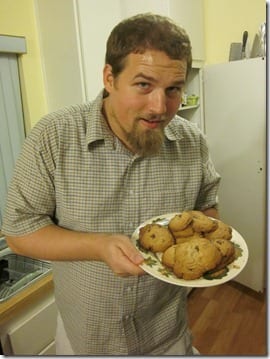 They came out good, but he didn't put enough chocolate chip in and buttered the pan very generously (even though the directions said not to). I ate two last night and another BIG one in the middle of the night. Yeah, I couldn't sleep and laid in bed for 2 1/2 hours before getting up for milk and cookies. Call me Santa
I was really trying to get a good night of sleep because I'm going to be doing a 5:30am boot camp Monday through Thursday now! Remember last week when I went to a boot camp training? Well, a local camp needs a new trainer so I will be attending the camp for a few weeks to learn the style before taking over the camp!!
This was on the way home – I need coffee and a nap.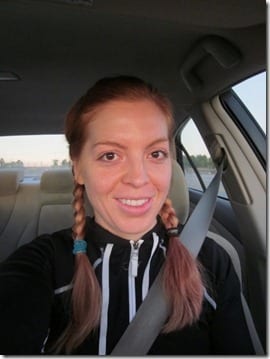 This was the start of a new session of boot camp, so the work out was very introductory. We learned each other's names and some common exercises. When I got home I had a banana and a bite of Ben's egg sandwich before going for a run.
My Garmin is still dead from this weekend (I left it in my car) so I tried something new. A rep from Motorola sent me a MOTOACTV on Friday and decided to give it a whirl. It is a fitness tracker AND music player AND more that I haven't figured out yet. I haven't loaded music yet and just used it to track my distance and pace. Full review coming soon!
Half a mile from my house I got hungry. I decided to cut the run to 3 miles total and go home to eat.
New workout plan: Since I am training for another race I cannot continue to cut runs short. Going forward I'm going to take my running gear to the boot camp location and run around that neighborhood so I don't have so much time between waking and eating a full meal. I am only running 3-4 days a week right now so that should only happen 2 days after camp.
Since the camp has members with many different abilities the instructor is leading and helping, but does not do the workouts. Once I start teaching the camp myself I will not be doing the workouts and will definitely need to get in my runs with this plan!
Question: I am attending a cookie exchange party on Wednesday and need an easy and delicious cookie recipe. What should I make?
Run SMART Goals
Fill out this form to get the SMART Running Goals worksheet to your inbox!