After my run I ate an apple as a mid-morning snack, but since we all know apples are BS only make me hungrier I chased it down with dutch cocoa Somersaults and hot cocoa. Yep, just got that mug in Las Vegas this weekend! I'm not a fan of random souvenirs but really wanted this for some reason?
By noon I had an intense craving for chickpeas. Luckily, I found this organic can of the beans at the 99 a while back.
Instead of bread, I paired my salad with cereal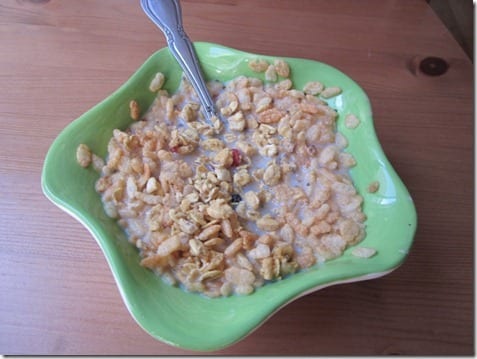 After my bout with the Panamanian flu my stomach felt weird for a long time. (Remember what a mess I was?!)
A rep from GoodBelly contacted me and asked if I wanted to try their 12 Day Challenge and I figured it couldn't hurt.
The challenge is that you drink a serving of GoodBelly for 12 days and feel better (I was hoping it would kill my Panamanian parasite). I have been taking it for a few days, but couldn't take it with me to Vegas (my drink of choice there started with a "v" and ended with "odka" anyways). So, I can't say I did the whole 12 day challenge but I am still drinking it.
But, I can say I love this Cranberry Watermelon flavor! It brings back happy memories of my summer love…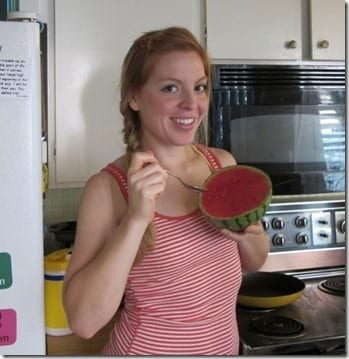 They actually have eight other flavors if you'd rather leave the watermelon eating and drinking to me:
Pomegranate Blackberry
Cranberry Watermelon
Mango
Blueberry Acai
Strawberry
Lemon Ginger
Vanilla Chamomile
Coconut Water
Tropical Green
If you want to try the GoodBelly Challenge leave a comment with your summer love. (*Open to US residents only. Contest ends 12/7/11 at 9pm PST. Winner announced 12/7/11 by midnight.)
Run SMART Goals
Fill out this form to get the SMART Running Goals worksheet to your inbox!