Hello! I woke up at 4:30am this morning because I was a little nervous about boot camp today. I'm slowly starting to take over the group and was in charge of a 15 minute dynamic warm up. I'm okay working with a group because I used to coach cheerleading, but I could yell at them so it was easier
Okay, not exactly but I was nervous! I made coffee to take with me but I don't have a travel mug?!?! What a bust.
By the time I got home I had been awake too long to wait until after my run to eat. I made an egg scramble and toast (unpictured naner with PB).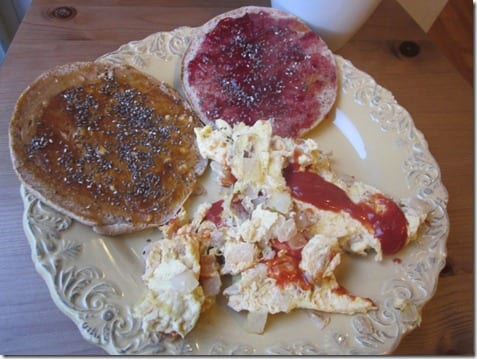 And a big side of hot coffee to warm my cold heart bones.
I let the food settle for 30 minutes and went for a tempo run.
My goal was 1 mile warm up/cool down and 4 miles of tempo at a sub 8 minute pace. Well, that was a very very ambitious goal and I averaged 8:37 for the whole thing. I'll take it, but I need to keep working.
Mile 1: 8:56
Mile 2: 8:29
Mile 3: 8:40 (walk break here – the way out is uphill a bit)
Mile 4: 8:10
Mile 5: 8:19

Mile 6: 9:05
During my cool down mile I suddenly had to go to the bathroom. I can't decide if it's better to stop and walk (less upsetting to your stomach) OR run home faster (get to the restroom!).
Thoughts?