Hello and Happy Monday! After yesterday's party I didn't get to sleep until close to midnight, then had to wake up at 4 something this morning. So, I was dragging after boot camp. Big time
The gloomy weather didn't help motivate me.
I considered going back to bed, but knew I should get in a few miles and start my day. So, I put on my fun red shoes for some Motivation.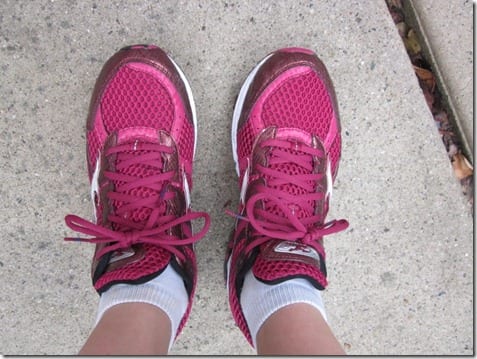 5.75 miles done and done. It wasn't speedy, but it was a workout and sometimes that's all you can ask.
The Revolution is a  new show on ABC starting today (Jan 16). The show is about a "dream team" of experts that help viewers transform in all areas of life including body, health, style, mind and environment.
"Featuring design expert Ty Pennington; style guru Tim Gunn; celebrity trainer Harley Pasternak; OB-GYN Dr. Jennifer Ashton; and therapist Dr. Tiffanie Davis Henry;  "The Revolution " is your daily boost, whether you are looking for inspiration to accomplish little victories or in need of a road map for a major change. Each week, the series will also highlight one woman's personal journey over the course of five months – a life-altering experience that will touch the heart each time."
I wouldn't mind a complete life altering makeover! But, I haven't been picked for the show. I have been picked to giveaway a yoga mat and carrying case to one RER reader.
To Enter: Leave a comment answering  – Would you rather have 3 months of FREE – therapy, personal training or a personal stylist?
Open to US residents only. Closes tonight at 8pm PST
Run SMART Goals
Fill out this form to get the SMART Running Goals worksheet to your inbox!