This morning I hit up the gym for some strength training. I did a few moves on the Roman Chair, a piece of equipment that makes me feel silly for some reason, so I prefer to use it when the gym's quiet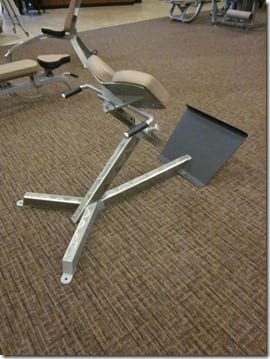 Then, I came home and Ben called me.
From the shower.
His phone is waterproof and he called to ask me to heat up his lunch. No lie.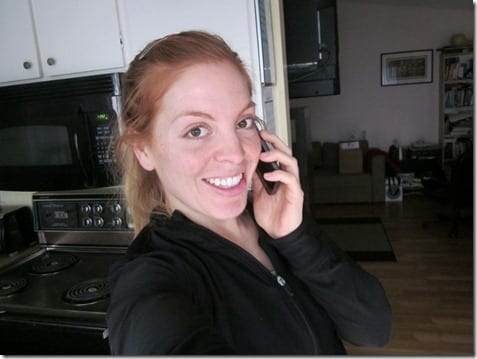 My 'fee' for making him lunch was half his avocado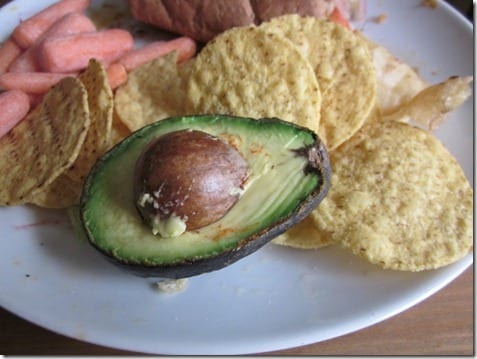 I grabbed a pack of these from the gym on my way out. This flavor is a cross between a snickerdoodle and granola.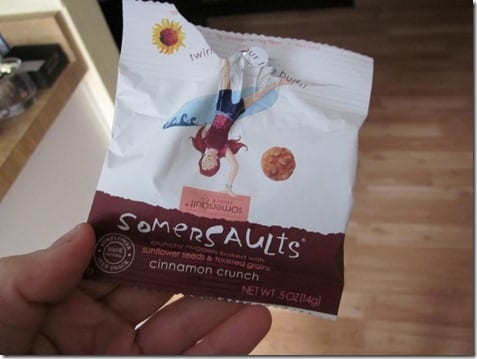 Then, we headed to my parent's house to get ready for my dad's birthday party. I was in charge of decorations. Not sure how I scored that gig…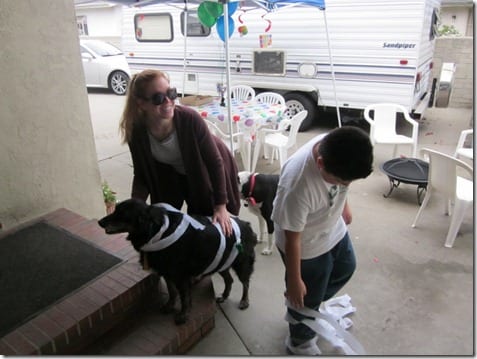 I wanted to try "moving decorations" so I decorated the Rox and my little brother Matt.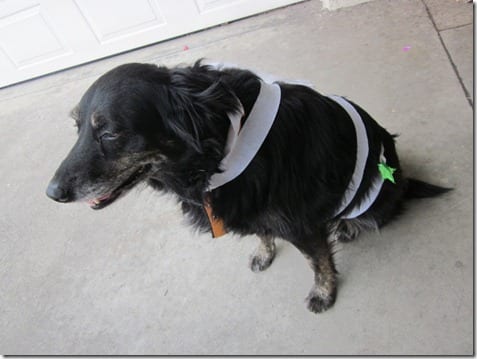 I don't know if I'm fighting off getting sick or just dying dragging or what, but I was about to fall asleep at 3pm. I am normally grossed out by energy drinks, but this was a necessary evil today.
I was in a Frito mood.
I'm always asked if I'm only half Mexican, but my mom and dad are both Mex. So, we had Mexican food since that's all we know how to order.
We even had horchata – not just that cheap punch that makes your throat hurt. That means it's a real party.
We had the 'taco guy' cater
He brings a whole set up and cooks the tacos to order!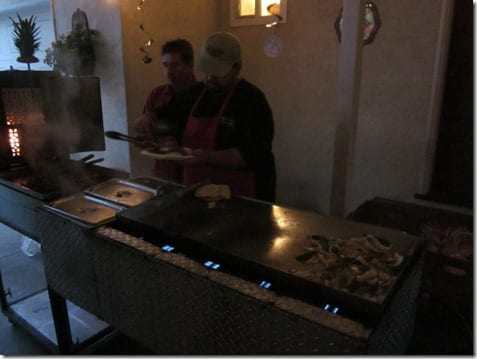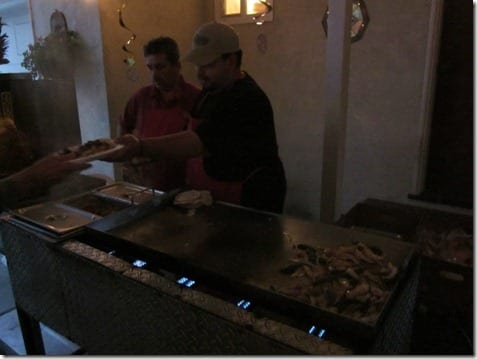 Ben's plate since I forgot to take a picture of mine…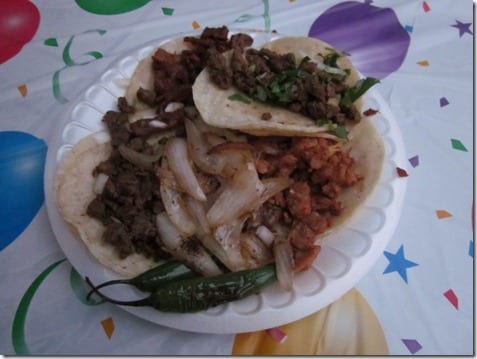 Happy Birthday Dad!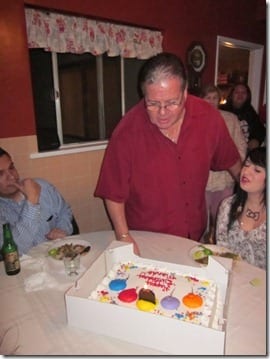 Happy Party Clean Up Mom!
Happy 'stache Michael!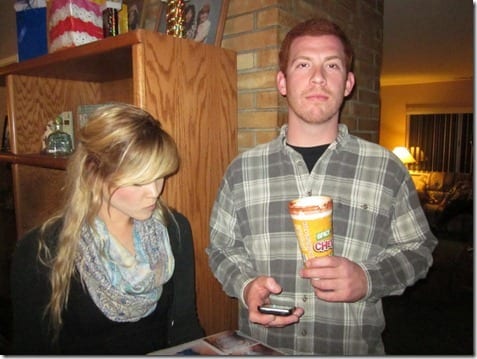 Oh wait, you weren't ready…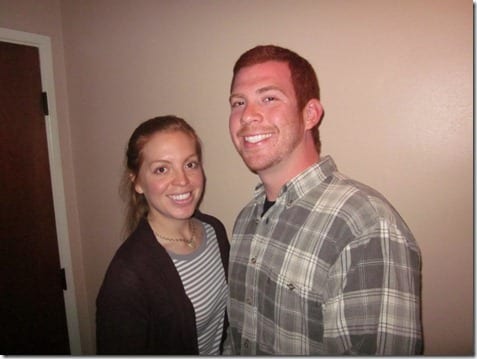 Happy Cake Monica!
Since the focus of my partnership with Orville Redenbacher is "Smart Snacking" I took a little look at the man woman in the mirror and realized I need to get that part of my diet together.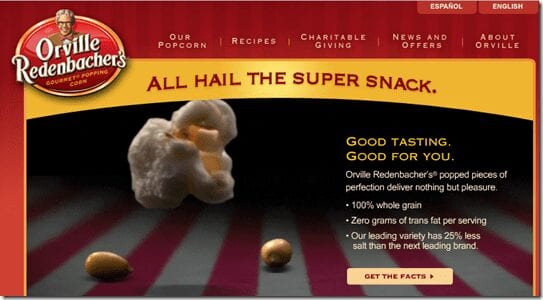 Not to beat a horse that's passed away from natural causes or anything, but snacking is my #1 diet downfall. I like to snack, but most of it goes unaccounted for in my mind and on the blog. I've estimated that snacking adds up to an additional 800 or more calories a day over here in RERville.
That's not okay because it's often mindless eating or at the very least – not balanced snacking (read: cereal or cereal with more cereal on top).
So, I am starting a little challenge for myself –
30 Days of Smart Snacking Challenge
My Goal:
To stop overeating via unaccounted for snacks

To stop ruining my dinner with afternoon snacking

To stop mindless snacking

To stop nighttime snacking (something I've been better at, but let's put it here to be all official and stuff)
The Plan: Use a chart to plan and be accountable for two ~200 calorie snacks a day (1 mid-morning, 1 mid-afternoon). Jan 16th -Feb 15th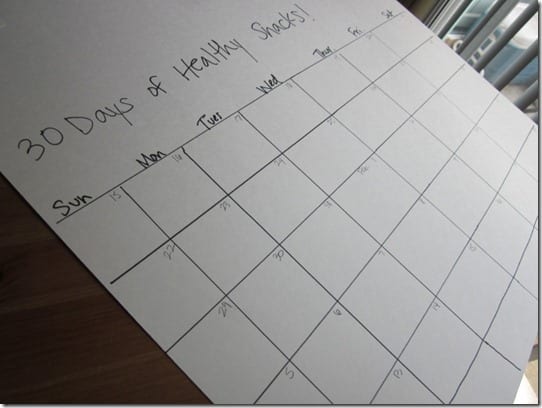 The Reward: My jeans will fit again!!! (I went through 3 pairs before I found something I could wear to dinner last night.)
Disclaimer: Orville Redenbacher is sponsoring this Smart Snacking post. All opinions are my own. But I've been sponsoring them via eating my weight in popcorn for years. Even Steven.
Want to join my Smart Snacking Challenge? Leave a comment and we'll check in on our progress once a week.