Did you know yesterday was World Yoga Day?
Apparently, it's the day all the world's inhabitants are supposed to do Downward Dog in their front yard at noon.
Unfortunately, I didn't realize that until just now. Oh well.
Did you get down with your dog on your lawn? If so, please tell me you took a picture. And send it to me.
I really need to get back to going to yoga once a week. It's been years since I've been that consistent, but my legs are constantly tight and unhappy. It's affecting my runs, mood and sleep at this point!
So today I grabbed my mat and rushed out the door to make my favorite class. It was packed and I ended up on top of the music table. This was good and bad because I kept glancing at the time… My yoga studio only has 90 minute classes and I get bored after an hour. I think if I could find a good 1 hour class I'd go more.
I considered picking something up for lunch, but decided to save a few bucks and go home. Salad and yam.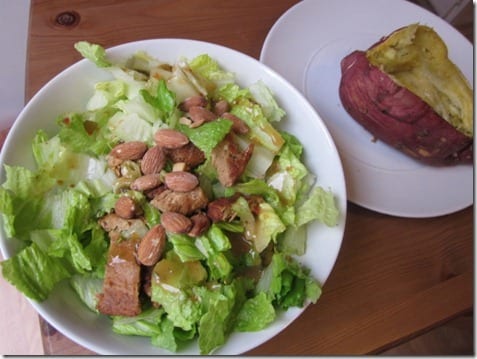 But the insides are yellow not orange? The store had lighter on the outside sweet potatoes too, but I wanted orange and specifically got these ones.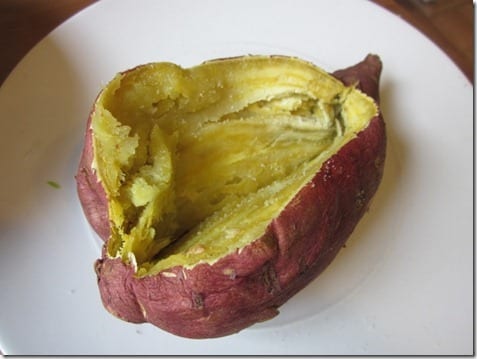 Manager's Special fruit. You know I love it.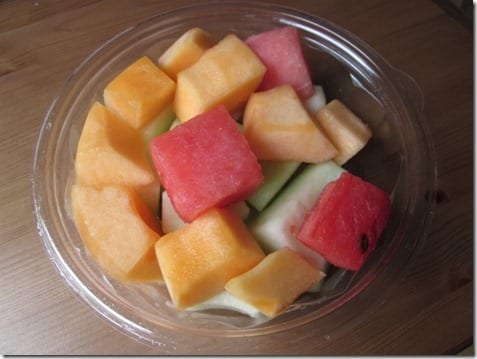 The other reason I went to yoga is I have a new yoga outfit I needed to test out! New Balance sent me a yoga top and pair of yoga pants. At this point I'm convinced my hips have the entire universe in on trying to get me to yoga more often!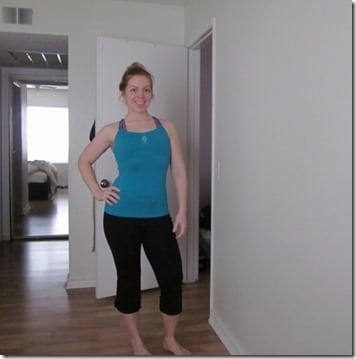 I love racer back tops! This was super comfortable and I didn't have to fidget with my top or pants during all the twisty moves (read: me in child's pose waving the white flag).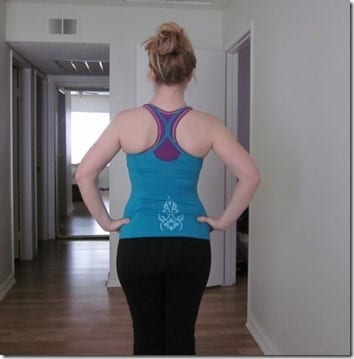 Speaking of New Balance… I'm going to be running the Reach the Beach Relay race in May with team Off Balance! New Balance is sponsoring us, hence the name
It's a 200 mile relay race with 11 other girls. Tina is the captain and is organizing the race so I know most of the girls, but not everyone. I've never done a relay before and I'll be flying in from CA when everyone else is east coast. It's going to be an experience!
Here are my teammates:
Anne P of Fannetastic Food
Sarah of Sarah Fit
Patricia of Run Foodie Run
Tina of Carrots 'N Cake
Ashley of A Healthy, Happier Bear
Bridget of Yogurt and Berries
Elizabeth of On Tap for Today
Theodora of Losing Weight in the City
Gretchen of Honey, I Shrunk the Gretchen!
This B of Run Eat Repeat
Ali of Food Fitness Fashion
Melissa of Fitness NYC
Ahhhh! My body is so happy I went to yoga. Remind me of this feeling next week
See ya later!
Run SMART Goals
Fill out this form to get the SMART Running Goals worksheet to your inbox!