After my clients this morning I hit the free weights and did my own workout. I made it up as I went along, which is odd. I have a handful of "go-to" strength sessions written out that I usually use. I rarely just "wing it".  I'm not sure if I got the best workout, but I'm wearing my calorie counter armband, so we'll see later!
On the way home I had to make a quick stop for seltzer. I ran out mid-day yesterday and was already having withdrawals.
I noticed the tortilla chips were on sale – maybe, because there were 4 different huge displays throughout the store! Then, I realized this weekend is Cinco de Mayo = my second favorite holiday! Aaaand, I have a ton of avocados from my mom's trees so I grabbed some.
Guacamole and chips, deconstructed. Directions: Cut, salt, scoop.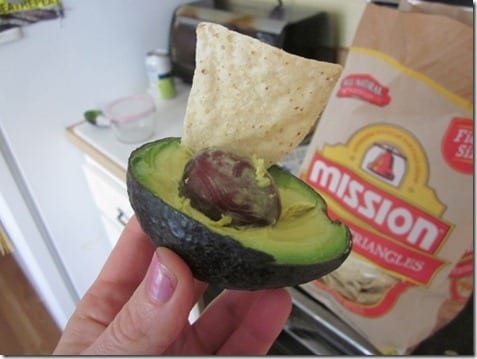 Lunch was leftover chili on a salad. (Those are the few grapes that didn't go straight into my mouth on the drive home.)
So, what's up with the cheesy title and my announcement I mentioned earlier?
Let's start with a story… When I was in college I got a job at a small recruiting company. I was a researcher and worked 20-30 hours a week depending on my class schedule.
The company grew and so did my responsibilities. I eventually became executive assistant to the Director of Recruiting and then a recruiter myself. When I graduated college I was offered a full time position. That is what I did when I started the blog.
But, that's not what I went to school for so I left if for a reporting job in Maryland. Fast forward to a year later I found myself back in California and a Personal Trainer. I've been training for a year now, talked with a lot of local trainers, co-workers and trainers from around the country. And I've realized that it is really difficult to make "living wage" money.
One of the many times my co-workers and I talked about this someone said, "This is gravy money. It's like extra money for your stuff or to put aside, but not to depend on."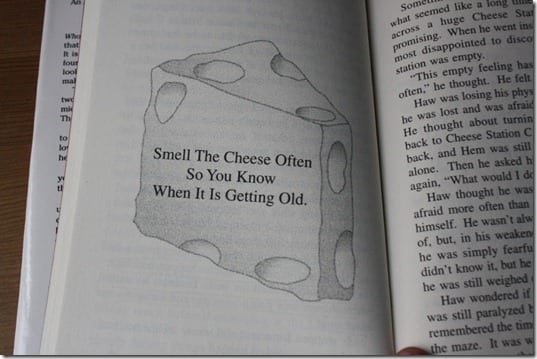 Then, I realized ALL of the trainers at my gym either have another job or husbands who make a lot of money (and don't necessarily need to work).
It wasn't an immediate concern because the blog makes money and Ben makes money. But, after looking at our long term goals (read: house, baby, trips) and the fact that we turned down a VERY SWEET offer in Healdsburg – I started looking for more consistent work. (Remember my little breakdown post Healdy?)
Then, my old boss called me last week and offered me a job. No lie, how perfect is that?!
So, as of Monday I will be working full time in the recruiting field again.
It was a fun place to work. I had really really good friends. We had a cool walking club. And at one point we were encouraged to read, "Who Moved My Cheese?".
By some random twist I found a copy at a used bookstore in December and put it in Ben's Christmas stocking.
I re-read it while we were in Florida for the holiday and knew I needed to smell the cheese and figure out where I was headed in the maze. So, I've been sniffing around for a while
The book is a fun little story about how two mice and two people deal with change. You can check it out on Amazon here.
Here is the post where we started our roadtrip across the country.
Here is the post where we moved back to California.
What this means for RER and stuff:
Sorry to those of you who hoped this was my retirement announcement.  I'll still be blogging and training a few clients in the evening.
Because of the location of the office I will be working from home 96% of the time. BUT, I need to go into the office for training next week so I wanted to give you a heads up as to what will be going on Monday morning
This also means I'll have to piece together something decent to wear all week next week! AH! Send help.
Question: How many different jobs have you had?
I've been a Barista, Collections Rep, Researcher, Exec Asst., Recruiter, Writer, Blogger and Eater (cause I eat like it's my job).
Oh, I'm getting my eyebrows done and a massage before my evening shift! We had a great special on employee discounts end of April! See ya when I have two eyebrows again
Run SMART Goals
Fill out this form to get the SMART Running Goals worksheet to your inbox!