Today was Bizeee! I took a quick break for an afternoon snoothie (that's snack smoothie) and thanked my lucky stars foresight for setting up the crockpot with Salsa Chicken this morning!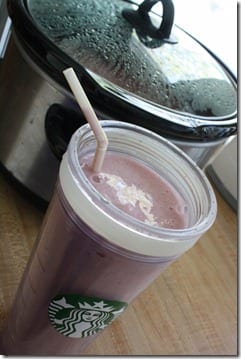 After work I headed to the gym to train a client. I didn't end up doing a strength session, but did hop on the gazelle after for 25 minutes of striding and chatting
When I got home it was almost 8pm. I threw the salsa chicken in some tortillas and dinner was done in 3 minutes!
I don't get people who eat 1/4 of an avocado. 1 avocado = 1 serving.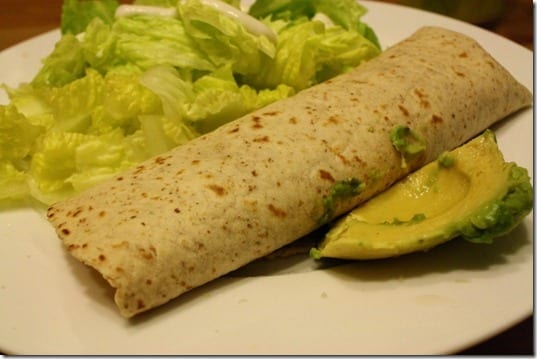 I get emails from readers all week asking questions like this…
Hey Monica,
I am writing because I have a couple of questions.
I have been thinking a lot about becoming a certified personal trainer. Where did you get your certification? Also, how do you get started after you get it? just go to a gym and apply?
Thank you,

Jennifer Cullum
I love your blog!!!
 (this is an email I received over the weekend and asked permission to post)
So let me hit the top three questions right here (instead of writing individual emails like I've been doing!).
1. How did you become a personal trainer?
I got my certification through the American Council on Exercise.
Here is why I chose ACE and some Tips for Passing the ACE exam.
Before you take the exam you have to get CPR/AED certified.
*I also know my local community college offers a Personal Trainer Certification program AND my university offers courses through their extension school. I would imagine those would both be great options if you don't already have a base of knowledge.
2. How do you get a job after you're certified?
Check out local gyms – both big and small. Hit up local independent personal trainers and ask for tips or see if they need any help or subs. Compare pay at multiple places and check to see what sales support and goals are at each location.
Here is my post on how I got my first job at a gym.
3. How do you get clients? Is it enough for me to quit my full time corporate job??
Every gym (or chain of gyms) is different. At my gym I was given a few clients to start, but had to build up my own clientele. I can only train people who are members of my gym so I cannot market to my friends or acquaintances that don't belong. This means I have to walk the gym floor and talk to possible clients. I can offer a free 30 min. session under certain circumstances, but that is really my only tool to get people interested.
I do Fitness Assessments and Equipment Orientations for new members and can try to sell to them too.
This post answers the rest of the most common questions – Personal Trainer Questions Part I and Part II
I literally got this question one time…
Bonus: "Am I crazy for considering to leave my corporate job and be a trainer?!?!"
I read it to Ben and he said, "Yes."
But it really depends on your monetary situation, how much you are used to making, your location and if you have savings to build up a base of clients. It would probably  be best to try and train in addition to your job at first until you have a nice amount of regulars.
Every gym is also different with how much they pay. I only recently learned that many other gyms in the area pay a bigger percentage to their trainers. I really think independent training is the way to make the most money in this business, but you have to be willing to really work and build up your own client base.
Finally here is my Personal Trainer Questions Vlog
Also if you want any more information or are interested in becoming a personal trainer, click here for personal trainer courses.
Hope that hits all the bases!
After dinner Ben and I shared a piece of carrot cake from the deli. It wasn't good, but we wanted a little celebratory cake for our first days at work!
I'm going to link to this page in my FAQ for future reference.
Now I'm shutting down the computer to watch Bethenny!!!
Run SMART Goals
Fill out this form to get the SMART Running Goals worksheet to your inbox!