First off let me say that I've had my Garmin 305 since November 2008! So, I'm very partial to it
It's seen me through hundreds of runs and many many races. Good, bad, ugly I wore the Garmin.
But, it's on it's last legs and when a MOTOACTV rep recently sent me their GPS/Fitness Tracker/MP3 player I was super excited to give it a spin.
One of my Garmin's side buttons caved in at the Reach the Beach relay and I'm finally transitioning to use the MotoActv.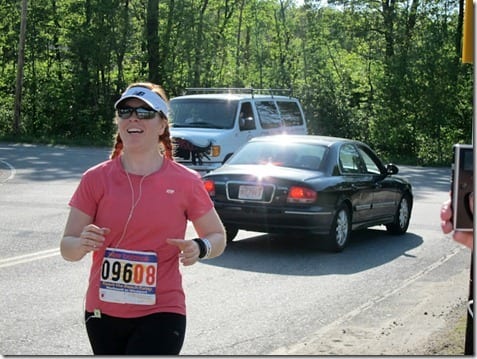 But, when I used it the other day it seemed "off" from my Garmin's usual readings. I know where the 1, 2 and 3 mile markers are from my house and the Moto was a little different.
So, today I wore them both to compare.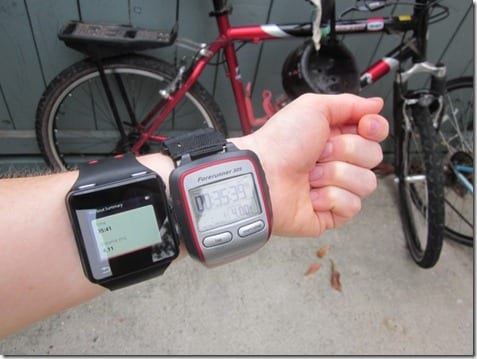 For the record, these are both BIG watches so I looked like a weirdo running down the street. The things I do for you
As suspected, when my garmin clicked 1 mile the Moto was at 1.03. No biggie.
But at 2 miles the Moto was at 2.08 or something <- shouldn't it be 2.06 at the most?
That is not a big deal to me. I don't care about tenths of a mile.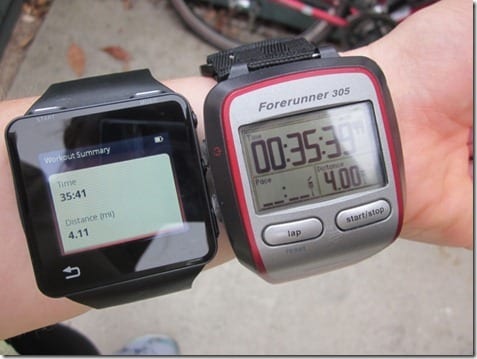 My bigger concern was that the pace reading might be different. The two watches were never the same with pace. The Garmin would read 9:03, the Moto would read 8:47. Sometimes they were 10 seconds different, sometimes they were almost a minute!
That is a BIG difference when you're trying to keep your pace for a race or speed run!
Final Readings:
Garmin 4.0 miles Average Pace 8:54 (max 7:25)
MotoActv 4:11 Average Pace 8:40 (max 7:24)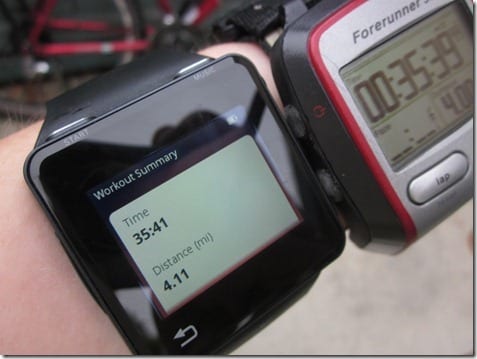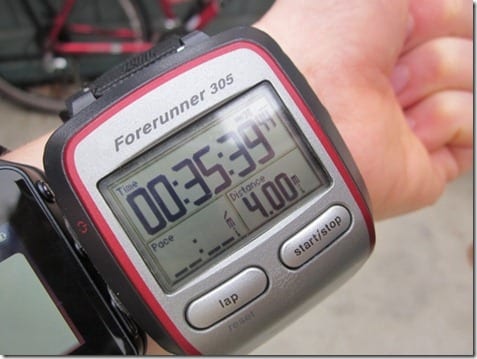 The MotoActv's touch screen and MP3 features make it super cool and user friendly. But that pace reading has me a little worried.
Both of them are fairly big and come with a plastic-y band. I bought that fabric band online a while back when the original one was falling apart (it got a lot of use!).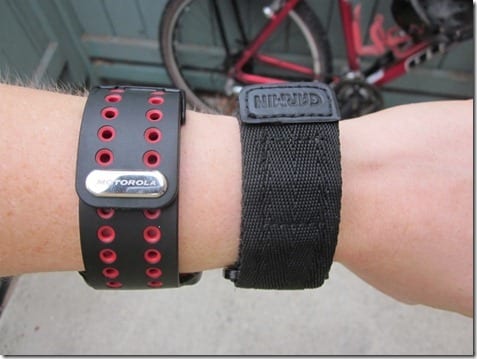 Overall:
1. I hate having to wear a big watch plus have an ipod on my runs, so I love the music feature of the MotoActv.
2. I'm bad at pacing myself and being able to tell how fast slow I'm going, so it's important for me to have a watch that is accurate. I think the Garmin is better with this.
3. But, I am most likely NOT going to buy a new Garmin when I have the MotoActv to use.
4. The Garmin 305 is an older model (obviously mine is 4 years old) and costs $199.99
The MOTOACTV is newer in style and costs $249.99
5. I get asked all the time, "Do I need a GPS watch?"
No. You don't "need" anything except a good sports bra to run (if you have boobs obvi). The rest is just extras.
If you use Map My Run or drive your route to know how far your walk/run/bike is you do not. You can also just run for time ex. 15 minutes out, turn, 15 minutes back.
Oh, I gave the new Laughing Cow Strawberries & Cream spread another shot today. Nope. It's not good. I want to try the cinnamon flavor though. I love all the other LC flavors, but this tastes artificial.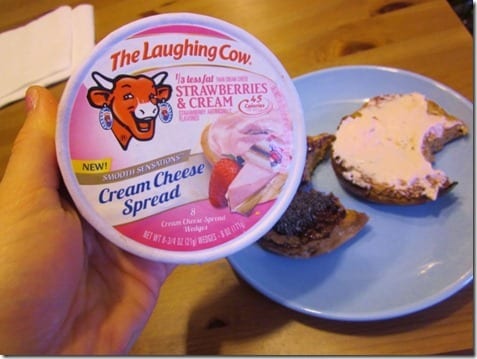 Question: Use one of these? Chime in with your thoughts?
Fun fact: When I first bought my Garmin I was working at my old recruiting job (the one I'm back to) in the office. I bought it during lunch and came back to the office to show my friends. One of them said, "Are you going to start running with a wheelbarrow to carry that along?!"
It's big.
Run SMART Goals
Fill out this form to get the SMART Running Goals worksheet to your inbox!