Ben and I did a little exploring around our neighborhood yesterday and ended up stopping at a Korean restaurant for dinner.
They start you off with kimchee and two other things that I can't identify / am too lazy to Google.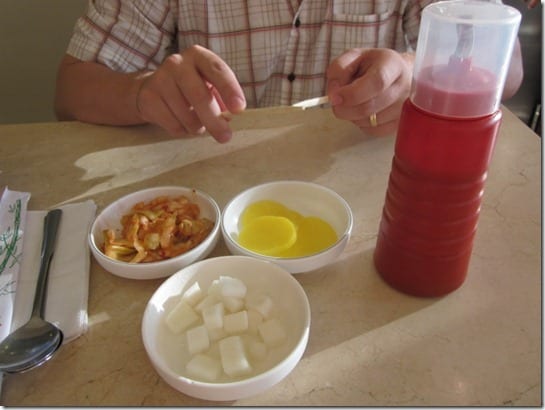 Ben ordered the tempura Udon and I drank most of the broth.
I got some dish called bibimap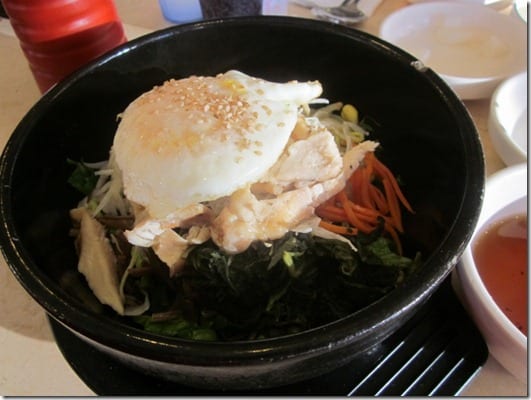 Okay I googled this one and found the Wiki definition for your reading pleasure:
Bibimbap (비빔밥, Korean pronunciation: [pibimp͈ap̚][1]) is a signature Korean dish. The word literally means "mixed meal" or "mixed rice". Bibimbap is served as a bowl of warm white rice topped with namul (sautéed and seasoned vegetables) and gochujang (chili pepper paste). A raw or fried egg and sliced meat (usually beef) are common additions. The ingredients are stirred together thoroughly just before eating.[2] It can be served either cold or hot.
The waiter advised me to put this bbq kinda sauce on it before eating and I gave it a whirl. Eh. I wasn't into that red bottle, but I drowned this thing in soy sauce.
After dinner I got a text from someone named Skinny Runner telling me to get to Yogurtland immediately or she was kicking me out of the Mediocre Bloggers of the OC Club.
Yes, it's a real club and we have meetings where we dress up in costumes and brain storm dumb blog ideas. You're welcome.
Anyways, she said I had to try the Birthday Cupcake Batter fro-yo as research for our meeting tomorrow and I jumped on this project!
I don't know if you are aware of the blogger hierarchy, but when SR says to eat fro-yo – you eat fro-yo.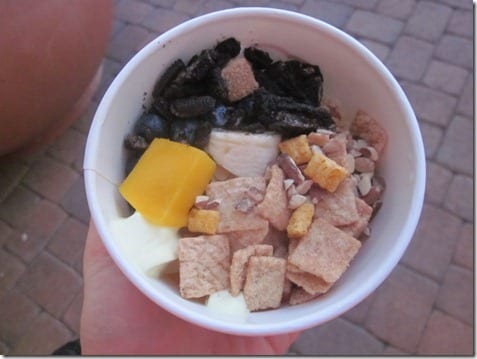 That, or I really wanted fro-yo anyways…
Okay – on to Sunday!
I started my Sunday with a nice little stroll while talking to my mom on the phone. Ben slept in, but chatting made it feel like I was on the walk with someone
45 minutes later I got back and Ben was just waking up. I asked him what he wanted for breakfast and he said, "Hamcakes".
I'm sure he was joking, but I delivered. I made pancakes and added some chopped ham to his. He was very impressed.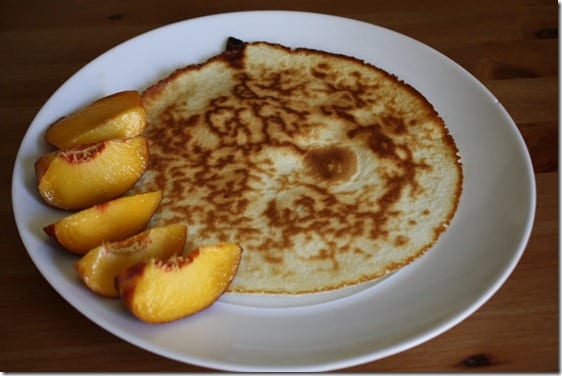 I've been so busy with work and traveling that I haven't cleaned since before Chandra came to visit! I would be embarrassed, but I'm not. I'm messy and not at all Type A so it is what it is.
But, it was getting pretty gross over here so Ben and I spent most of the day cleaning.
I went through part of my closet and found my college diploma! Um, but it was empty?! I never even put my diploma in the frame!
I know it's hard to believe by the less than stellar quality of writing on RER, but I have a degree in Communications.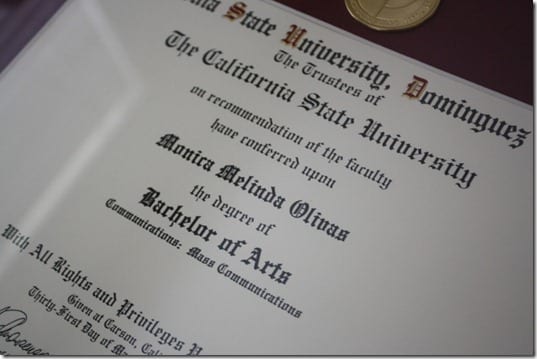 I also found Ben's fancy degree. P-town writes the entire degree in Latin! So, I have no idea what he studied. I think it was Ivyleagueology, but I'm not sure.
We cleaned all the way through to lunch and broke around 1pm. I made Ben a snack plate and stole a cracker with cheese.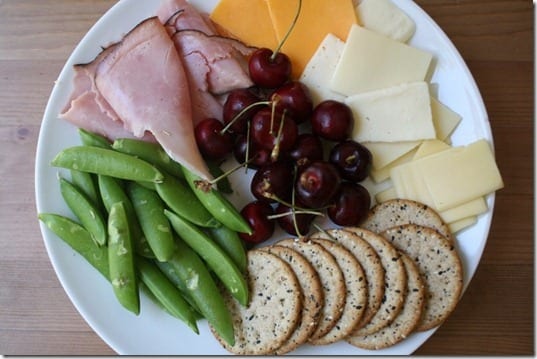 It's all about the presentation.
I had a huge salad and of course cherries and watermelon.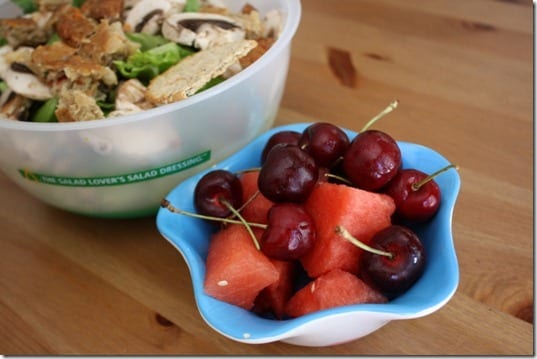 By this time we had enough of cleaning for one day and I went out to run some errands. I had to hit up the health foods store for more natural supplements for my thyroid.
I spotted a rice cream treat on super sale and grabbed one, but my very very long Target trip turned it into a pile of mush. Sad sad face.
But the Target trip wasn't a complete loss because I got a new head band to try. At first I thought I finally found a head band that would fit my HUGE HUGE head, but this is already slipping off.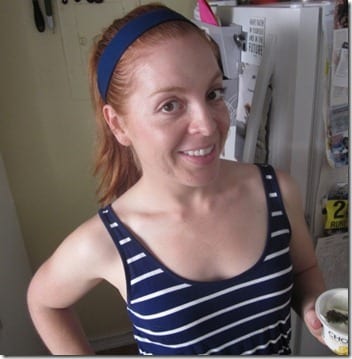 I'm Mexican and not in the habit of sharing my food with my pets. But I do let Vegas lick the Chobani container when I'm done.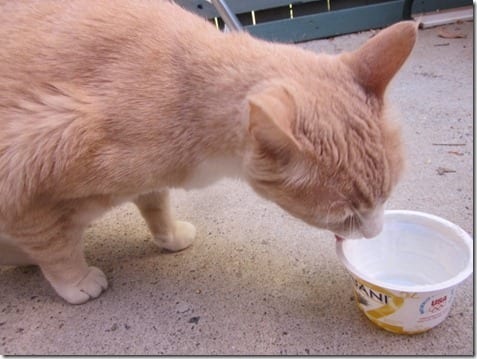 Now Ben's cooking up dinner while I blog. Today has been a very productive day!
Meal plan for the week:
Sunday: Ben cooks

Monday: Leftovers

Tuesday: Sweet potatoes and veggie burgers

Wednesday: Fourth of July bbq

Thursday: Frittata

Friday: English Muffin Pizzas
Exercise:
Monday: Speed run

Tuesday: Strength/swim

Wednesday: Run

Thursday: Yoga

Friday: Easy 3 and abs

Saturday: LR

Sunday: Rest
Okay, time to watch the Real Housewives!
I think I hear a piece of dark chocolate calling my name…
Question: How as your weekend?!
What's calling your name right now?
Run SMART Goals
Fill out this form to get the SMART Running Goals worksheet to your inbox!