alternate title:  Mimosas and Marathons
Today is like the Super Bowl of Running x 4!
The Women's Olympic Marathon was on super early this morning. Sarah (from Once Upon a Lime) held a marathon viewing party and recorded the race so we could watch it at a decent hour (9am).
Skinny Runner, Sheila (from Striding Mom ) and I carpooled to her place for the festivities.
We were promised Mimosas and a Marathon and Sarah delivered!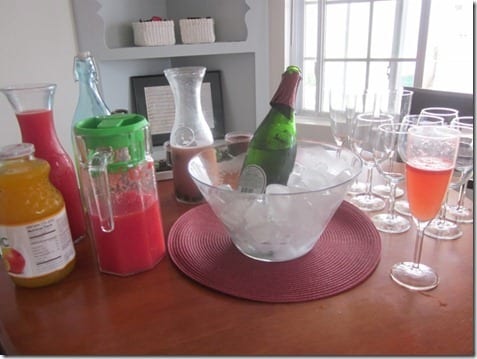 I probably had 3 over the course of the morning?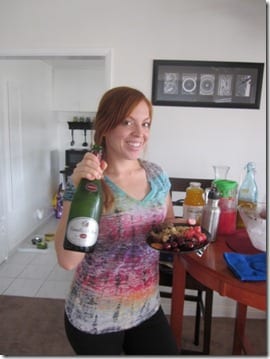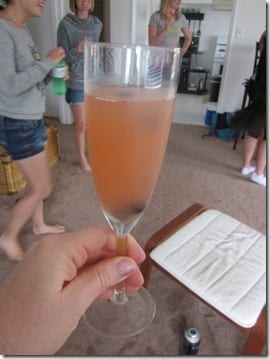 We also had a great spread of food… breakfast quinoa, baked goods, fruit, pretzel crisps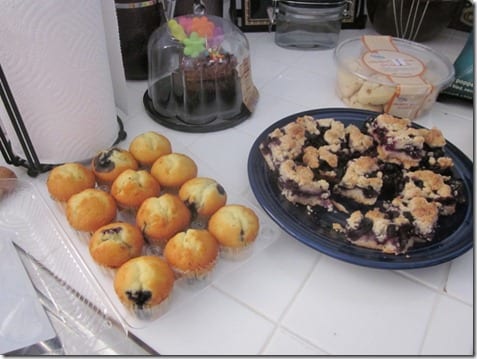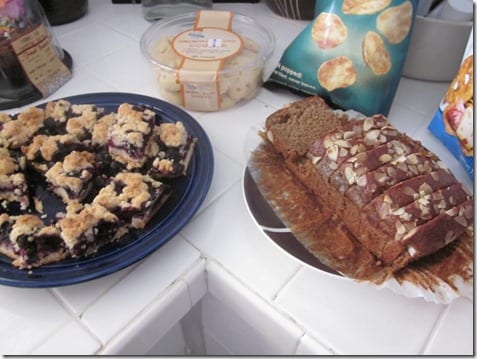 I actually got up at 6am this morning to bake banana muffins. I used greek yogurt in place of the oil and they completely stuck to the paper
Even after I let them cool it was a disaster.
How to I avoid this next time?!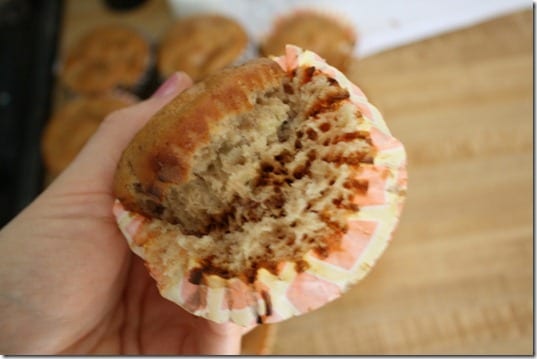 So, I ended up having to stop at TJ's for some muffins on the way.
My plate – I went back for more of pretty much everything at some point.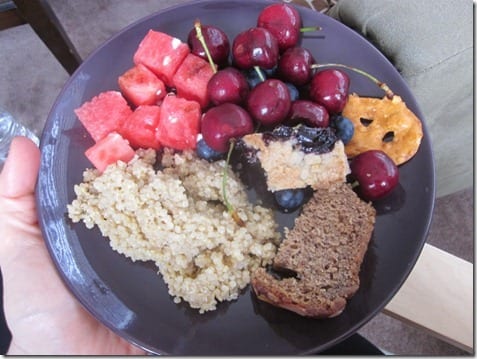 During commercials we compared compression socks and chafing scars. Seriously, we're quite the fun group.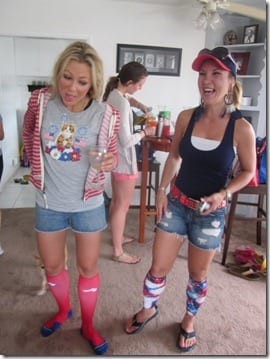 Then, we had our own prelims for the spectator power walking event…
Shannon (Hungry Gazelle) completely rocked it out barefoot style.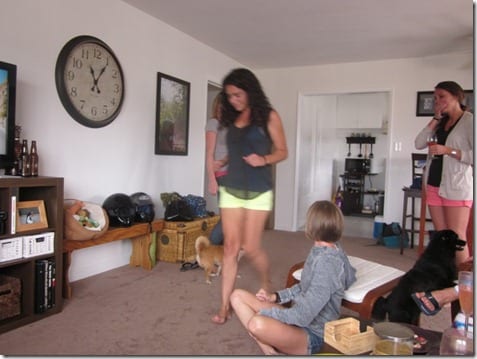 Sarah rocked it out with her 6 foot long legs and completed 1 mile in 4 strides.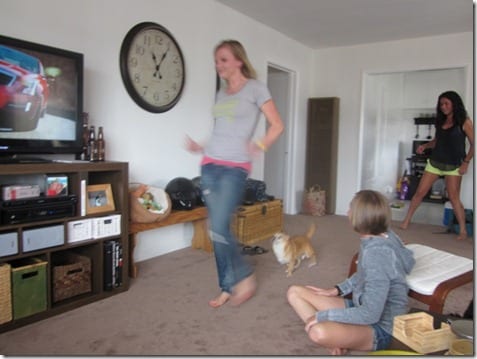 Some of us needed a little liquid courage before competing. Actually, I think SR was buzzed on arrival, because she was still wearing her kitty sitting on daisies shirt that she probably slept in: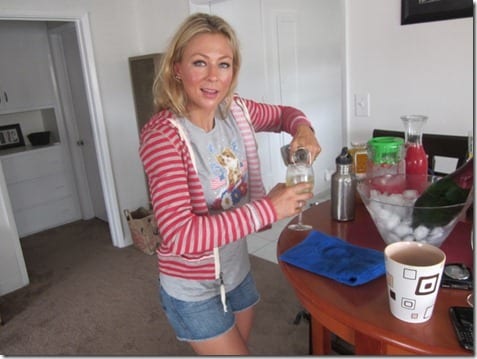 I didn't "peek" at the results so watching the race was really fun and intense. I am a huge HUGE fan of Kara Goucher (and Shalane is pretty amazing too).
They each went into the race with marathon PR's that were about 6 minutes slower than the favorites. So, I don't think it was expected for them to win but I was hoping by the magic of TV they'd tie for GOLD!
Spoiler Alert: (stop reading if you don't want to know the results)
Flanagan got 10th and Goucher got 11th.
You can read the 2012 Olympic Marathon results here
and an article about the winner here
Flanagan collapsed right after the finish and Kara came to help her. All the competitors are so inspiring, but this gave me the warm fuzzies.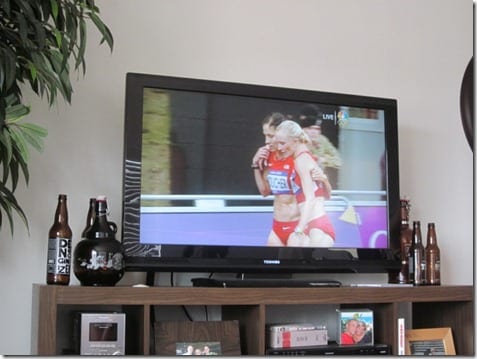 Pam, Shannon, Heather and the Faster Bunny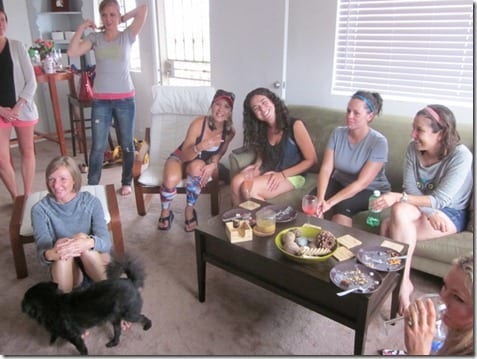 God Bless America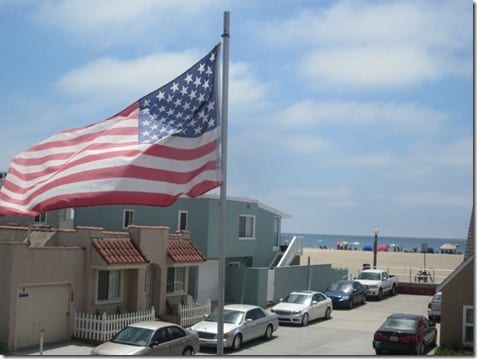 and champagne.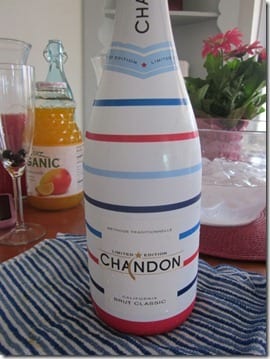 On the way home I stopped at TJ's for Peanut Dressing. Of course I came home with a full load though!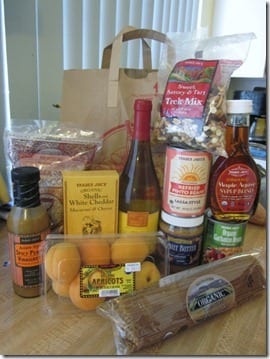 Since I wasn't shopping with a plan or a list I need to work backwards now and figure out how I'm going to make this food into breakfast, lunch and dinner for the rest of the week.
Looks like peanut sauce noodles may be on the agenda…
After I put everything away and enjoyed some TJ's brown rice California rolls, I went for a 3 mile walk. I took yesterday off from walking, but today did 2m in the morning and 3 in the afternoon. Not too shab.
Sunday Set Up –
Eats: I need to plan out dinners for the week as soon as I'm done blogging!
Exercise: TBD.
I obviously have it totally together today. False.
Search Me Sunday:
The searches that brought unsuspecting visitors to RER this week…
1. "nah i don't really feel like it" – why are you searching for this?
2. "i get really hot when i run" – it's summer.
3. "the hippie girl stinks"
4. "is it ok to skinny dip with friends" – Sounds like Jersey Shore waiting to happen
5. "can you get sick from eating a 5 month old gingerbread house kit" – Yes.
6. "eating someones dirty hair" – You can also get sick from eating this.
7. "funniest thing on the internet" – Nope, keep searching.
8. "my cuca is showing" – Now that would be funny…or sad.
Question: Did you make your plans for the week?
Run SMART Goals
Fill out this form to get the SMART Running Goals worksheet to your inbox!