Happy Monday! I woke up this morning Hungry and grabbed a bite of one of these Force Primeval Bars before my run. I bought this bag for a super easy "grab and go" breakfast for Ben. He's been at his new job for about 3 months now, but we're still not great at the earlier start time.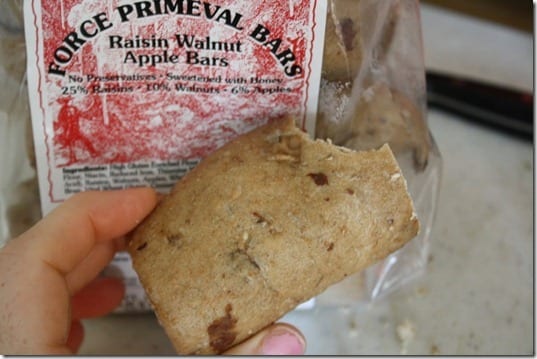 Then, I set out on a run – 1 mile w/u, 5 800s, .5 mile cool down with some walking. I meant to do 6 800s, but couldn't rest in between the last one.
That bite of raisin bar did not do much and I returned home pretty hungry post-run. Usually I "beat the heat" and try to run early but today the sun was shining bright and I was hotter than usual.
So, I busted out the blender for breakfast….
Motivation Monday 
Yesterday was the Olympic Marathon and I mentioned 2 of our US runners – Goucher and Flanagan in my last post.
But the US had a third runner – Desiree Davila.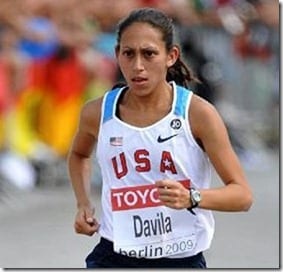 Desiree Davila suffered a hip injury in July and hasn't been able to train very well. For the last few weeks I read differing stories about whether or not she would actually run the race.
According to the Detroit News, her injury was still lingering but the marathon alternates ended up competing in track events = there was not the option to give her spot to someone else.
So she showed up to the start line yesterday and tried.
Unfortunately, she had to drop out of the race after 2.2 miles. It was sad to watch, and I can't imagine how she feels.
If you've read a running blog where the blogger had an injury it is the WORST. We're all dramatic and sad and "the sky is falling!!!". And that's often just because now I can't run my local 10k. I say "we" because I am completely guilty of this too.
This girl had to drop out of the freaking Olympics. This was her first ever DNF (Did Not Finish). Think about that the next time you have to miss Zumba because you have a toothache.
The motivational part is that it sounds she is keeping it all in a healthy perspective. She's 29, which is a decent age for long distance running, and has a long career ahead of her. (Goucher is 34 and Flanagan is 31.) She said in an interview that she didn't want to compromise the rest of her career and is trying to learn from this. I'm sure she's still heart broken, but trying to keep it in perspective – something we should all do when dealing with an injury.
I love this quote from the Detriot News:
"If I came here and I just moped and left right away and didn't take anything away from it, that would be a huge mistake. So I'm gonna use this as a learning experience."
Davila Pre-Olympic Marathon Interview about her injury
Question: How was your weekend? What was the highlight / lowlight?
The Cleopatra exhibit and the Marathon Viewing Party were both a blast!