This morning I got up and headed to Long Beach for my long run. Steve, a coach with Sole Runners, invited me to run with his group training for the LB Marathon and Half.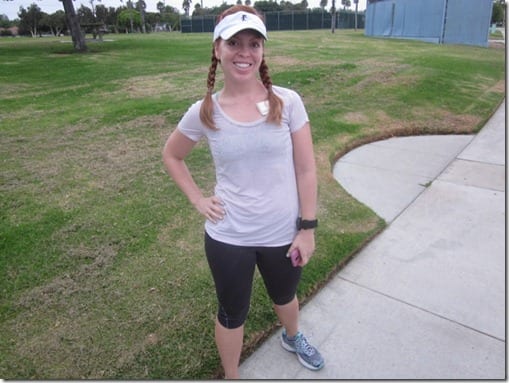 Steve is one of my ING Class of 2012 teammates. We met in New York while shooting and it turns out he lives outside of LA and has been coaching in Long Beach for 7 years!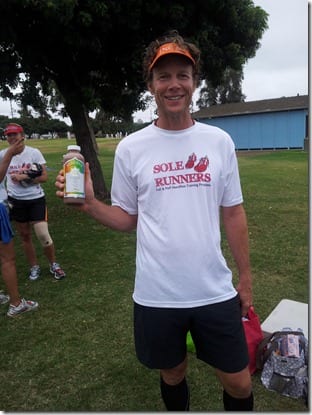 He invited me to come out and run with the group a few times recently, but it never worked out. Finally today I was determined to get down there. I actually LOVE LOVE Long Beach. My ex-bf lived there while I was in college and I spent most of my weekend there for years. Then, I moved there for a year a year later (we ran pretty close to my old neighborhood!).
Tangent.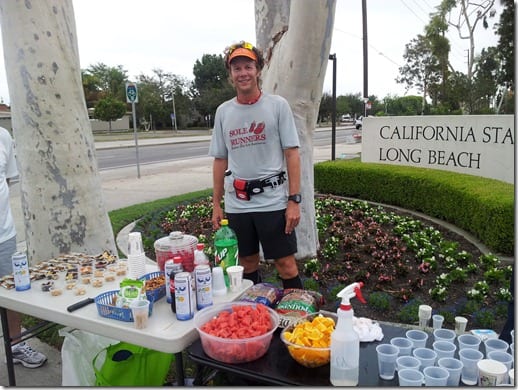 Okay, back to running…
I called Steve this week because I need help. I hadn't set a goal for New York, I wasn't sure if/how I was going to do Long Beach and last year's LB race really trashed my body and confidence.
Steve teaches Chi Running so we started with some talk about that. He gave me this book to read too…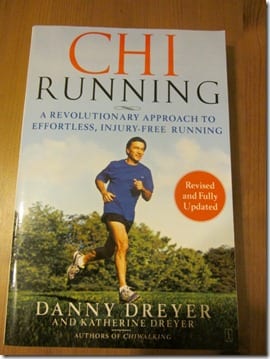 Today the full marathon group had 2 options – a 4 hour run OR 2:15 today and 2:15 tomorrow. They are already pretty ramped up for LB (which is 4 weeks before NY) so I did the 2:15 today. Steve says new research is showing back to back longish runs benefit your body the same as a long run does, but with less recovery time.
I'm scared and skeptical about this theory at the same time, but I'm giving it a go this weekend.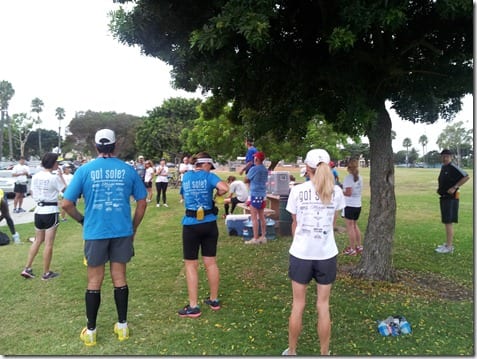 I feel like I learned A LOT today!
I ran with Steve and his metronome and realized my steps aren't quick enough.

My form up and down hills is terrible.

I need to get more electrolytes.

I need to eat more on long runs. <- he says eat every 30-45 minutes from the very start.

I need to run with a group more! <- I was so happy to feel part of the team, even though I didn't know these people. Running is hard and people make it feel happier.
Steve ran with me the entire time and we stopped at 2 aide stations. At the end I was drenched in sweat, had drank a ton of water and was still thirsty.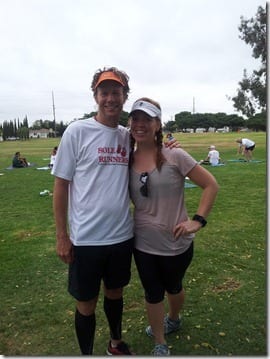 Every run thing should end with watermelon.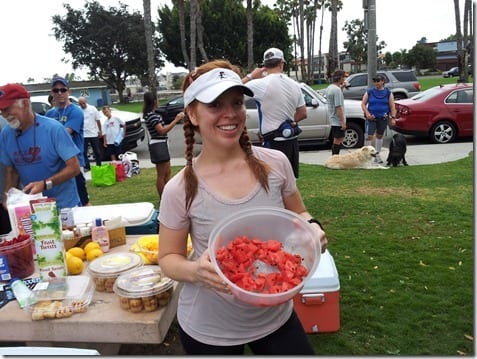 After the run the group does yoga, but I had to sneak away. Ben had come along to ride his bike in LB and was waiting for me. By the time I got to the car he was pretty hungry so I suggested we go to a Diners, Drive-ins and Dives place I've known about for ages.
Here is the Triple D episode with Schooner or Later
I'm so glad I brought a chance of clothes since I was soaked with sweat and we were waiting outside for about 25 minutes.
Coffee and a schooner of beer.
I ordered the veggie omelet with the sour cream on the side (so I could give it to Ben).
It comes with a choice of bread and I chose the blueberry muffin. They make the muffins in house, but I wasn't in love with it and passed this on to Ben too.
Ben got the mess featured in the episode.
Overall: I would definitely come here again! It is in a gorgeous location and our wait wasn't too long (I thought it was going to be an hour based on the triple D episode). I would say 85% of people waiting hit up the bar and were drinking mimosas or bloody marys.
I want to say a BIG BIG Thank You to Steve and the Sole Runners for welcoming me into their group today!
I'm hoping to head out there for a few more runs leading up to LB. If you want to train for a January marathon or half (LA Marathon, Pasadena, LA RnR, Tinkerbell) with their group a new training session starts Oct 20. Go to www.SoleRunners.net for info!
Run SMART Goals
Fill out this form to get the SMART Running Goals worksheet to your inbox!