I made it home!
It was a long day, but I finally got home around 11pm last night. I ended up grabbing a bar and drink from the airport in Dallas, but still felt a little hungry (probably just tired) when I got home and had a few handfuls of trail mix before calling it a night. I do not get a gold star on my "No Nighttime Eating" calendar for yesterday.
When I got to the airport in Richmond I changed into sneakers and leggings for comfort. And since planes tend to be cold, I put on this new scarf the nice people at Borelli sent me.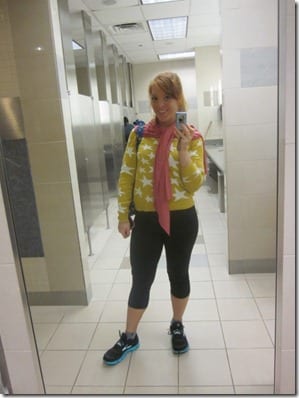 It's actually an "active" scarf that:
I ended up wrapping myself up with it on the second leg of my journey when I started falling asleep.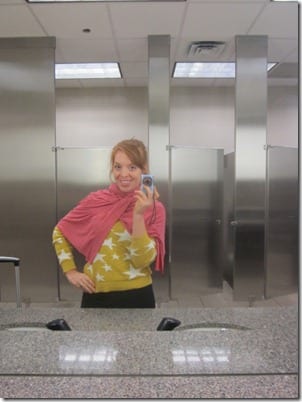 They're kinda a big deal because Kerri Walsh wore them at the London Olympics this summer!
This morning I woke up, stole a bite of Ben's bagel and then attempted some speed repeats. They weren't the best, but I get an "E" for effort.
Then I got a B for breakfast…
Giveaway:
Borelli is giving one Active Scarf in Ruby to an RER reader. (Ruby is the color below and the one I'm wearing. It's more of a pink than a red and I like it.)
To Enter answer the question:
Is it scarf weather where you are?
Open to residents of the US. Contest closes 10/17/2012 at 8am PST. All opinions are my own.
Run SMART Goals
Fill out this form to get the SMART Running Goals worksheet to your inbox!