Yesterday I received a HUGE package from my favorite delivery guy. TWSS.
No really, I wasn't expecting anything so it was a real surprise when I opened up the box and saw this…
What is it? Who is it from?
There were no obvious name brands or logos so I was intrigued.
The big cardboard box it came in had an ice pack so I suspected it was edible.
I peeled open a corner and got a delicious whiff of chocolate. Ahhh! Just the kinda package I love.
The instructions inside said I had to break the egg within 12 hours. Unfortunately, the egg broke on the way to my house and I opened to box to revel a HUGE pile of chocolate and a pair of shoes!
Brooks sent me a #funfunegg with a pair of Brooks PureDrift inside!
This is the best day ever!
The shoes were covered in plastic, so they did not harm the chocolate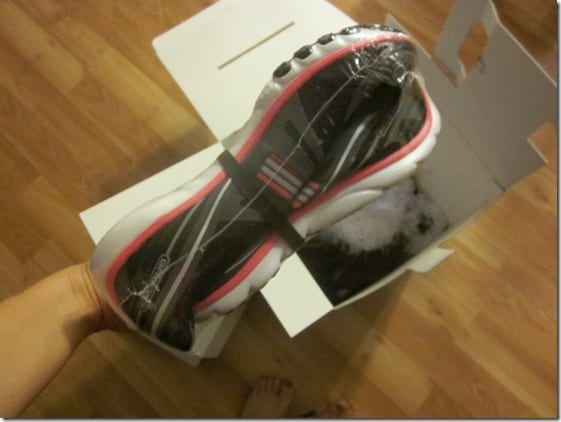 In addition to the shoes I now have 8lbs. of chocolate. The egg must have been MASSIVE because the pieces of chocolate are thick and huge (so many TWSS in this post).
I am picky about chocolate and don't like the super sweet cheap milk chocolate. To my delight this chocolate is really good and tastes dark and rich! I had a small piece right away to check.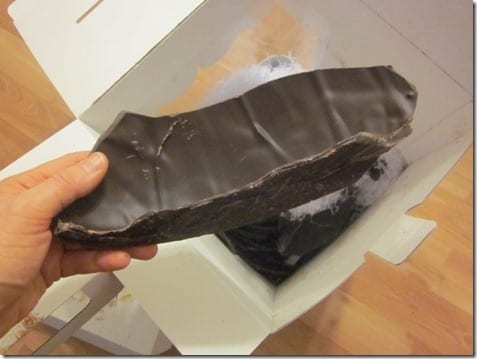 When Ben came home he had a piece and said, "This is good chocolate too!"
We are both a little worried that we now have 8 lbs of delicious chocolate to deal with.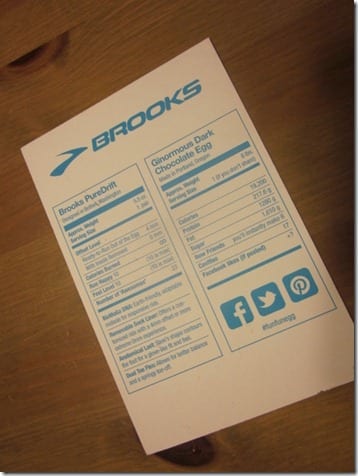 Technically, I didn't even have to share it with him because the nutrition profile says it is 1 serving…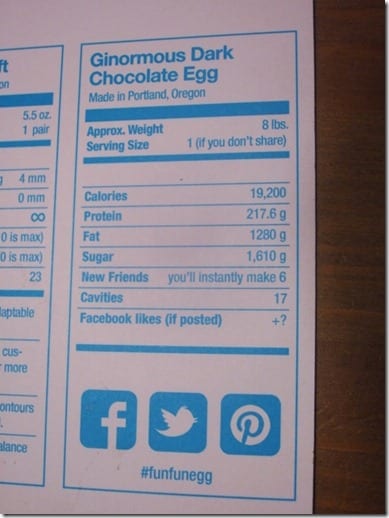 Yes, that entire egg is 19,200 calories!
According to my calculations calculator – I would have to run 256 miles to burn all those calories off!!
Luckily, the potential calorie burn from the shoes will help me get there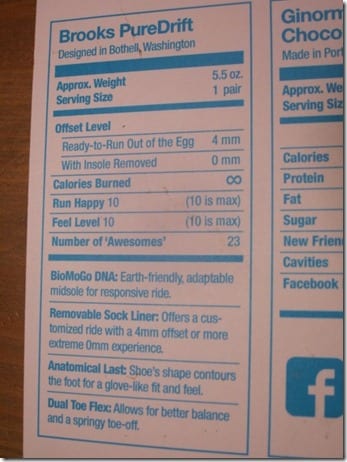 The Brooks PureDrift is a very minimalist shoe. You have to slowly transition to a shoe like this so I did 3 easy miles in them this morning. Then, I did Jillian's 6 Week Six Pack.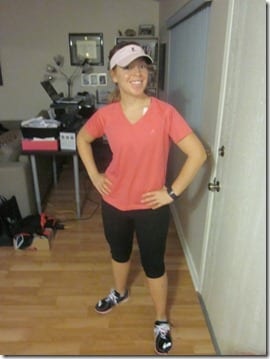 I LOVE the colors! They came with a pair of pink shoe laces too and I'll probably switch to those soon.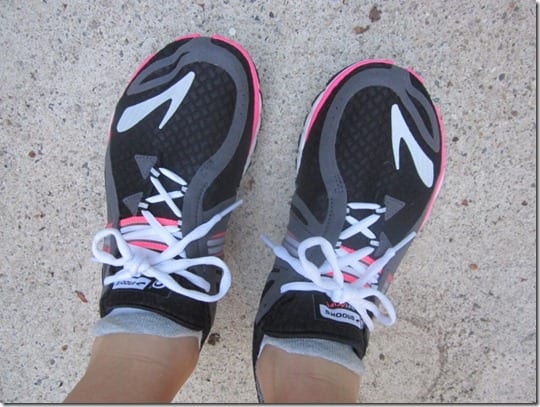 *I'll post my thoughts about this new to me type of shoe after I run for a while in them. Let me know if you have specific questions.
Breakfast was chocolate… Hey, I have 3 gallon sized baggies full of this stuff in my fridge now!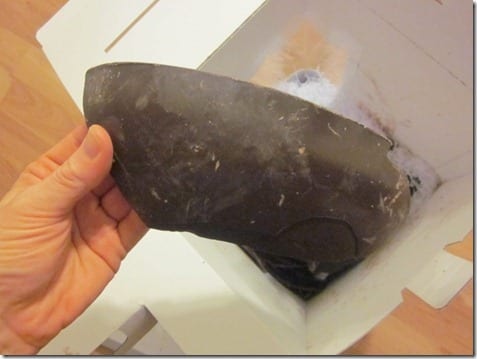 Kidding it was eggs and a flatout with nut butter and jelly.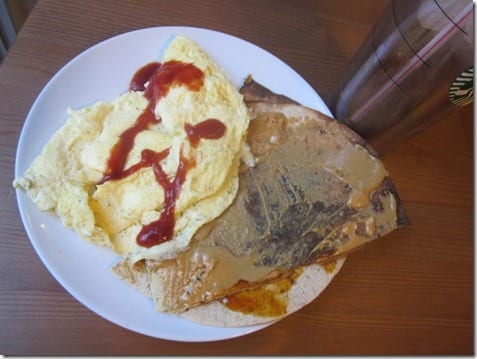 Question: Dark Chocolate or Milk Chocolate?
I'm a dark chocolate girl all the way!
Disclaimer: I am a Brooks Run Happy Ambassador and was sent these shoes as part of the program. All opinions are my own. All chocolate in this post is mine mine mine as well.
Run SMART Goals
Fill out this form to get the SMART Running Goals worksheet to your inbox!