This morning I woke up early, but not for a long run. Nope. Today I went to watch other people run, specifically I went to the ING Kids Rock Los Angeles fun run.
It was at the Home Depot Center in Carson, which is near and dear to my heart so I happily made the drive north for the event.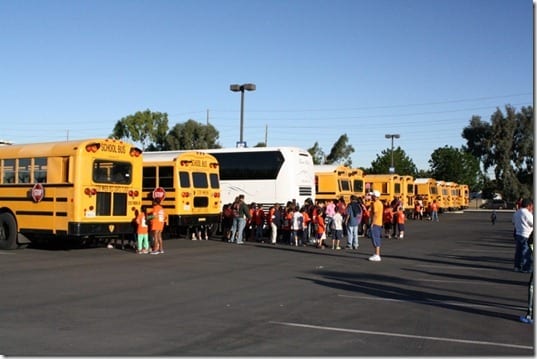 ING Kids Rock Los Angeles is a one mile non-timed event where 1,500 kids come together for a fun run. The program is intended to help fight childhood obesity and participants have been running for the last 12 weeks or so this is the final mile of their marathon!
The website is Orange Laces so I had to put some on…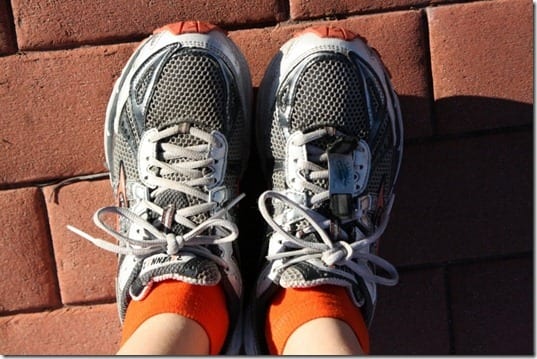 Get your ORANGE on!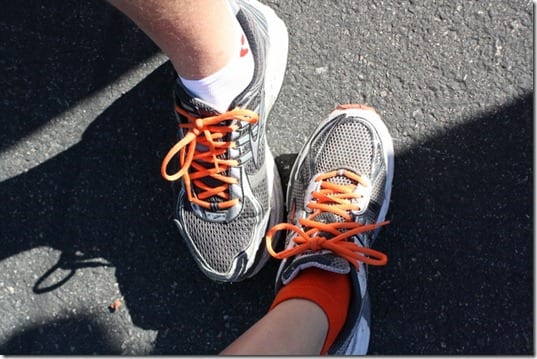 Since the focus is on moving more and eating healthy, Top Chef Antonia was there to make the kids kale smoothies.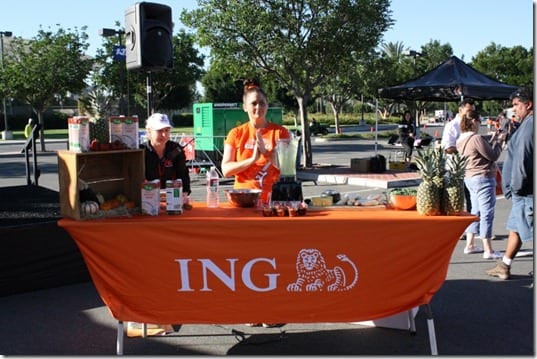 They surrounded her, so that's gotta be a good sign!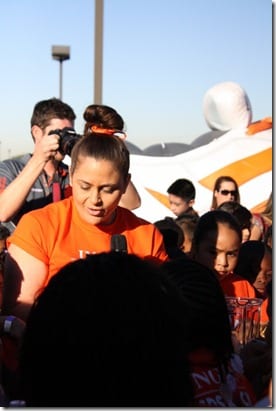 And they're off!!!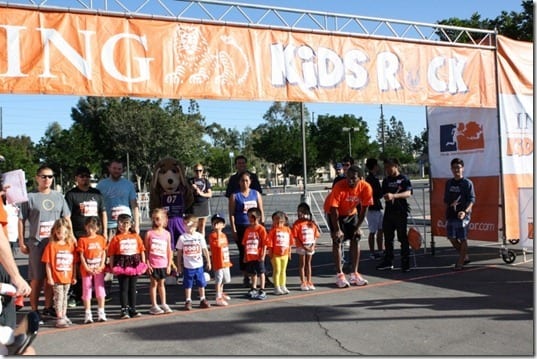 The kids in the ING KiDS ROCK program become "marathon finishers" by completing 25.2 miles of a 26.2-mile marathon at their own pace in the 8-12 weeks before the event with guidance from parents or teachers using the Official ING Run For Something Better® Training Guide. The training program also includes tips to help the young athletes start and maintain an overall healthy and active lifestyle.
I stood at the finish line and each grade level winner got to break the tape!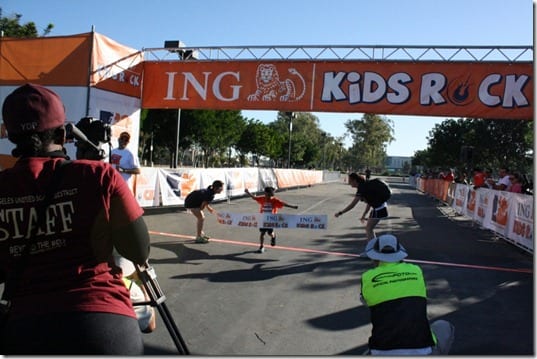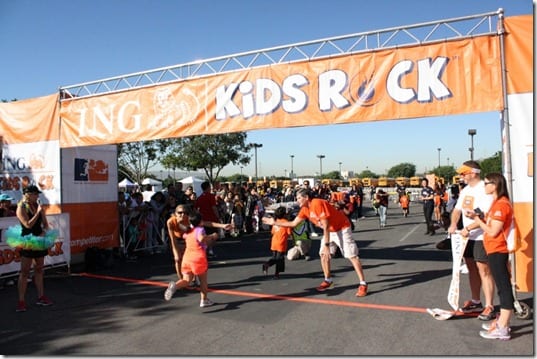 And since this was their 26th mile they each got a medal.
Former NBA star A.C. Green and Rock N Roll Race Series superstar Dave were there too!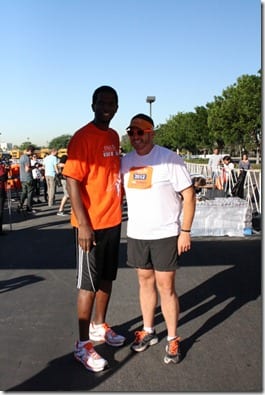 Seriously, Dave (who is also #INGClassof2012) has run 42 consecutive RnR races and is doing the RnR LA half tomorrow, RnR Savannah Saturday and then ING NY Marathon Sunday! My friends joke that we want to "run all the races", but he really does!!!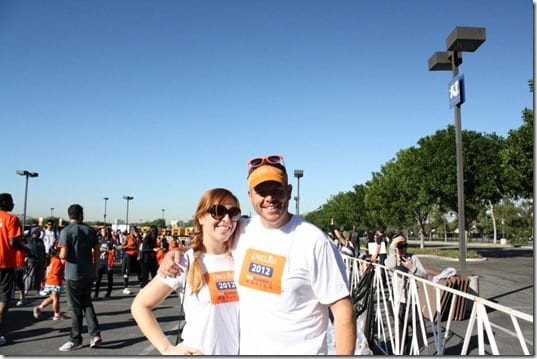 Since they broke up the start times into grade levels the kids ran in pretty spread out which made it easy to make a really big deal for each of them!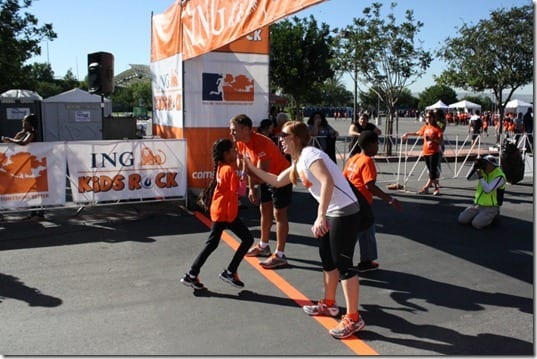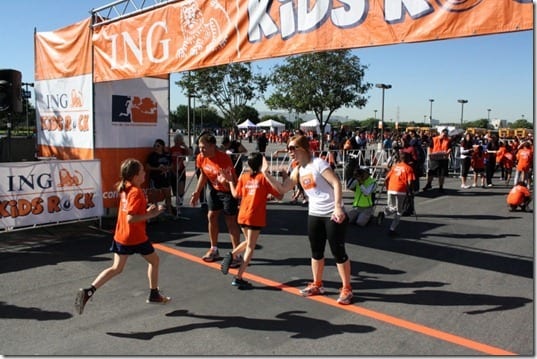 That would be former Bachelor Dr. Andy Baldwin doling out 'high fives' at the finish line too…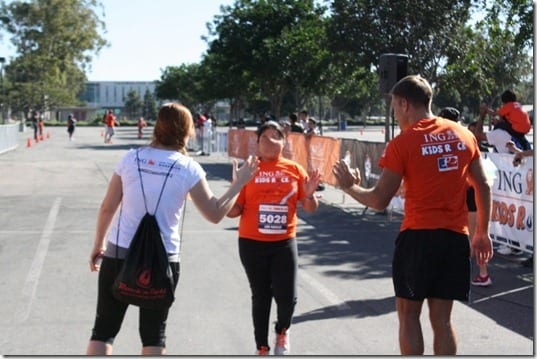 After the event I went to the store and a few people stopped me and asked about the New York Marathon since I was wearing my #INGClassof2012 shirt. Follow that hashtag all this week for updates, tips and check-ins on the race!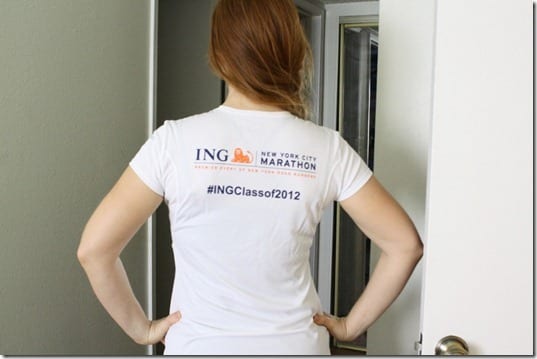 Overall, the event was fun and inspiring. The kids ran with so much heart and it was great to see them so proud of this accomplishment. I am in full support of encouraging our youth to be active and healthy!!!
If you want more information or to find out how you can get the program at your local school check out www.orangelaces.com
Question: Did you run or play sports at a kid? Which ones??
I was in dance, but got cut from the volleyball team in 5th grade and ended up not very active for a long time. That, combined with my love of food made for a dangerous combination. I'm so glad I found running in college!
Run SMART Goals
Fill out this form to get the SMART Running Goals worksheet to your inbox!