This morning I woke up before 5am to get on the road 2 hours before the RnR Halloween Half Marathon in LA. Los Angeles is about 50 miles north of me so I figured a hour to drive there and an hour to park/get to the start.
I flew down the freeway until I got to the exit for the race. Then, stuff got crazy. Short story: I sat on the freeway off ramp bridge for 45 minutes inching along. Lesson: This is why you get married or get a friend so someone can drive you and you can jump out of the car and walk to the start.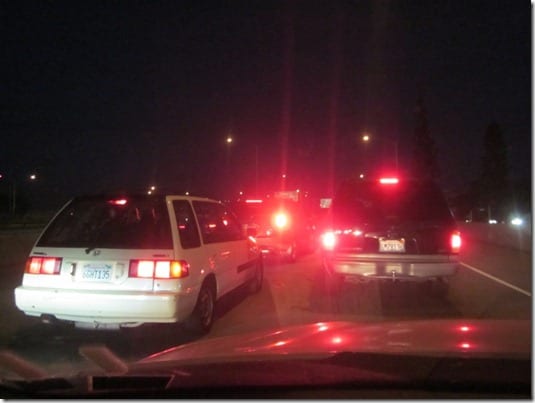 By some Christmas Halloween Miracle I got there, found a parking spot, hit the bathroom and was able to walk into Corral 5 to run.
The race started / finished at LA Live and the Staple Center area. Considering these places are designed to hold big crowds I thought the freeway crisis was odd.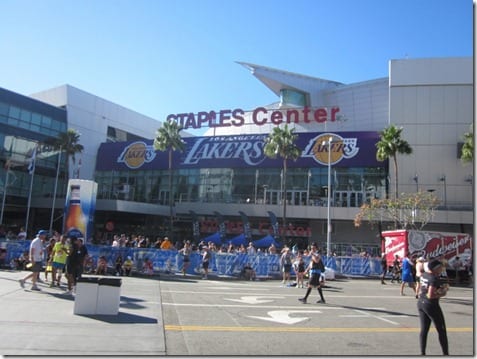 I wanted to take it easy on this race, but I don't trust myself to run smart. Luckily (??) my ipod wasn't working so I didn't have music to pump me up. Thus, I ran conservatively.
Also I broke Race Rule #1 – Don't try anything new on race day.
I have been considering wearing compression socks for the ING NY Marathon, but I've never actually worn them to run (only for recovery). So I tried it today! I know, I live on the edge. (I'll share my thoughts on this soon.)
Since I was trying to enjoy the race I decided to bust out my phone at mile 9 and take some pictures. I never do this!!! Wow – I'm really feeling fiesty today!
I finished in under 2 hours, I want to say 1:57 ish and felt great! At mile 12.2 I realized, "Hey, you have your phone so you could use that for music genius!" I listened to 2 songs and then the race was over.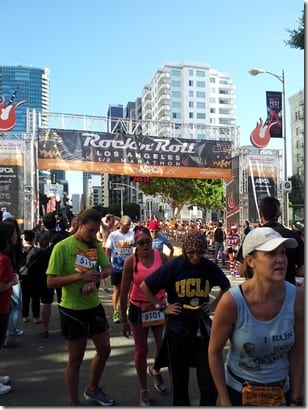 As soon as I crossed the finish line I headed to the Chocolate Milk booth for some refreshments. For some reason cold chocolate milk is 10x more delicious after a run. Check out Team Refuel for more information.
Then, I met a few readers – Hi Monica and Ann! And headed to the VIP tent. (I scored a VIP wristband from ING.)
It's pretty sweet – they have food, beer and champagne and tables for people to relax and hang.
I circled the food table admiring all the goodies before digging in…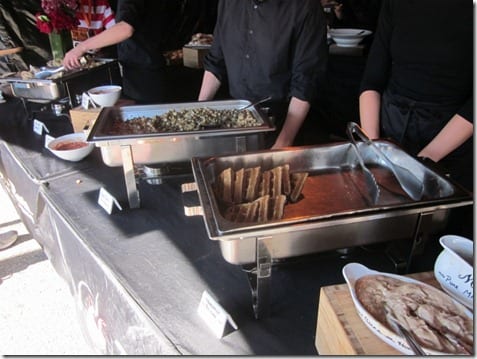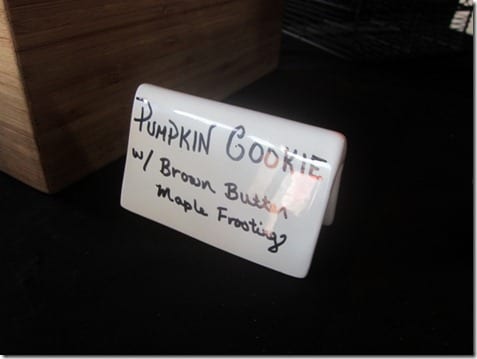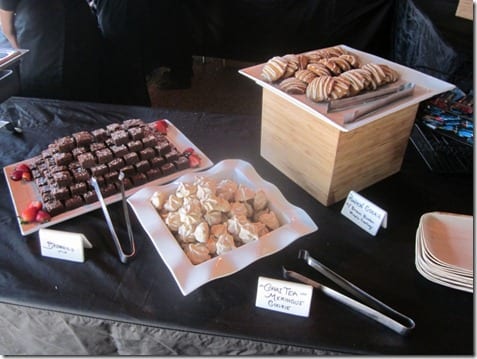 I met up with my #INGClassof2012 partners in crime Dave and Steve there!
I got a waffle, fruit with some granola, an egg burrito and that amazing Pumpkin Cookie. Unfortunately, I wasn't feeling the burrito and only took a bite of the cookie, but forgot about it when I went to the watch the concert.
See? We watched the post-race concert from backstage.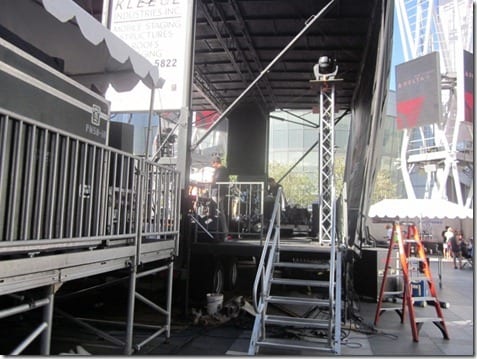 The fun thing about this race is it's right before Halloween and so many people dressed up! There was a costume contest at the end and I got a couple of great shots of the top contenders. (A reader was in this contest – please let me know who you are!)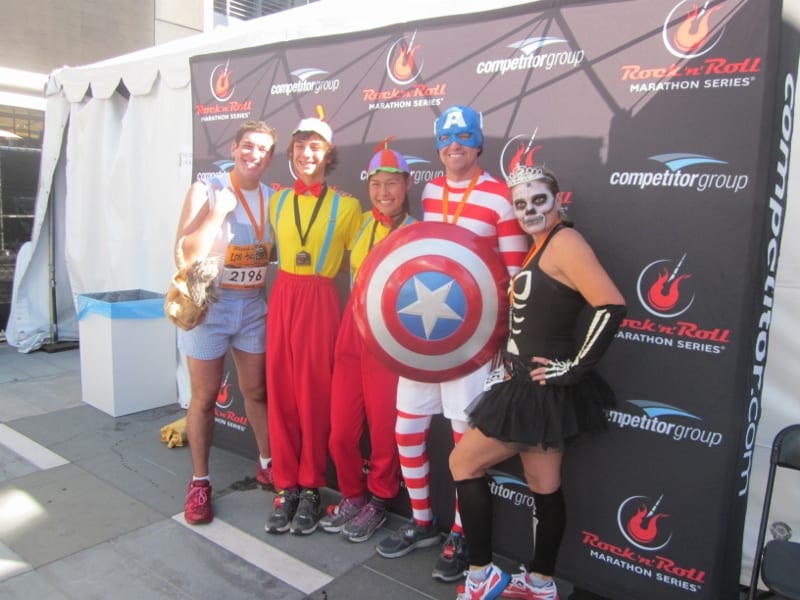 I have to give a big shout out to RnR for working with the ASPCA and encouraging pet adoptions. They had puppies and an adoption drive at the finish line festival!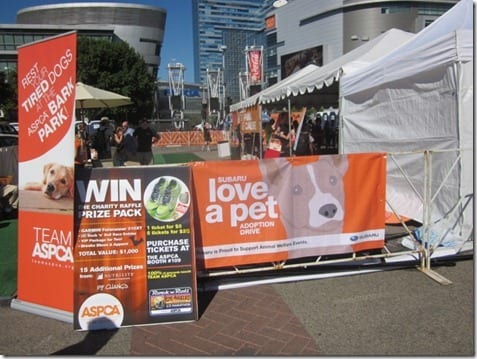 It was fun to hang out with my NY marathon guys today! We'll all be meeting up again in New York in less than a week! Crazy.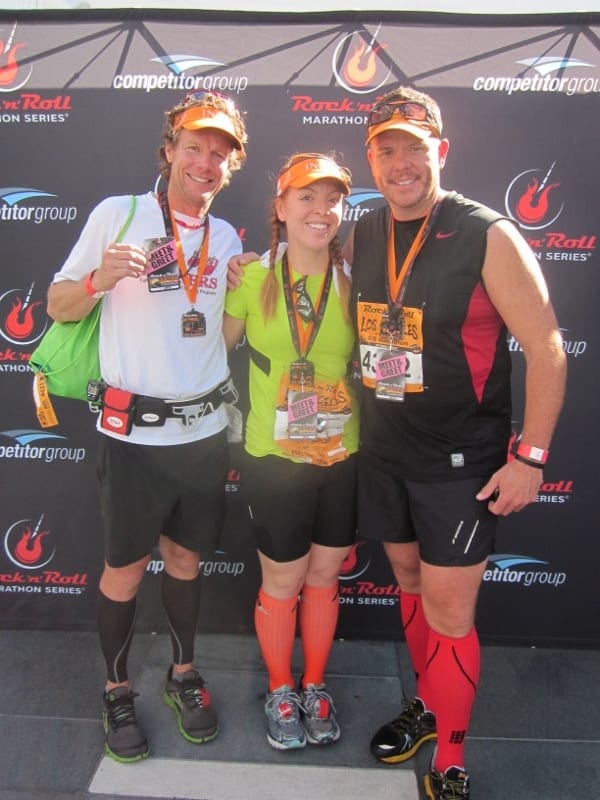 After the race I headed to my mom's (who lives a lot closer to LA) for a visit. But, I made a little stop at my favorite old nail place first. It's been too long!
And my victory dance… cereal and watermelon. Yeah buddy.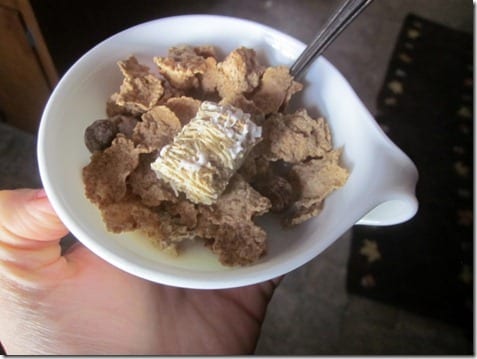 Now it's just a big ol' countdown till New York. Time to rest, carb load and hope Sandy is long gone before I get there!
Question: If you were going to dress up for a race – what would you be?
I would be a turtle so I could take my time.