I don't know how, but I managed to make bad pizza last night!
Okay, I do know how – I tried to make no-rise crust (because I didn't have yeast) and only have whole wheat flour. It looked like normal pizza, but the crust just wasn't good.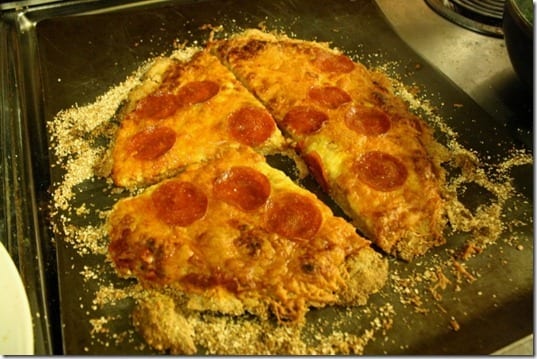 Served up with green bean fries and humble pie.
Pile on the Miles Check In!
Are you close to hitting your goal for this week? These POTMers are on a roll:
Note: Reader Liz is helping to organize Dash For Dreams – a 10k race in Central Park on Dec 1st. It is a fundraiser for Flying Kites, a program in Kenya that works to educate orphans. Check out that link for more info!
This morning I did Jillian's Six week 6 Pack Level 1 again. I think I might move up to level 2 next week. Maybe. I am digging it though and kinda wish I could have done the full 6 week challenge.
Happy Friday!
I ate my eggs with oatmeal and iced coffee. But, we're all out of milk
I seriously considered stirring some yogurt into my coffee – is that the worst?
Question: What's going on this weekend? Fun plans? Run Plans??
I didn't tell you guys but I randomly met two ladies forming a running group the other day on a walk. The group would be training for the LA Marathon in March. Now, I am not ready to recant my story about retiring from marathons, but I am tempted to at least run with them sometimes because I need a friend.
Run SMART Goals
Fill out this form to get the SMART Running Goals worksheet to your inbox!