Lunch time walk with Skinny Runner – we are trying to spend as much time together as possible before we have to separate for the Holiday break (we're both visiting fam out of state). Who am I going to walk with then?!?
I totally forgot to announce the winner of the Santa To The Sea Half Marathon giveaway! J – you win! (I emailed him/her already.)
If you didn't win, but still want to dress as Santa and run 13.1 miles sign up at the Santa to the Sea Half Marathon page.
A few people asked me what I was wearing on race day this weekend. That reminded me that I tried to film a vlog right after the marathon. Um, after running for 4 hours I'm delirious and had no business doing this…
What I Wore: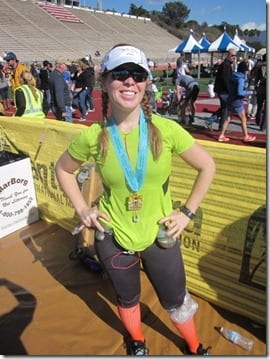 Brooks Pure Flow shoes (remember I brought mismatched shoes!)
Pro Compression Socks
Target Champion capris
New Balance shirt (can't find a link to this exact one)
Have a good weekend!
Run SMART Goals
Fill out this form to get the SMART Running Goals worksheet to your inbox!