Run: This morning I started my day with a slow 4 mile shake out run. I always follow a hard race with a very easy run with no music so I can pay attention to what my body is telling me. When I hurt my IT band the injury showed up on my run AFTER the race, so I've learned to do this. You have to find your own training and recovery methods that work for your body.
Today is National Pancake Day!!!
I'm pretty excited since I love any food you can cover with syrup*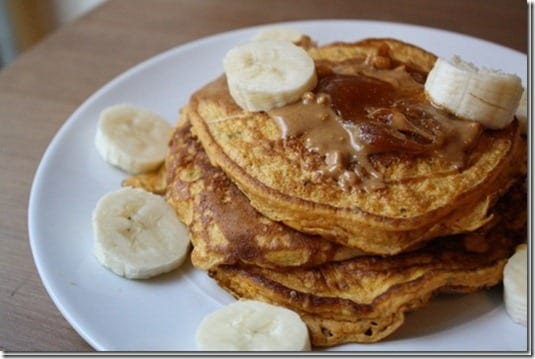 *Chris Rock's I prefer syrup reference. Ignore me.
Last week I made an Easy 2 Ingredient Pancake for an afternoon snack. I wasn't sure how it would come out since 'cakes tend to fall apart with iffy ingredients – but it worked!
Easy Pancake Recipe
Ingredients: 1/3 cup of egg whites and 1 scoop of protein powder. Mix. You can also use 1 whole egg and 1 egg white, beaten.
I used this Vega Vanilla Chai protein – the scoop is pretty big so if your batter is too watery add more of your protein powder.
Heat small pan and spray with oil thoroughly. Pour batter into the pan and leave it! Do not flip it until you are sure it's done on the first side. My pancake had bubbles around the edges, but not too many in the middle. Flip, finish cooking.
Top with nutbutter of your choice and syrup.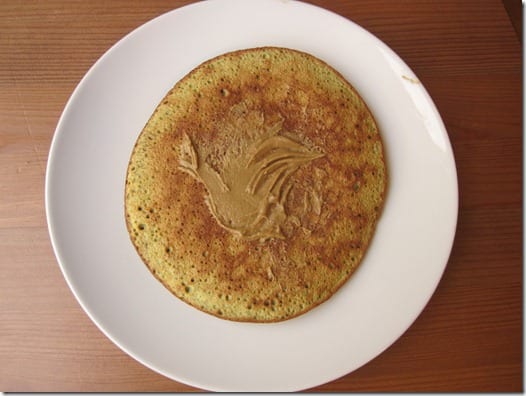 Other Pancake Recipes:
Question: When was the last time you had pancakes?
Run SMART Goals
Fill out this form to get the SMART Running Goals worksheet to your inbox!