Let's say hypothetically, you win a contest put on by a red-headed Mexican blogger (I think they're almost extinct) for some elusive Trader Joe's Peanut Flour. Now what? What should you do with it? You should choose your recipes wisely, since it is  going the way of the African Lion and red-headed Mexican… Peanut Flour will soon be extinct
Well, one suggestion is to make my Sweet Potato Protein Pancakes!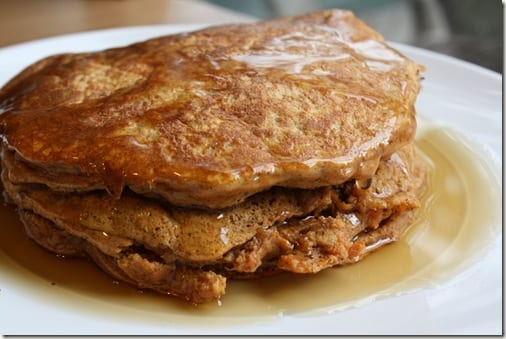 I microwaved a sweet potato to go with dinner the other night, but opted to gorge myself on tortilla chips instead (hey, when you have ripe avocados around you have to do what you have to do). So I happened to have one begging to be eaten. Mission accomplished.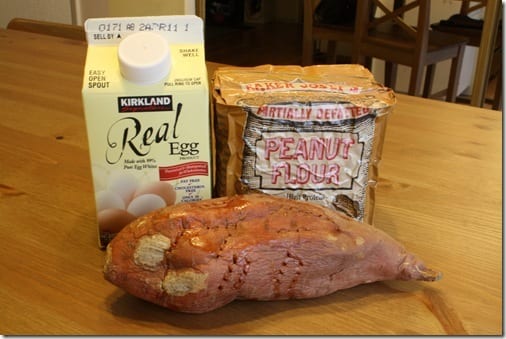 Sweet Potato Pancakes
Ingredients:
1/2 cup cooked and mashed sweet potato
1/3 cup egg beaters or 2 eggs
1/4 cup peanut flour (you can use any kind of flour you want)
1/8 tsp baking soda and baking powder (I always use both)
1 tsp sugar or sugar substitute of your choice (don't skip this or they'll be as bitter as me when my blog is down)
dash salt and even bigger dash of cinnamon
opt. if the batter is too thick add some milk of your choice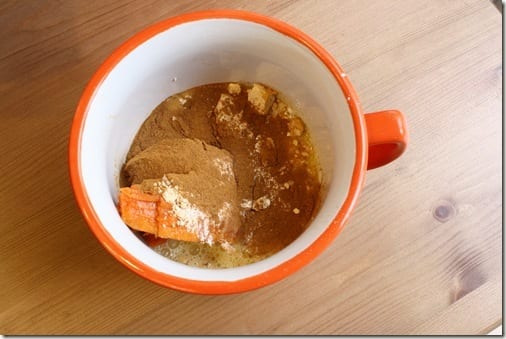 Directions: Mix well, make sure all the sweet potato is mashed. The batter is pretty  thick so I spread it out when I scoop them on the hot skillet. Cook as you would normal pancakes. They don't "bubble" like normal pancakes, so watch that they are cook thoroughly, but not burned.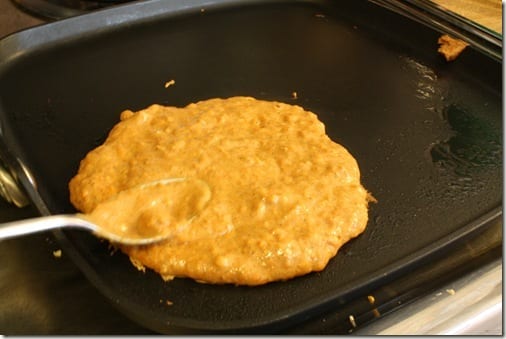 Wa-la! Delicious Sweet Potato Protein Pancakes! These pancakes are gluten-free and high in protein, if you're in to that sort of thing.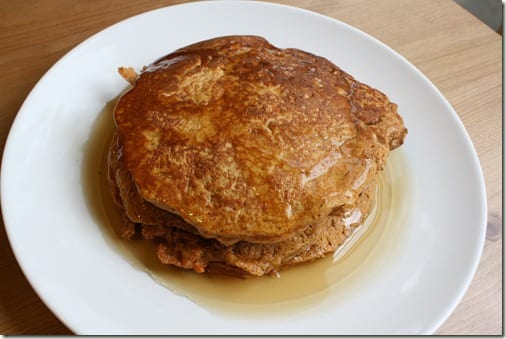 I topped mine with Syrup and Peanut Butter. I don't think the peanut flour makes them taste that peanut butter-y so it's necessary.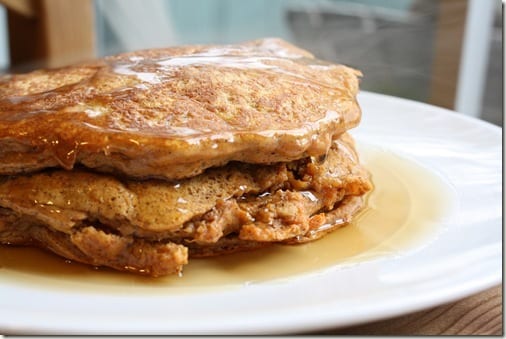 I'm all backwards today because I ran/walked with Ben for 18 minutes for his C25K schedule. But I have to do my 3 miler today. It's my last run before the Surf City half this weekend. But, I'm not used to running after breakfast, wish me luck!
Anyone else racing this weekend?
Plans for the Super Bowl?
I plan on running and then eating pizza at a Super Party. After I did Surf City year before last I enjoyed Pizza and chips and margaritas… good times.
Updated to add: If you see me at the expo or race please say "Hi!".  I would love to meet ya!