Hello! I am back home and chugging along
It felt great to get a full night of sleep in my own bed! But, I still needed (or wanted) massive amounts of iced coffee this morning. I have had problems with alternative milks curdling in iced coffee but TJ's Almond Milk doesn't curdle and tastes good. Sheck it out. <- not a typo
Just the Tip Tuesday 
Today I have a Running and an Eating tip for ya..
Race Recovery
I ran a marathon on Sunday so this is a recovery week for me. Even though I've been running more I still take rest pretty seriously.
After a hard race of any distance you should take it easy the same number of days that the race was in miles. If you run a half marathon you should take it easy on runs for 13 days, or 26 for a full.
You can change this up based on how hard you raced and how well prepared you were, but that's the general rule.
Hal Higdon has a "Zero Week" plan for post-marathon recovery. So, today I took another rest day and tomorrow I'll see how I feel.
My food tip of the day…
How do you recover from a marathon or half marathon?
I personally recommend massive amounts of beignets and chocolate. God Bless it.
I found these 'all natural' Peanut M&Ms at Marshall's last week, so that's my snack of choice today:
They are peanut M&Ms but without HFCS so you can justify eating more. Isn't that nice?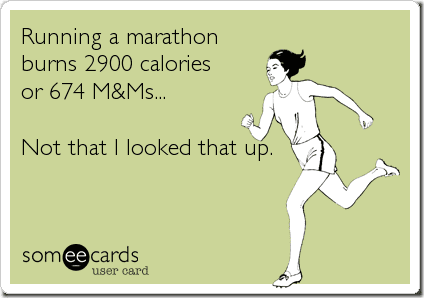 Question: Peanut M&Ms or Regular?
Run SMART Goals
Fill out this form to get the SMART Running Goals worksheet to your inbox!